Zack Hofer, 13, raises over $66,000 in run from Barrie to Ottawa for mental health
[caption id="attachment_78787" align="aligncenter" width="896"]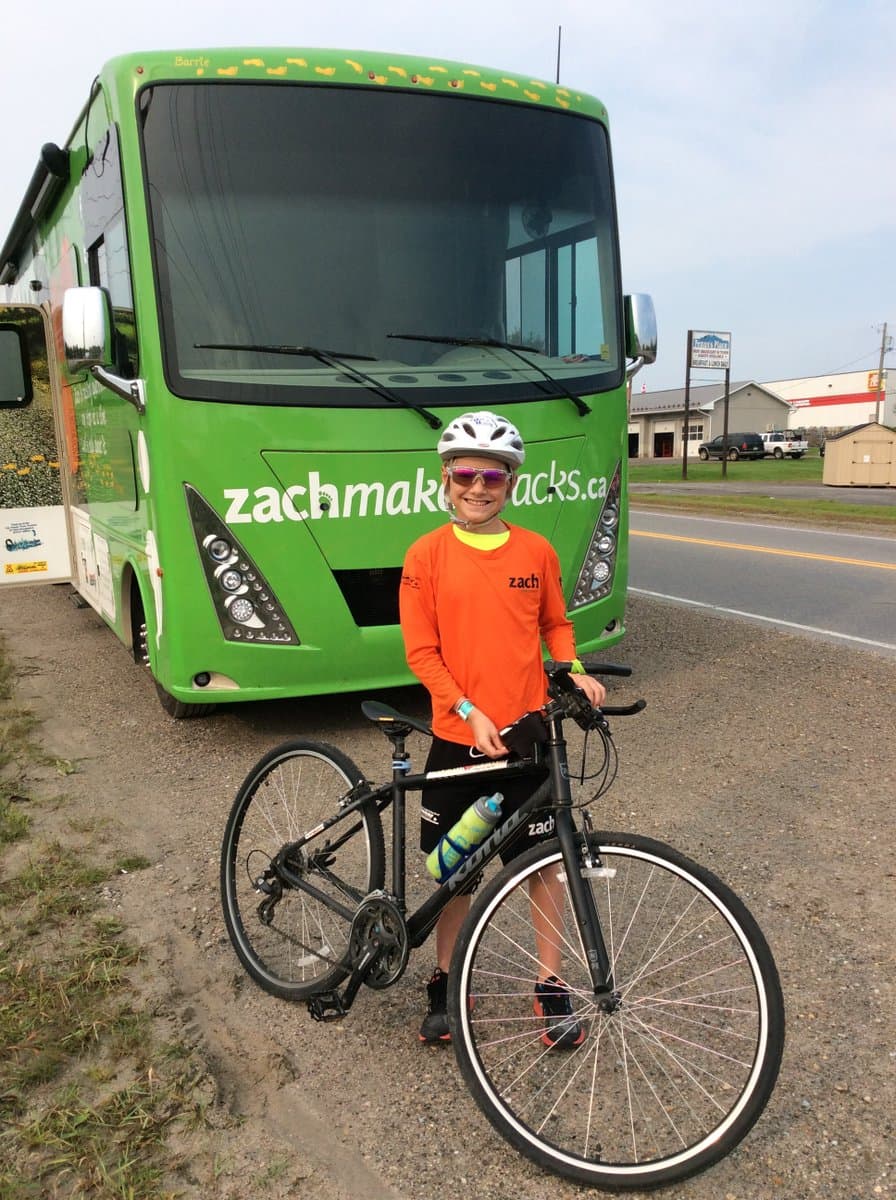 Zack Hofer, 13, is running from Barrie to Ottawa to raise money for a youth mental health unit at his local hospital. (Zach Makes Tracks/Twitter)[/caption]
Zach Hofer is hoping to meet the Prime Minister today.
The 13-year-old has been running, biking and walking from Barrie, Ont. to Ottawa to raise funds for a youth mental health unit in his community. He'll arrive at Parliament Hill on Sunday having raised more than $66,000.
"We don't know much details about it yet, but we are hoping to meet the big man himself," said Shelley Hofer, his mother. "Zach sent Justin Trudeau a letter and he knows who he is, so we're hoping."
Zach got the idea for his fundraiser three years ago after taking part in a Terry Fox Run.
"He asked if he could run across Canada three years ago (but) he was only nine at the time so we said no," said Shelley.
The issue is personal for Zach. His school once went into a lockdown after a child had a mental breakdown and his mother has battled major depressive disorder since showing symptoms as a child.
"I did witness (mental health) through my family and kids at my school," said Zach. "I didn't want them to feel that way and I wanted them to get help."
About a year ago, Zach and Shelley launched Zach Makes Tracks. They decided it would be best to donate all money raised to the Royal Victoria Regional Health Centre's child and youth mental services in Barrie.
"In our area, we don't have a mental health care centre for children," said Zach. "We are the last area (in Ontario) to not have one and it's local so we thought it would be a great idea."
Currently without the services, any youth who require mental health services are often sent elsewhere and get split up from their families. Zach hopes to prevent that with the money he raised.
They departed the 410-kilometre journey from Barrie on Aug. 13 and have already surpassed their initial goal of raising $50,000.
"We are well over $66,000," said Shelley. "(Zach) just received a $5,000 donation yesterday from a gentleman who was inspired by his story."
Zach is expected to arrive at Parliament Hill around 1 p.m. on Sunday to a group of friends and family who will be waiting for him. It will be followed by a private pizza party in centre block and many special guests will be in attendance including the mayor of Barrie, who is flying in.
DAY 27 - Thanks to
[
 @OttawaPolice
](https://twitter.com/OttawaPolice)
Cst. Amerjit Sahota & Cst. Brad Tierney for keeping Zach safe on the motorcycles today! See you on SUNDAY!
[
 pic.twitter.com/lpiDKzXoMH
](https://t.co/lpiDKzXoMH)

— Zach Makes Tracks (@ZachMakesTracks) September 8, 2017
Zach's final stop in the journey will be at Saunders farm where the public is invited to celebrate with him.
"Saunders farm will be hosting us with a special deal in the evening," said Shelley.  "It's ten dollars per person for a corn roast and a meal, as well as all the other activities,"
Zach said he is looking forward to ending his journey in Ottawa, yet it also looking forward to returning back to school next week, and seeing his friends.
"I feel pretty happy with myself for doing this, and I never thought it would happen, so I'm happy I got to do this," said Zach. "I'm looking forward to seeing my friends and to be home."
To find out more information on Zach and his organization as well as ways to donate, you can go to zachmakestracks.ca .