Ottawa loses out to Niagara in Canada Summer Games bid
Ottawa's bid for the 2021 Canada Summer Games, the largest multi-sport event in the country, lost out to Niagara Region, officials announced Thursday.
Organizers with the Canada Games Council announced the news in Toronto. City officials and organizers of Ottawa's bid gathered at Ben Franklin Place to hear the news, which was streamed via Periscope.
"I know you've put countless hours into this," said mayor Jim Watson in a speech following the announcement. "I think we should be celebrating as we look back."
[caption id="attachment_64511" align="alignright" width="477"]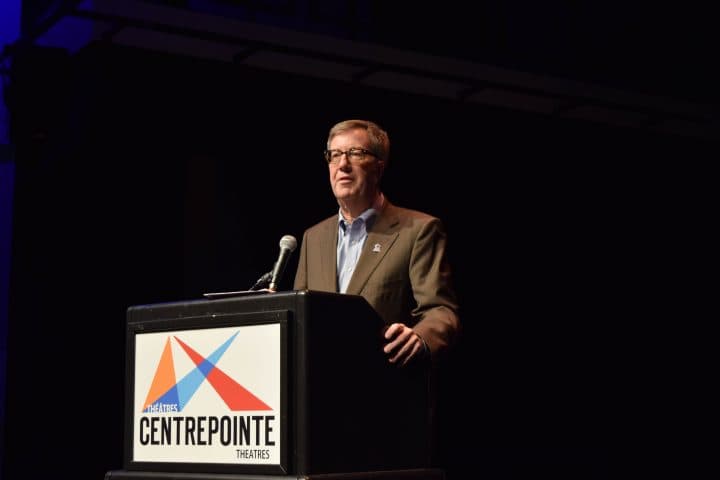 Mayor Jim Watson thanked the bid committee in a speech. "A+ for effort," he later said. (Devyn Barrie/OttawaStart.com)[/caption]
Watson said he looks forward to finding out the rationale for choosing Niagara Region over the capital. He said he thought Ottawa had a much neater and more compact plan.
"Good effort," he said. "A+ for effort."
The City sent a news release after the announcement, highlighting other future sporting events which include the 105
th
Grey Cup and the NHL 100 Classic outdoor hockey game.
Watson said the City may look at bringing other sporting events to the capital. Asked in a press scrum about the Commonwealth Games he said "that's a big decision to make… there's a significant cost."
As for the Olympics?
"That's clearly out of the question," he said.
Ottawa's bid for the games started when the City submitted a letter of intent in May 2016. Cyril Leeder, then-president of the Ottawa Senators and Sue Holloway, a Canadian Olympic medalist, were named as committee chairs in June.
The City was betting on a big economic boost if the games ended up in Ottawa. City estimates projected 20,000 visitors and $150 million in local economic activity.