Will it be a white Christmas in Ottawa?
So far, something like the above image isn't likely to be Ottawa on Christmas Day.
Will it be a White Christmas in Ottawa? So far, the forecast isn't looking too good.
On Saturday, weather historian Rolf Campbell tweeted that rain is expected on Christmas day, rather than snow. The bulk of the rain has now shifted to be on Christmas eve; the Weather Network says there could be 35 millimetres of rainfall that day.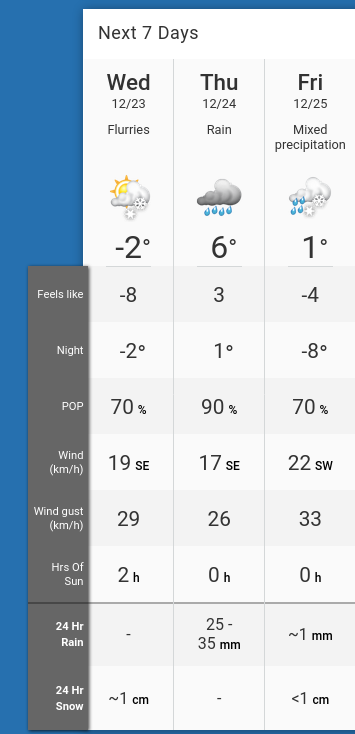 Photo: The Weather Network's forecast for Christmas, as of Dec. 22, 2020.
All hope is not lost, Campbell says. The rain could yet shift to snow long enough to leave a sprinking on the ground, he tweeted.
For those hoping for a #WhiteChristmas in #Ottawa, there is still a tiny glimmer of hope. I still expect heavy rain, especially on Christmas Eve, but it may briefly change to snow before ending on Christmas Day -- just long enough to whiten the ground. https://t.co/04QenJozYU

— Ottawa Weather Records❄ (@YOW_Weather) December 22, 2020