Why there's a water ban in Barrhaven, Riverside South and Manotick
** Update: ** Check out info about this rain barrel sale on May 7…
Effective immediately, there's an outdoor water ban in place for residents of Barrhaven, Riverside South, and Manotick.  80,000 residents are affected.  Here's a map of the affected area:
[
](http://ottawastart.com/wp-content/uploads/2011/04/areamap_en-1.jpg)
The main water pipe that feeds this area needs replacement.  It was installed in 1976 and is in such bad condition that it needs to be totally replaced.  And while it's been replaced, the only water supply to the neighbourhoods will be through a much smaller back-up pipe that can only handle 10% of the original capacity.
[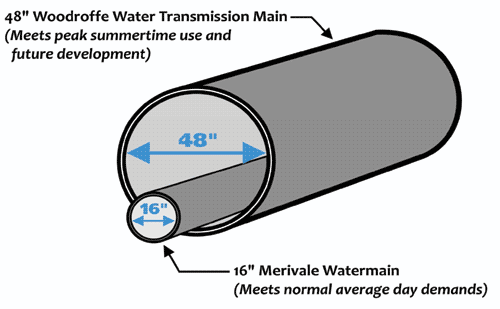 ](http://ottawastart.com/wp-content/uploads/2011/04/pipe-compare.gif)
So this is bad, real bad.  That 16" back-up pipe is ok for winter demand – tooth brushing, drinking water, showers, appliances – but nowhere near enough capacity for the high-use summer months. If water usage isn't decreased, the impact could be even worse – as in, total loss of water supply in the area for ** _ one to three days _ ** , and a boil water advisory for ** _ two to four weeks. _ **
So effective immediately, the city has enacted a ban on all outdoor water use including:
 * 
Lawns and gardens

 * 
Swimming pools and splash pads

 * 
Pool filling and top-up

 * 
Car washing

 * 
All other outdoor water uses

The ban could be in place until August, as long as it takes to complete the water main work.  The city says it will be strictly enforcing the ban, but they're also starting several programs to help residents such as a pool and hot tub top up program , rain barrel rebates and support to local businesses .
If you live in any of the affected communities, you might want to start praying for a rainy summer.
** More info: **
 * 
City of Ottawa press release:
[
 City announces outdoor water ban for Barrhaven, Riverside South and Manotick
](http://ottawastart.com/story/13713.php)

 * 
The City of Ottawa is
[
 holding open houses on Thursday, May 28 and Tuesday, May 3
](http://ottawastart.com/story/13714.php)
to answer questions and provide more info.

 * 
Call 3-1-1 or  r email
[
 info-water@ottawa.ca
](mailto:info-water@ottawa.ca)
or read the
[
 FAQ
](http://ottawa.ca/residents/water/woodroffe/index_en.html)
.  (Parts of this blog post were adapted from the city's web site.)

 * 
Recommended reading: The pipe diagram in the post is from a City of Ottawa document posted to
[
 Greater Ottawa - The city presentation on the south Ottawa water ban
](http://communities.canada.com/ottawacitizen/blogs/greaterottawa/archive/2011/04/27/the-city-presentation-on-the-south-ottawa-water-ban.aspx)
.

** See also: ** Ottawa Services Guide