What going to an emo concert taught me about local music
If you ever go to a concert inside a small bar, you should bring ear plugs if you appreciate hearing.
Being the amateur that I am, I didn't think about loudness when I went to an emo show last Monday inside the Avant Garde bar at 135 Besserer St.
But I learned a lot more than that. I walked away with a better understanding of the local emo, and indeed overall, music scene.
What was surprising to me was simply how close and engaged the community was. I hung out by the door, and the door minder knew just about everyone who walked in.
(Although an outsider, I wasn't a total stranger. I knew Ryan Fitz, the organizer and member of Castlefield, one of the bands that played that night, through my old high school and previous interviews.)
Two of the acts were from the United States, touring together yet playing separately. They were the Lansing, Mich.-based sextet Hot Mulligan and soloist Bogues from Murfreesboro, Tenn., a city just outside Nashville.
[caption id="attachment_63430" align="alignright" width="6000"]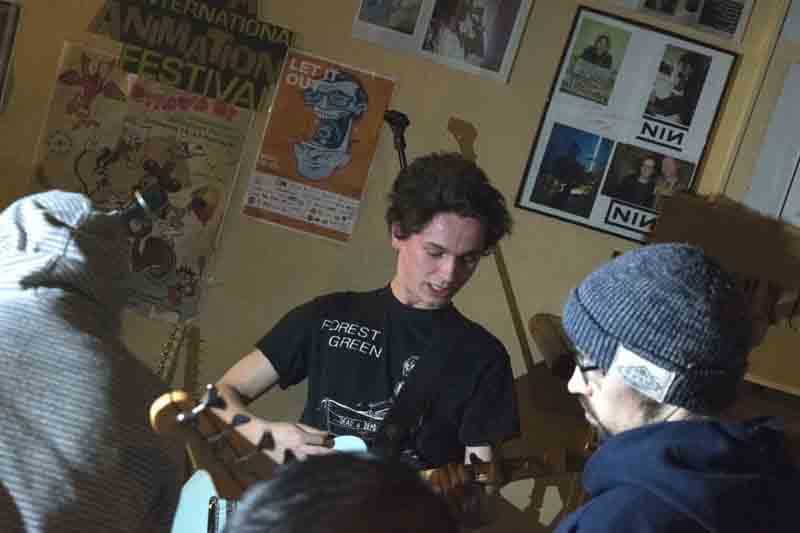 Chris Freeman, guitarist and vocalist for Michigan sextet Hot Mulligan. (Devyn Barrie/OttawaStart.com)[/caption]
Though not at all local, you wouldn't know that based on how the audience greeted them – as if they were from right around here in Ottawa. "Canada!" said Bogues after one of his songs, succinctly.
Mind you, they wouldn't be outsiders. The emo community, as I said, is close and very much full of love.
One of the performers was Silent Lovers (aka Christina Leigh) and among her selections was "Through the Winter," which she told the audience was inspired by her ex.
https://www.youtube.com/watch?v=nOsdUlo-N_Q
For another one of her songs, which was also inspired by an ex, she joked that people would hate her for playing it. But there was no hate, only people listening to people.
All the musicians had a captive audience, who listened to this close and personal music by getting close and personal.
So close, in fact, I wondered if the guitarists might hit someone with their headstocks (we're talking centimetres of space here.)
People joined hands and sung – together. It wasn't just a group playing, it was the whole bar.
No matter what your tastes, please get out and support local music. They have something very special.