What are the major federal parties saying about transit and cycling?
At the end of the day, what's really important is that you vote. (Photo/Devyn Barrie)
Voting day for the 43rd Canadian general election is on Monday, October 21. The changing climate and what to do about it is top of mind for many voters, something most parties address in their platforms. As transportation is a major source of carbon emissions in Ottawa, we took a look at what the four main parties are saying about public transit and cycling — two low-carbon transportation solutions that have become important issues in Ottawa.
(Note: The government committed funding for Stage 2 LRT in 2017 and that will not change regardless of who wins the election.)
Liberals
The Liberal Party platform acknowledges that traffic congestion is a major problem that can be solved with improved public transit. Further, the platform says: "To give cities the predictable transit funding they need to plan for the future, we will move forward with making the federal commitment to fund public transit permanent, and will make sure that it keeps up with the rising cost of construction over time. This will mean an additional $3 billion more per year in stable, predictable funding for our cities' transit needs, on top of transfers through the federal Gas Tax Fund."
The Liberals previously established an infrastructure fund that has been slow to roll out.
As for bikes, the platform touches on "zero-emission vehicles" (which bikes are) but is focused on electric cars and says nothing about building more cycling infrastructure.
Conservatives
The Tories propose to bring back the transit tax credit that was removed in budget 2017. This is a credit that subsidizes the individual purchase of transit passes.
As for infrastructure, the Conservatives criticized the Liberal government for being slow to roll out their infrastructure fund and instead propose to "extend the Investing in Canada Plan by an additional three years so that the entire $187-billion program is spent over 15 years instead of 12."
They would continue to fund any existing commitments and continue the Gas Tax transfers and GST rebates to municipalities at the same level. They also promise to fund "important projects", giving two Toronto subway projects as examples.
The only mention of "cycling" on the Conservative website appears to be from the bios of two candidates, both named David, who occasionally enjoy recreational cycling.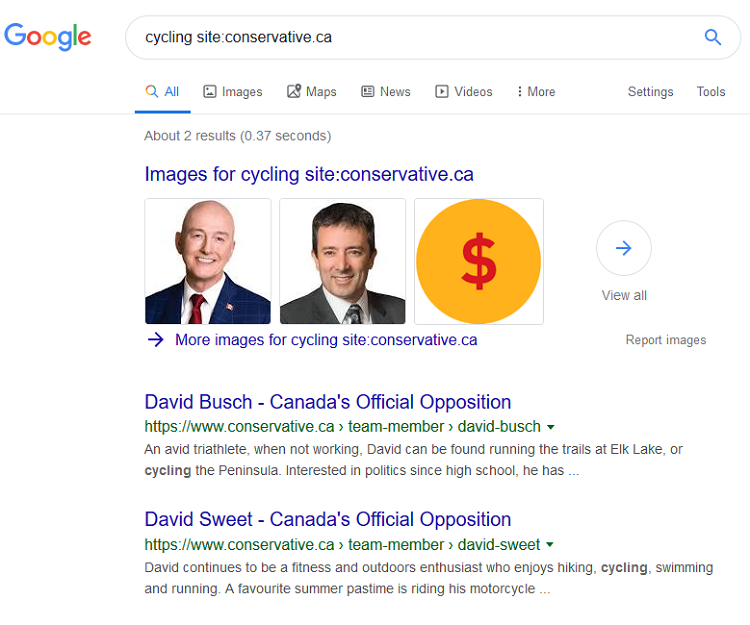 Photo: Google search results for "cycling" on Conservative.ca.
NDP
There is a section in the NDP platform titled "changing how we get around," much of which is focused on transit as a way to reach a lower-carbon future.
"Quality public transit is essential to making our cities and towns run. Municipalities are already investing in making their transit systems better and more environmentally friendly – it's time that they had a federal partner to help," the platform says.
The NDP would "modernize and expand" transit across Canada. The platform emphasizes electrifying fleets by 2030. An NDP government would also help municipalities and provinces that want it to implement no-fare transit, the platform says.
The NDP promises to implement a national cycling strategy.
Also of interest to Ottawa: The NDP platform specifically speaks in support of creating a high-frequency VIA Rail service along the Québec–Windsor corridor. (This project is in the exploratory stages now with funding from the government to support early development work. There is not currently a commitment to make it happen, however.)
Greens
The Greens want to transition public transit to zero-emission, by focusing on electrified rail and bus systems.
"Federal transfers to municipalities will be institutionalized through the creation of a Municipal Fund (renaming the Gas Tax funds, which were delinked from gas tax revenue years ago) that will ensure a doubling of current funding for transit and other urban infrastructure," says a Green news release announcing their transportation policies.
"Cities will benefit from a national cycling and walking infrastructure fund to help support zero emissions active transportation."