We found an abandoned 19th century cemetery near Richmond
** UPDATE: ** Andrew King edited a short video of our search…
About 15 minutes south-west of Richmond, there's an old pioneer cemetery buried in the Marlborough forest, all but forgotten except for a small historic plaque. It's called the "Dwyer Hill Pioneer Roman Catholic Burial Ground" and was in use up to around 1867. We hiked to it on Saturday afternoon, wading through waist-high weeds and fighting off mosquitos and deer flies.
[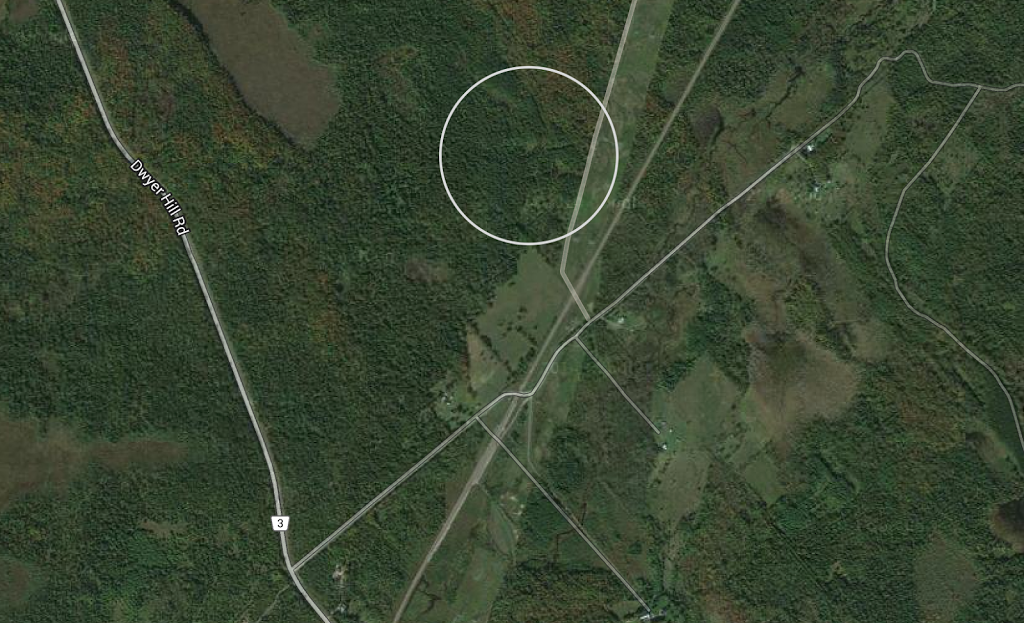 ](http://ottawastart.com/wp-content/uploads/2014/07/satellite.png) A 1975 description of the site brought us to O'Neil Road, just off of Dwyer Hill Road where the railroad tracks cross.  The author of the description noted: "Some difficulty was encountered in locating the area due to reforestation and abundant overgrowth."  Forty years later, that was an understatement.
We followed the directions and crossed under the power lines across a field.  An old farm road was barely visible, hidden under decades of overgrowth.
[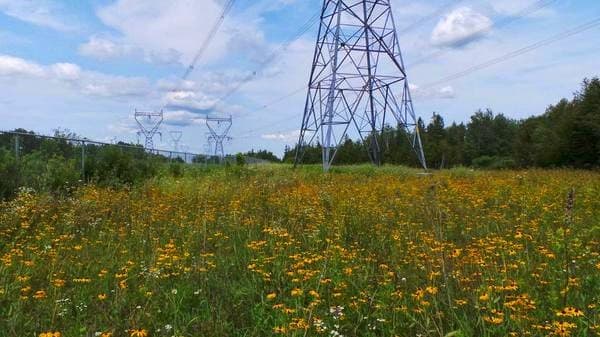 ](http://ottawastart.com/wp-content/uploads/2014/07/Bs7yjyyCUAAWvih.jpg)
"You will see a sign with a cross, nailed to a tree indicating the beginning of a trail that goes to the Pioneer Cemetery," the instructions said.  We didn't find the cross, so we took our chances on what looked like a path down this old trail.
[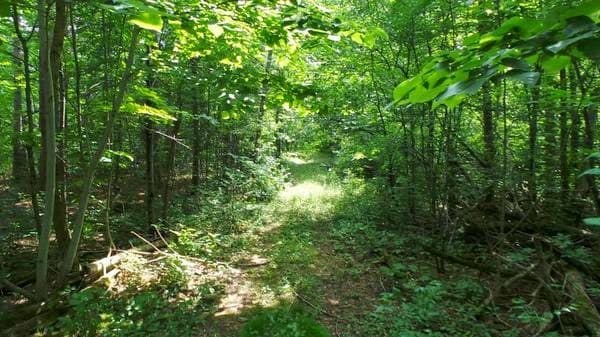 ](http://ottawastart.com/wp-content/uploads/2014/07/Bs7zGxuCYAAZKHJ.jpg)
We walked for a while, wondering if we'd find anything. The bugs were awful. The weeds were thick.  The dog was protesting.  It was hot.
And just as we were about to turn back, we spotted this in a clearing up ahead…
[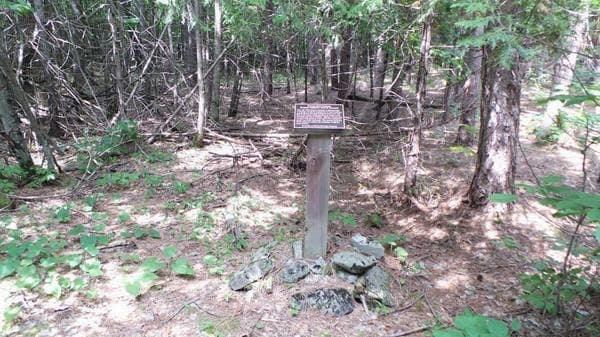 ](http://ottawastart.com/wp-content/uploads/2014/07/Bs7zn8eCAAAnp4C.jpg)
A historic plaque, in the middle of nowhere.
[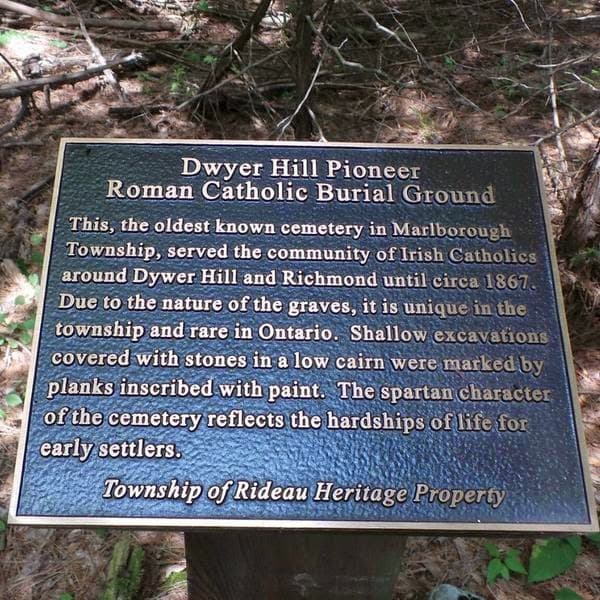 ](http://ottawastart.com/wp-content/uploads/2014/07/Bs7z9-rCEAAI7wA.jpg)
Among crooked cedars and white birch trees, there were several piles of rocks marking the graves. The remnants of shallow graves were covered by large stones, once marked by wooden planks that have since decayed and disappeared. Here is one of the better-preserved cairns. Moss-covered, with trees sprouting all around.
[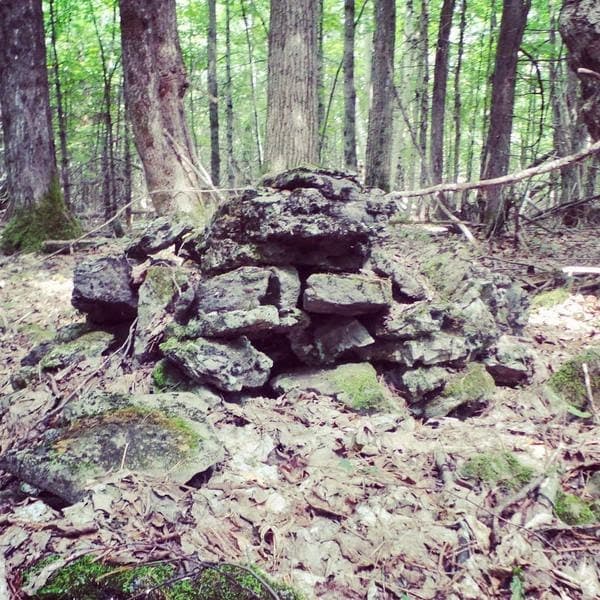 ](http://ottawastart.com/wp-content/uploads/2014/07/Bs70-95CEAA7Lir.jpg)
The cemetery lies on the southern boundary of two lots owned in 1863 by the Haggerty and Hanrahan families.  Families buried there include Gorman, Whelan, O'Neil, Hanrahan, McKenna, Haggarty, O'Brien. It was the area's Irish Catholic cemetery until a formal church and cemetery were built nearby circa 1860s.
None of the original wooden markers remained past 1940, and apparently no records exist for who was actually buried there. The last remaining marker was for a Mrs. Gorman who died in childbirth at age 41, according to one reference I found.
At least one of the graves looked like it had been opened at one point.  Some spots on the site were marked with orange or yellow flags like this one.  Perhaps marking less-distinct graves?
[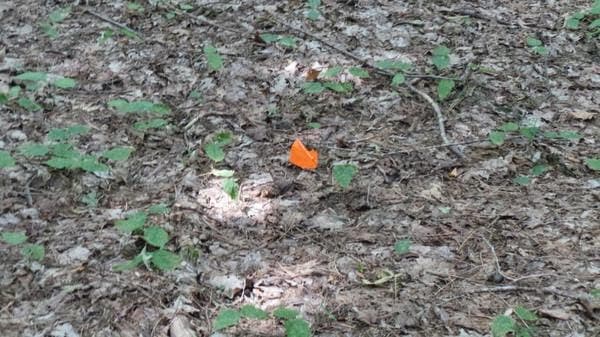 ](http://ottawastart.com/wp-content/uploads/2014/07/Bs74MiECYAI2P27.jpg)
"In the fall of 1995, a four-member survey crew working for the then-regional government located the pioneer cemetery, hidden in a thick maple and hardwood bush. The cemetery site, as they found it, consisted of the partial remains of a rock wall and 20 grave sites inside the wall… The survey crew discovered about 16 graves beyond the rock wall boundaries of the cemetery."  (via Stittsville News )
The plaque on the site was installed in 1998 by the former Township of Rideau.
The cemetery is supposedly haunted : "Locals tell tales of hikers meeting strangers in period clothing only to disappear before them… hearing the sound of horses passing but they are never seen, glowing lanterns are seen floating through the trees on their own…"
We did not see any ghosts.
The site isn't hard to locate on a map, but it was a challenging hike into the bush.  I would recommend searching for it in the fall or winter when the bugs and weeds aren't as bad.  Thanks to Andrew King & Alison Fowler for coming along for the adventure.  We would have taken more photos but the bugs were too much to handle.
** ** ** See also: ** Ottawa History Guide If you liked this post, you should ** subscribe to etcetera , ** our free email newsletter. Featuring cool Ottawa events, interesting local news and contests and giveaways. Thanks!