'We are in a crisis': How Ottawa's former top cop is fighting opioids
Sen. Vern White is using his experience as Ottawa's former chief of police to help battle the opioid crisis in Canada – and he's making progress.
White, who last year got the government to restrict six chemicals used to make fentanyl, spoke to a group of concerned residents at the Canterbury Recreation Centre on Sept. 22 about opioids and the impact they have on Ottawa.
[caption id="attachment_80608" align="alignright" width="250"]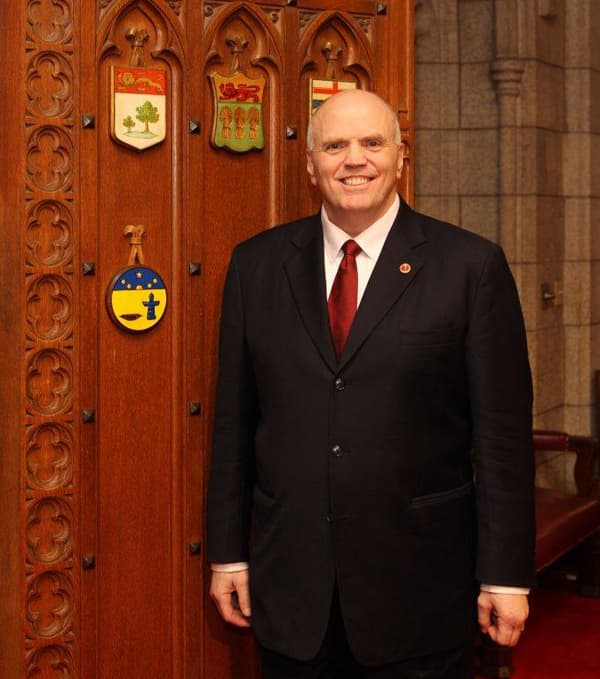 Sen. Vern White at his swearing in, 2012. (Via Vern White)[/caption]
"Being a (police) chief in Ottawa you actually see the impact (drugs have) on families more than anything," said White, who sits on the Senate as a Conservative. "Nobody sets out in life to be a drug addict, homeless, or committing crimes. I've never met that person who has that as an aspiration in life."
In June 2016 the Senate passed White's bill, S-225, which proposed to restrict certain chemicals used in the production of fentanyl. The government implemented the proposal before it could become law.
"We passed the bill a year ago (in the Senate), and the government immediately implemented the ingredients to the listing under the Controlled Drugs and Substances Act which means there need to be permits to access any of those ingredients," White said.
White said opioids pose a crisis, and have been for about a year and a half.
"Absolutely we are in a crisis. We have been in a crisis for 18 months," White said. He added that other provinces in Canada have been hit worse.
"Vancouver was having two to three people a day die (from an overdose) 18 months ago," he said. "It's a national crisis right now and the scary part is it's going to be much worse before it gets any better."
The federal government referred to opioids as an ongoing crisis in their opioid action plan. Present at the meeting was Coun. Shad Qadri, chair of the Ottawa Board of Health, who's been attending many community meetings on the topic and has been working with activists to address the issue in Ottawa.
Ottawa Public Health recently opened an interim supervised injection site after the board unanimously approved it. OPH has also worked with the Sandy Hill Community Centre to bring a permanent supervised injection site to Ottawa and
Last year, the board voted 9-2 to approve supervised injection sites coming to Ottawa as a harm reduction strategy – Qadri and Coun. Michael Qaqish voted against.
White is not against harm reduction, but feels education and awareness comes first. He would also like to see packages coming from foreign countries searched more thoroughly.
"We still have the ingredients arriving every minute of every day from China," said White. "Our breaking point I think is going to have to be on combating from a customs perspective and that's going to be searching (packages) to a much greater level."
[caption id="attachment_80606" align="aligncenter" width="1000"]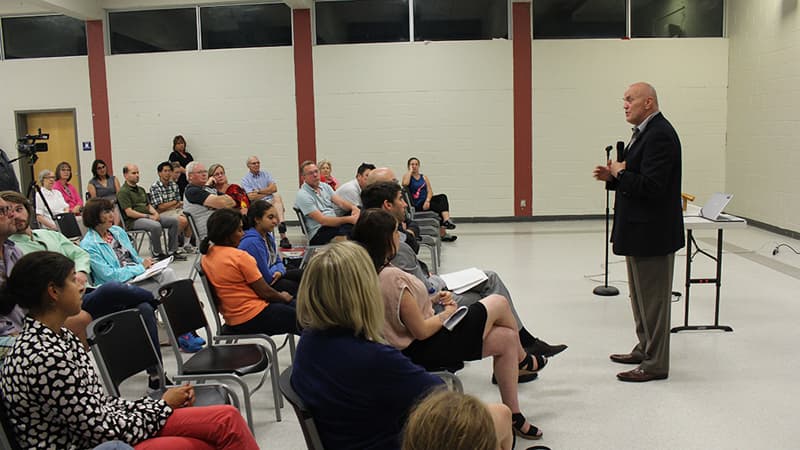 White speaks to a group of residents about Opioids and the impact they have on Ottawa. (Charlie Senack for OttawaStart.com)[/caption]
White hopes that companies that are caught shipping ingredients over illegally will be prevented from ever doing so again and feels that these aggressive methods are necessary to combat the crisis.
He hopes that better education in schools would help teens make right choices, a message echoed by drug activist group We The Parents which had representatives in attendance at the meeting.
"I think our program (school curriculum) needs to be more hard-hitting now and actually more life changing for young people," said White. "We're being told fentanyl can kill but nobody on our streets are buying fentanyl. They are buying other drugs that are laced in fentanyl and as a result they are dying."
White added that teens need to realize even if they split a pill in two to share, one part could be laced in fentanyl whereas the other part may not.
"Telling young people not to take an opioid or heroin is one thing," said White. "Now we found out that something else we are taking (such as) half a Percocet from a friend (could) be laced in fentanyl which could kill you."
White would like to see all levels of government work together on this issue to get the message across in communities.
"Other senators could have sat here tonight and not known what we talked about either," said White. "I think it's important for us to get the message out across the board, not just in our communities, but also to our politicians."