Useful links to help you survive a winter storm in Ottawa
Snow (or ice) coming?
Here's a list of links to help you get through the day:
The latest forecast
Check out our Ottawa weather page for forecasts, radar maps, weather warnings, and current conditions.
Ian Black (from CBC Ottawa) usually has the latest and most accurate info re: weather in Ottawa.
Here's Environment Canada's Weather Warnings.
General info
Make the most of it
Check out our Toboggan Guide or Ski Guide.
Traffic and bus cancellations
The Ottawa Student Transportation Authority website posts info about school bus cancellations. You can get info on West Quebec school buses here.
OC Transpo posts route cancellations & delays to their web site.
Google Maps has a traffic layer showing how well (or how poorly) traffic is moving.
Power outages
You can see a map of power outages in Ontario via the Hydro One Storm Centre. Find local updates on Hydro Ottawa's site.
Airport and train details
If you're flying somewhere or expecting visitors from out of town, here's the link to flight information at the Ottawa Airport.
You can check for VIA Rail delays here.
Snow clearing
Want to know when the plow is coming? Need to report a pothole? Wondering about who's responsible for cleaning snow off your road or sidewalk? Check out this page about the City of Ottawa's winter road maintenance.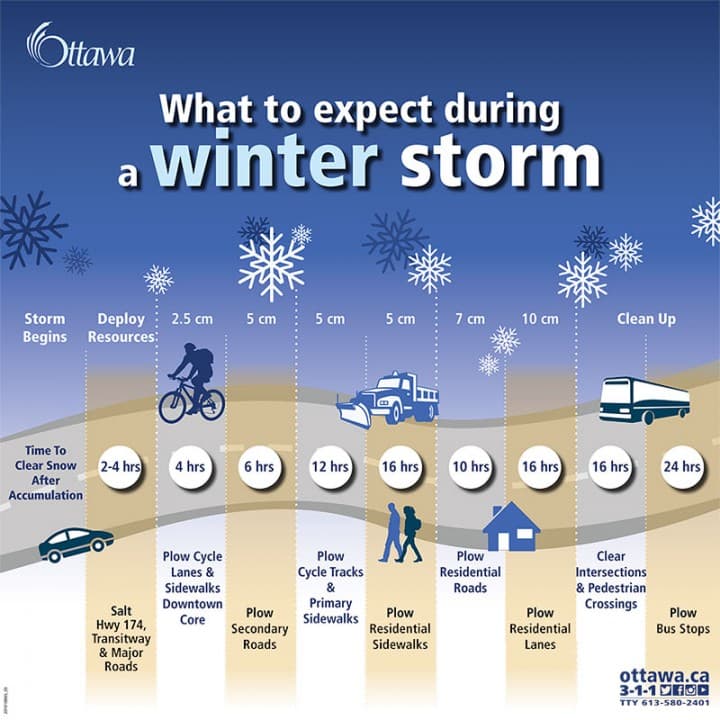 Winter storm snow removal standards, via the City of Ottawa