Unique shipping container design to be used in public space for Ottawa 2017
_ (press release) _ ** Ottawa – ** The Ottawa 2017 Bureau and Mayor Jim Watson, in collaboration with lead sponsor CIBC, are thrilled to announce that Inspiration Village, an ephemeral hub for special exhibits and performances to highlight the regions of Canada, will be located in Ottawa's historic ByWard Market.
In an unusual twist, Inspiration Village will be built out of sea containers transformed into an aesthetic artistic installation – a sustainable, cost-effective and flexible building material that is gaining interest around the world.
Ottawa 2017 is also pleased to welcome the Royal Architectural Institute of Canada (RAIC) as a partner in the creation of Inspiration Village. The RAIC will assist in securing a unique and modern design for Inspiration Village, where sea shipping containers will be transformed into exciting public programming spaces.
[caption id="attachment_44505" align="aligncenter" width="2048"]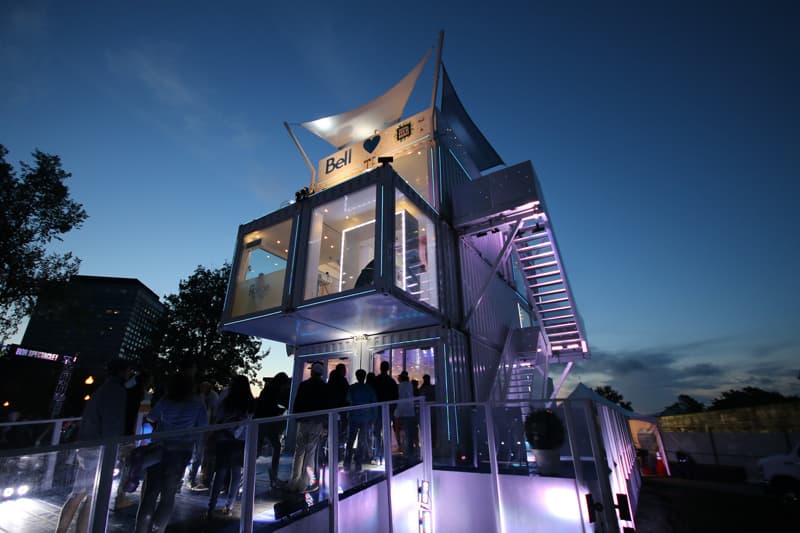 Photo via Ottawa 2017[/caption]
A core site for Ottawa 2017 programming from May to September 2017, this edgy-looking entertainment locale on York Street will be the site of a succession of special exhibits and performing arts events, each one showcasing Canada's provinces and territories.
"The celebrations surrounding the 150
th
anniversary of Confederation are a unique opportunity to inspire Canadians and celebrate our magnificent cultural diversity," said the Honourable Mélanie Joly, Minister of Canadian Heritage. "Inspiration Village, one of the fascinating activities presented as part of the Ottawa 2017 program, will offer a wide variety of artistic works. I invite everyone to participate and allow yourselves to be inspired!"
"We're very happy to have the Royal Architectural Institute of Canada, a leader in promoting design excellence in Canada, partner with Ottawa 2017," said Mayor Jim Watson. "Hundreds of thousands of residents and visitors will have the opportunity to visit Inspiration Village in the ByWard Market next summer to experience Canadian culture in this one-of-a-kind setting."
Inspiration Village will be launched in time for the start of the 2017 Festival of Architecture, another RAIC undertaking that is designed to engage the public as well as architects from across the country, which will take place in Ottawa from May 24 to 27, 2017.
"As Canada's voice for architecture for more than a century, we're proud to partner with Ottawa 2017 on the design for Inspiration Village," said Allan Teramura, President, RAIC. "Transforming York Street from a parking lot to a public square will celebrate our country's 150
th
anniversary and encourage Canadians to pause and consider the role of architecture in creating our built heritage and enhancing the quality of life."
A section of York Street, between Sussex Drive and ByWard Market Square, will be the village's home, enabling residents and visitors to benefit from a broader expanse of pedestrian space while exploring new public space concepts for the ByWard Market.
"The ByWard Market, one of Canada's oldest and largest public markets, is delighted to host Inspiration Village during Canada's sesquicentennial celebrations," said Jasna Jennings, Executive Director, ByWard Market Business Improvement Area (BIA). "Since 1826, we have been a premier destination in Ottawa for shopping, dining, arts, and entertainment, and we look forward to welcoming residents and visitors to enjoy yet another dynamic offering in this historic sector."
"As a proud co-host of the celebrations for Canada's 150
th
anniversary with Ottawa 2017, CIBC welcomes the Royal Architectural Institute of Canada to the team," said Monique Giroux, Vice-President, Sponsorship Marketing & Strategic Partnerships, CIBC. "Inspiration Village, with its pan-Canadian arts and performances, will be another must-see destination for visitors who join us for Canada's big year, fueling our national pride and bringing us closer together as a country."
"A high-impact artistic installation made out of modified sea containers located in downtown Ottawa, where we can feature all the regions of Canada, has always been an important cornerstone of the programming plan for Ottawa 2017," said Guy Laflamme, Executive Director of the Ottawa 2017 Bureau. "We are proud to have the Royal Architectural Institute's support for Inspiration Village, an idea that I generated with my counterpart from South Africa on the Board of the International Festivals and Events Association and that was inspired by the international success of their biennial Saphila conference."
Exhibits and performances at Inspiration Village will be announced in the coming months.
This exciting project is possible thanks to the support of partners like the RAIC, Stantec for engineering services, and Wendy Kane & Associates, who were instrumental in creating PEI 2014's 70-day festival celebrating the sesquicentennial of the historic 1864 Charlottetown Conference and the first meeting of the Fathers of Confederation.
Canada's 150
th
celebrations will offer Canadians and visitors from around the world an exceptional and memorable year of high-caliber experiences while bringing a record number of visitors to Ottawa in 2017 to celebrate this important milestone for our country.
Ottawa 2017 thanks its lead partner CIBC, premier partner Bell, and the Government of Canada for their contributions in helping to deliver twelve full months of bold events, immersive experiences and all-out celebrations.
Stay informed on plans for Canada's 150
th
birthday celebrations in the capital. Visit ottawa2017.ca , follow us on Twitter @2017ottawa (#Ottawa2017) and on Facebook .