Trio of Canadians return to Fury FC for 2017, including two locals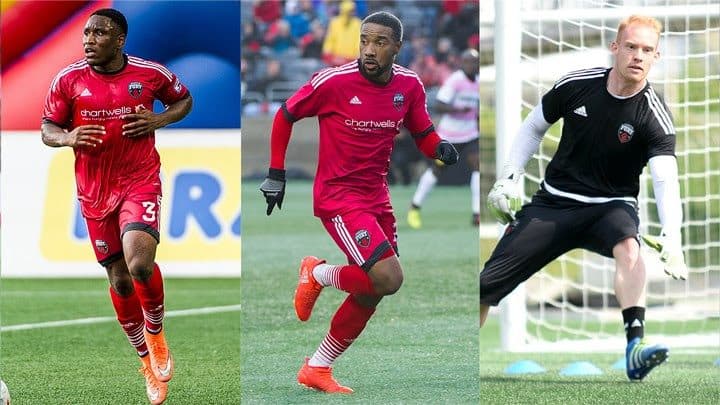 _ (press release) _ ** OTTAWA, ON ** -  Fury FC continue to build their squad for their 2017 USL season with return of local players Eddie Edward and Jamar Dixon along with goalkeeper Andrew MacRae. The club announced their signings Thursday pending league and federation approval.
"We are delighted to welcome Eddie and Jamar back for next year," said head coach Paul Dalglish. "Both players bring a lot of experience, a good work ethic and fit perfectly into our system. The fact that they are both from Ottawa is a big bonus and shows our dedication towards our community."
Edward joined Fury FC at the end of Spring Season this year and cemented himself as one of the cornerstones of Ottawa's backline.
In 2016, the 28-year-old right back reached a career-high in minutes played, logging 2352 minutes split in between FC Edmonton (9 matches) and Fury FC (19 matches).
"I'm thrilled to continue living the dream of playing for my home city," said Edward. "This club is going in a positive direction and I'm extremely honored to be here and be a part of the continued growth of Ottawa Fury FC."
Fellow Ottawa native Jamar Dixon proved to be an important asset of the Fury FC midfield, as the 27-year-old logged in nearly 900 minutes in 12 games, recording two assists and earning an NASL Team of the Week nomination. He was also called to the CanMNT Wednesday for an International Friendly in South Korea on November 11th.
"I'm very happy to be back in Ottawa next year. Having the opportunity to play for my hometown club again, I couldn't ask for more, especially with the way we are treated here," said Dixon. "I think the new league is a step in the right direction and as players we want to stay focused and contribute on the pitch to make this club successful."
Also returning to Fury FC for the 2017 season is 26-year-old goalkeeper, Andrew MacRae. The Coldbrook, NS native will be back for a second season with the club, after spending this past year developing alongside Romuald Peiser, Marcel DeBellis and goalkeeper coach Bruce Grobbelaar.
The first four players announced to the squad for the 2017 season are all Canadians as the trio of Edward, Dixon and MacRae join Carl Haworth whose return was announced on Tuesday.