Transit town hall an airing of grievances for OC Transpo
From left: Joel Harden, MPP; Sally Thomas, former paralympian; Sarah Gilbert, citizen transit commissioner, and Shawn Menard, city councillor. (Photo/Devyn Barrie)
Joel Harden, MPP for Ottawa-Centre, kicked off a town hall discussion on Nov. 30 simply by saying: "Transit." This was immediately followed by someone in the audience loudly groaning, which pretty much sums up how residents who attended are feeling towards OC Transpo these days.
The town hall, hosted by Harden and Coun. Shawn Menard, was an airing of grievances in a way for transit riders inconvenienced by unreliable buses and a so-far inconsistent experience with O-Train Line 1. The forum, which included a panel discussion between Harden, Menard, paralympian and vocal transit rider Sally Thomas, and citizen transit commissioner Sarah Gilbert, followed a group discussion format to generate feedback. It was as much about inviting residents to identify what's wrong with Ottawa's current transit system as well as to discuss what can be done to fix it. Menard's staff were on-hand to jot down commentary to share with city management, and Harden said he was looking to understand how the province may be able to play a role.
The first half of the afternoon focused on where OC Transpo is falling short. On that, there appeared to be some consensus in the room that the current system is not customer-centric.
"The service has been lacking for years and years," said Menard. "You've got to make sure you're catering to people and listening to what riders are saying … we have not listened to riders appropriately, it's been a top-down approach, and that's what's wrong." One example would be the gutting of local bus service in the downtown core, where the train has replaced many routes, to the chagrin of some residents. Menard said it would have made more sense to provide more bus service, rather than less, in order to efficiently feed people into the rail line and to handle the expected ridership increase that comes with LRT.
Thomas, who uses a wheelchair, provided some insight into what it's like to use transit as someone with differences in mobility. Ottawa's transportation network, like sidewalks, is generally difficult to access and Thomas said that means she needs to take the bus even just to travel a few blocks. "What's going well is (OC Transpo) is accessible," Thomas said. "I was just hoping it would be more accessible now." Packed buses often mean no room for her to get to the cooperative seating area, and using Paratranspo regularly boasts wait times for Thomas of 45 minutes, she said. If she wants to ride somewhere with a group of her friends, who also use wheelchairs, they can't all use the same bus or the same train car because there's only enough room for two people in cooperative seating.
The value of local bus service for accessibility was highlighted with the recent improvement to bus frequency at the Good Companions Centre. Before the train, many transitway buses served the stop right outside, so seniors could easily get to the centre without much walking. After the O-Train opened, they'd either have to use Pimisi Station some walk away or try to time themselves to the twice-an-hour #16 bus. Recently the city increased the frequency of the 16 to be every 15 minutes so seniors can get there easier.
The floor was opened up to the audience, after some brief group discussions. A common sentiment was general frustration with the unreliability of transit. When one person stood up and commented that the poor service was forcing people back into cars, someone else shouted "Yes!" Another commented that the bus schedules are "basically useless", which elicited a reply of "hear hear!" from another attendee.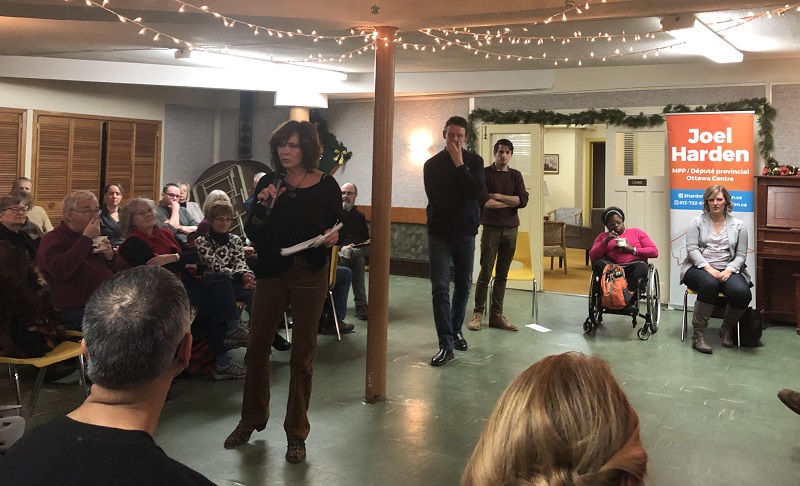 A resident takes the floor at the transit town hall hosted on Nov. 30. (Photo/Devyn Barrie)
Some of the issues identified were big-scale, such as the unreliability of the O-Train or the car-centric nature of Ottawa. Others were smaller ideas that can be more quickly addressed. One attendee said: "Coming down to things we can solve tomorrow, we can solve the fact our apps don't show us where the bus is. We can solve the fact the buses are crowded. Why are the buses not coming on time?"
Gilbert added the frustrations of some people have, in some cases, come dangerously close to violence. "I've seen near fistfights at Blair," she said, in addition to her own experience of being strongly shoved on a bus recently. "I think that we all need to just take a deep breath and think about our fellow humans."
As a citizen transit commissioner, she is not paid to sit on the transit commission but volunteers her time as a way to give back, she said. Gilbert rides OC Transpo five days a week to get to and from work downtown, and said it's important that the system be able to serve everyone effectively, regardless of what they need transit for. While many people use it to get to their federal jobs downtown, it's just as important to serve people who need transit to get to doctor appointments, she said.
"The name says it all: it's public transit. We need to make sure it's working for everyone or else it's working for no one."