Transgender Stittsville tween named Grand Marshal for Ottawa Capital Pride
_ (press release) _ _ Ottawa Capital Pride honours three Parade Marshals who have been important activists and champions for the LGBTTQ+ community _ ** OTTAWA, Aug 2, 2016 ** ** _ Parade Grand Marshal _ ** Charlie Lowthian-Rickert, age 10
Charlie was born in the body of a boy but has identified as a girl since she was a toddler. The Stittsville tween is a passionate and effective advocate for the rights of transgender, gender fluid, gender queer and intersex Canadians.
In May, she joined the federal Justice Minister for the tabling of Bill C-16. She is actively raising funds for Family Services of Ottawa, and she will be featured in a documentary on gender diversity that will air nationally in the coming months.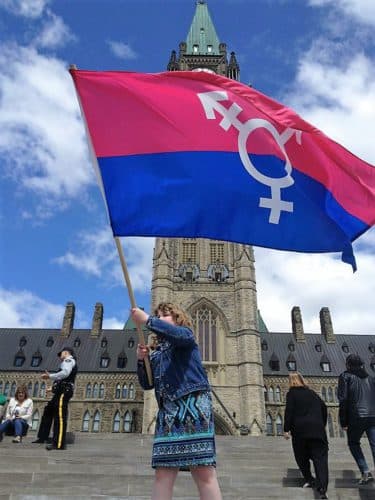 Every year we choose a Grand Marshal who exemplifies leadership in advocacy and improving the lives of those in the LGBTTQ+ community, both locally and globally. As Capital Pride 2016 furthers the conversation on Bathrooms without Borders and safe spaces for all, Charlie was a natural choice for Parade Grand Marshal.
When she is not engaged in public policy debate, you will likely find Charlie reading books, making music, enjoying nature or building model cars and planes.
Charlie is considering running for Parliament someday, and expects to stay active in trans' rights advocacy until such efforts are no longer needed. ** _ International Parade Marshals _ ** Made possible with a grant from the U.S. Embassy in Ottawa, Capital Pride is happy to welcome Chrystos and Laith Ashley de la Cruz as the International 2016 Parade Marshals. [
](http://ottawacapitalpride.ca/wp-content/uploads/2016/08/Chrystos-1.jpg) Chrystos is a Menominee writer and activist who identifies as a two-spirit, lesbian woman who uses her writing to expose intersectional issues affecting her people. She has published many books and poems that explore indigenous rights, social justice and feminism, including anthologies such as _ This Bridge Called My Back . _ Chrystos has won the Audre Lorde International Poetry Competition and received the Sappho Award of Distinction from the Astrea Lesbian Foundation for Justice.
Laith Ashley (De La Cruz), 26 years old, was born in Harlem, New York to Dominican parents. [
](http://ottawacapitalpride.ca/wp-content/uploads/2016/08/LaithPride-1.jpg) He graduated from Fairfield University with a degree in psychology, and until recently, worked as an Insurance Navigator at Callen-Lorde Community Health Center (CL), where he helped homeless LGBTTQ+ youth mostly apply for health coverage. He also counseled youth, and taught young patients to advocate for themselves in a medical setting. Working for this organization gave Laith the support and courage he needed to begin his medical transition.
Laith was one of 17 transgender models chosen to be in the Barney's campaign; Brothers, Sisters, Sons, and Daughters, in February 2014. He has recently graced the covers of FTM and Attitude Magazine. He has walked the runways for New York Fashion Week as well. He is also signed to Slay Model Management—the world's first exclusively transgender model agency in Los Angeles.
Laith is hoping to create awareness, visibility and understanding for transgender people, as well as sharing his story and talents to the world.
Chrystos and Laith are travelling to Ottawa to share their experiences, connect with members of our community, and further enrich the festival.
 * 
**
 Charlie Lowthian-Rickert and Chrystos will be speaking at the
 [
  Human Rights Vigil
 ](http://ottawacapitalpride.ca/event/human-rights-vigil/)
 on Wednesday August 17 from 8-9:30 pm.
**

 * 
**
 Laith Ashley will be a judge at the
 [
  Capital Pride Pageant
 ](http://ottawacapitalpride.ca/event/pride-pageant/)
 on Thursday August 18 from 8 pm.
**

 * 
**
 Laith Ashley will be speaking at the
 [
  Pride Social
 ](http://ottawacapitalpride.ca/event/pride-social/)
 on Saturday August 20. Starting at 8pm.
**

 * 
**
 Charlie, Laith and Chrystos, will all be appearing in the
 [
  Pride Parade
 ](http://ottawacapitalpride.ca/event/parade/)
 on Sunday August 21

  st

 from 1-3:00 pm.
**