To Tweet or Not To Tweet: Should tweeting be allowed during live theatre / arts events?
Earlier this week, Natasha Gauthier posed this question on Twitter:
[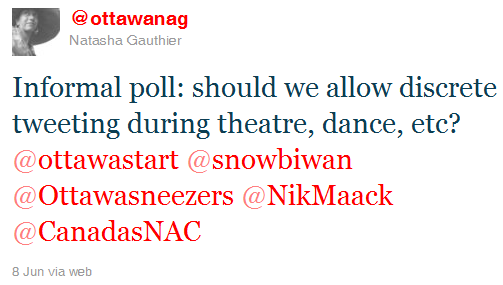 ](http://ottawastart.com/wp-content/uploads/2011/06/poll.png)
I thought it was an interesting question and it provoked a variety of responses . Some people thought it was rude and a distraction to both performers and fellow audience members.  And a couple suggested a special "tweeting section" where you could tweet, liveblog, text and otherwise use your smartphone without fear of being reprimanded by an usher.
So I asked Natasha what was behind the question. Her reply:
"I got the idea from an interview I did earlier in the day with Brian Webb, the artistic director of the Canada Dance Fest. He was talking about bringing different audiences in with a show like [ Bboyizm ](http://www.canadadance.ca/pages/index.php/festival-events/artists/bboyizm/) ...and that got me to think about all these arts organizations that try to attract a younger audience with social media, but then forbid them from interacting during the show... I thought it would be interesting to gauge people's reactions. We tweet election campaigns, accidents, conferences, lectures...so many other things that happen live and in the minute."
In the end, it looks like the Canada Dance Festival may allow select journalists and bloggers tweet live from the show from a designated area, then see what kind of feedback they get.
** What do you think? Should people be allowed to tweet from a performance at the NAC or other live arts venues in Ottawa?  And if you're part of that "younger demographic", would you be more likely to attend a show if you could tweet about it? ** Please share your opinion in the comments below.
** See also: ** Ottawa Entertainment Guide
If you liked this post, please consider subscribing to our blog via email, Twitter, Facebook or RSS. Thank you.