The ultimate guide to Canada Day 2018 in Ottawa
Canada day festivities will take place on Parliament Hill, in Major's Hill Park and at the Canadian Museum of History. (David Johnston/Flickr)
This weekend on June 30 and July 1, celebrate Canada's 151st birthday in downtown Ottawa on Parliament Hill. Here's what you need to know before heading out.
Some notes
Officials recommend leaving two hours before the event you want to attend to get through security.
There are some things you aren't allowed to bring, such as aerosols or alcohol. Folding chairs are OK. It's recommended to bring as little as possible.
There are some big name performances on Parliament Hill for the noon and evening show, but there's also music at Major's Hill Park. Here's the schedule…
Canada Day programming this year is centred on the themes of reconciliation, Canadian women and Canada's diversity and inclusion.
A large swath of downtown streets near Parliament Hill will be closed and officials advise against driving.
Fireworks at 10 p.m. Keep reading for details…
If you don't wanna go downtown, here's some ideas for other celebrations to attend…

Where and when?
Events will unfold in three locations:
Parliament Hill (July 1 only)
Major's Hill Park
The Canadian Museum of History


The full schedule for all the locations is available on canada.ca.
Fireworks
From Canadian Heritage: "On July 1, an amazing 15 minutes pyromusical fireworks show will ignite the Ottawa–Gatineau sky in a spectacular way as of 10 p.m. (weather permitting). The President's Choice ® Canada Day fireworks are a Canada Day must-see. The show's soundtrack is 100 per cent Canadian. The fireworks will be launched from the Nepean Point in Ottawa resulting in a dazzling and perfectly synchronized pyromusical fireworks show." We have a list of other fireworks shows at community events across Ottawa.
Snowbirds flyby
Yes! The Snowbirds will do a flyby over Parliament Hill during the noon show.
Road closures
Roads in the downtown core will be closed, most from 6 a.m. July 1 to 2 a.m. on July 2. Here's a list (or a map, if you prefer.)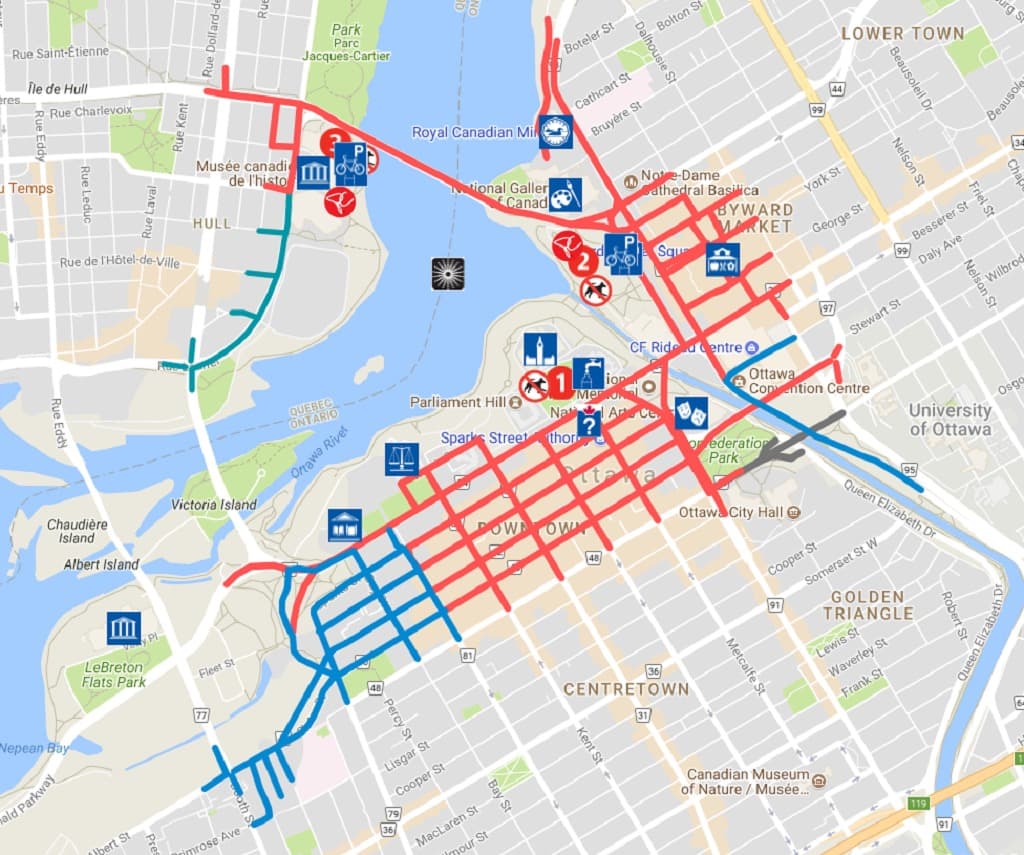 Open and closed
Most non-retail businesses and offices are closed, and just about all government services are shut down. Check out our open and closed list for more info.