'The place to be:' Though it's summer, high schoolers unite in learning
[caption id="attachment_74597" align="aligncenter" width="1000"]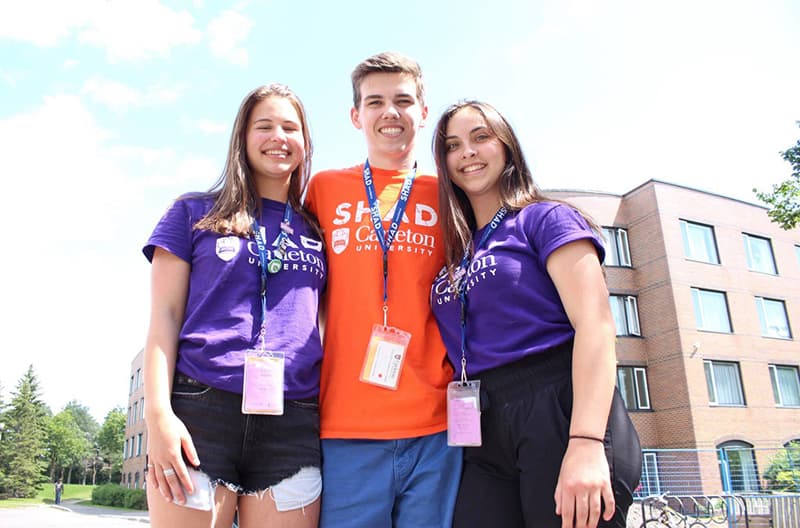 From left: Natalia Whitia, Aaron Osborne, and Audrey Scanlan are students attending SHAD at Carleton University. (Charlie Senack for OttawaStart.com)[/caption]
Wiping away tears, 60 high school students from across Canada said goodbye after a month of learning together, as they returned home with a new look on life.
The students spent July at Carleton University for a summer learning program called SHAD. It started in 1980 and allows selected students from grades 10-12 an opportunity to team build and meet people across the country. It was started in Waterloo and is offered at 13 campuses across Canada.
"SHAD is a summer program that gets 60 exceptional youth together from all over Canada," said Hannah Hobbs, the program manager for SHAD at Carleton. "They can share ideas with each other, make connections, build friendships and have a lot of fun with like minded people."
Students are split up into six coloured teams and need to work together in a team building challenge. This year's theme was reducing Canada's energy footprint. The green team made a turbine.
"Ideally, it would be for the pulp and paper industry, metal production and clothing production," said Isabella Tyc, a member of the green team.  "It's a turbine system that uses a gravitational energy of falling water to produce electrical energy, which would then be sent back to the main circuit of the factory."
Terry Luan, who is from Barrie, is also a part of the team.
"I'm hoping to bring this back to my school and hopefully make a change there," said Luan.
During the program, the students received lectures and workshops on many different topics including business, science, technology, engineering and math.
Aaron Osborne, 17, who is on the orange team, is from a small town in Newfoundland. He was thankful to try new things that he could bring back home with him.
"I'm only from a town of 700 people so we don't have as many courses," said Osborne. "They don't have business or accounting courses; we only have math."
Natalya Whitla, 17, was on the purple team, and is a triathlete nationally ranked in the U.S. and Canada. Throughout July, she has taken on a new type of training.
"People are different then I expected," said Whitla. "Coming into the program I was interrupting people a lot, and I've kind of learned to take a bit of a break."
During SHAD, Whitla met Audrey Scanlan, 17, who was also on the purple team. She enjoyed working with her in the group on a design-entrepreneurship project, and hopes the two will stay connected afterwards.
"I'm going to bring home more leadership skills," Scanlan added. "I feel more confident leading a group, but I've also learned how to step down and listen to others to get their opinions."
Erin Engelhardt was a student at SHAD 27 years ago. She is now the program director and is proud to be involved for over a decade.
"SHAD really gave me the confidence to go into the world," said Engelhardt. "I remember my SHAD 27 years ago with great fondness, and I kept in touch with people."
[caption id="attachment_74596" align="aligncenter" width="1000"]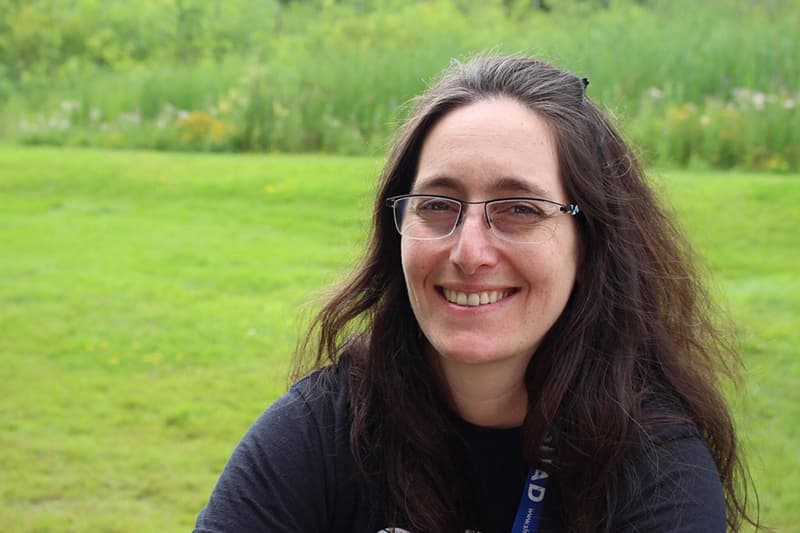 Erin Engelhardt was a student at SHAD 27 years ago. She is now the program director of SHAD for Carleton. (Charlie Senack for OttawaStart.com)[/caption]
For Engelhardt who lived with the students over the month, it's worth being away from her family because of how fun the program is.
"The program first of all is a ton of fun," said Engelhardt. "I know these young people are going to be the change makers of tomorrow, so I do it for them."
The 60 students who were a part of SHAD will all be leaving the program with new friends, and new life skills. Celina Chen, who was a part of the yellow group, will cherish the memory of washing dishes outside during a camping trip.
"This program has taught me that the best moments come out of the simplest things," said Chen. "In order for us to actually get the task done, we decided to sing campfire songs.
"It was a truly beautiful moment where we all bonded, and it also taught us that even when there are challenges, people can come together and just use what they have to create something beautiful," Chen added.
Jess Muir, who lives in suburban Vancouver, said she would encourage anyone to apply for SHAD.
"It's a great way to make connections, to grow and meet people all over Canada," Muir said.
Muir said he wouldn't have the opportunity to meet people from across Canada if it wasn't for the program.
"That's another cool thing about the program, where I'm from, you don't exactly meet people from New Brunswick, or Manitoba, but this is definitely the place to be."