The NCC wants to "reimagine" Nepean Point
_ (Via National Capital Commission) _ The National Capital Commission launched an _ international design competition today for the redevelopment of Nepean Point, one of the most spectacular lookouts in Canada's Capital Region _ . Design teams are invited to submit proposals to redevelop this attractive site to create a lively, natural, 21st century destination for Canadians and visitors alike.
The proposed rejuvenation project involves the removal of the Astrolabe Theatre structure, which is now at the end of its useful life, as well as landscaping rehabilitation and enhancements, accessibility improvements and the provision of interpretation fixtures.
This competition is also an opportunity to enhance the connection between the site and its surroundings, including the National Gallery of Canada and the Royal Canadian Mint. The final proposals submitted will include the design of a pedestrian bridge linking Major's Hill Park and Nepean Point, a gathering place for events and programming, and various other facilities.
The NCC's goal is to officially announce a winning design team and their concept in 2017 as part of Canada's 150th anniversary celebrations. ** QUICK FACTS ** ** The Competition: A Two-Stage Process **
 * 
All interested design teams must be led by a landscape architect who is eligible to be licensed to work in Ontario.

 * 
As of today, January 19, 2017, details of the competition are posted on
[
 gc.ca
](https://buyandsell.gc.ca/procurement-data/tender-notice/PW-17-00765416)
.

 * 
In the first stage, up to four (4) design teams will be selected to participate in the second stage.

 * 
In the second stage, each finalist will have to submit a proposal that describes the overall design concept, a development plan for the entire site and a more detailed design for Nepean Point.

** The Site and its Features **
 * 
The competition site occupies an area of about 2.5 hectares, bound on the north and west by the Ottawa River, on the east by the National Gallery of Canada and Mackenzie Avenue, and on the south by St. Patrick Street.



 * 
The majestic statue of Samuel de Champlain, who explored the Ottawa River in 1613, will remain a feature of the site.



 * 
The Astrolabe Theatre structure, which is the current centre of the site, was inaugurated in 1967.

** Public Engagement and Planning **
 * 
The NCC consulted the public, community stakeholders and interest groups on the future of Nepean Point.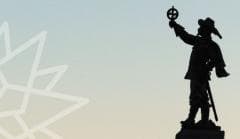 * 
This design competition follows the June 2014 planning workshop where participants highlighted a vision for the site, themes, objectives and guiding principles toward building a prominent destination that residents and visitors can enjoy.



 * 
The redevelopment of Nepean Point is one of the 17 big ideas submitted by the public as part of consultations on the Plan for Canada's Capital, 2017–2067.

** QUOTE ** "With its panoramic views of the Capital, Nepean Point is a signature landmark on the shoreline of the Ottawa River. This design competition is an opportunity to reimagine this pre-eminent site—built for Canada's centennial in 1967—as a new legacy for Canada's sesquicentennial and beyond."
—Dr. Mark Kristmanson, Chief Executive Officer, NCC ** LINKS **
 * 
[
 National Capital Commission
](http://www.ncc-ccn.gc.ca/property-management/what-we-manage/nepean-point-renewal)

 * 
[
 Request for qualifications (RFQ) document
](https://buyandsell.gc.ca/procurement-data/tender-notice/PW-17-00765416)