The Great Glebe Garage Sale is on Saturday, here are some pro tips for getting ready
The legendary Great Glebe Garage Sale is on Saturday, May 25, 2019 Think you're ready?
You MUST read David Scrimshaw's Garage Sale Schema for all the pro tips on navigating this event.  Required reading for tips like:

"Don't make plans for late afternoon … you'll need a nap when you get home"
"don't bother with the blocks east of Bank"
"buy lemonade from kids as often as your internal organs permit"

Once you've read Dave's rules, for balance you should read Zoom's recommendation to break all the rules.
ATMs empty out early, so bring cash to avoid disappointment.
The official start time is 8 a.m., but if you start at 8 a.m. you'll miss out on the best stuff. People have been known to start browsing at 7 a.m. or earlier.
Did you know that sellers are encouraged to donate a portion of their sales (10% recommended) to the Ottawa Food Bank?
This garage sale goes rain or shine.  No rain date.
Don't even think of bringing your car. Traffic in the Glebe is always chaos on garage sale day, but it will be particularly challenging with Ottawa Race Weekend.
If you're posting about the event on Twitter, the official hashtag is #gggs. You can also send us a photo and/or tell us about your loot by tagging @ottawastart on Twitter.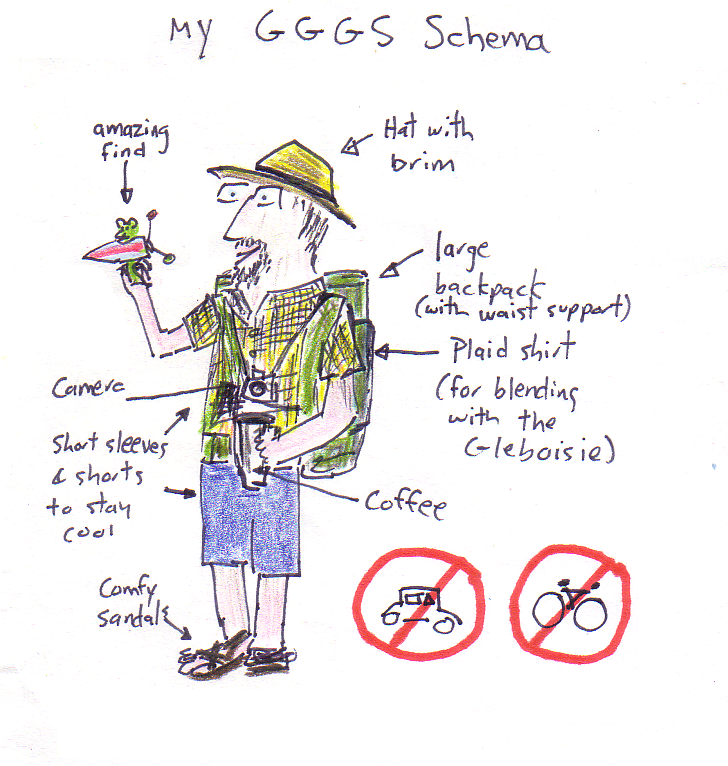 David Scrimshaw's Great Glebe Garage Sale Schema. Original here…
(This post was originally published May 2011 and has been updated many times since then.)