TD Ottawa Jazz Festival starts June 21
TD Ottawa Jazz Festival crowd at City Hall in 2018. (Photo/Chris Parker)
Where: Ottawa City Hall, Confederation Park, NAC, Queen St. Fare (170 Queen St.), Lord Elgin Hotel Grill 41 and Mercury Lounge (56 ByWard Market Sq.)
When: June 21 through July 1. See the full lineup here…
Cost: Varies. See ticket options here…
TD Ottawa Jazz Festival kicks off June 21, bringing with it a wide-ranging lineup sure to thrill music lovers at six locations around downtown Ottawa.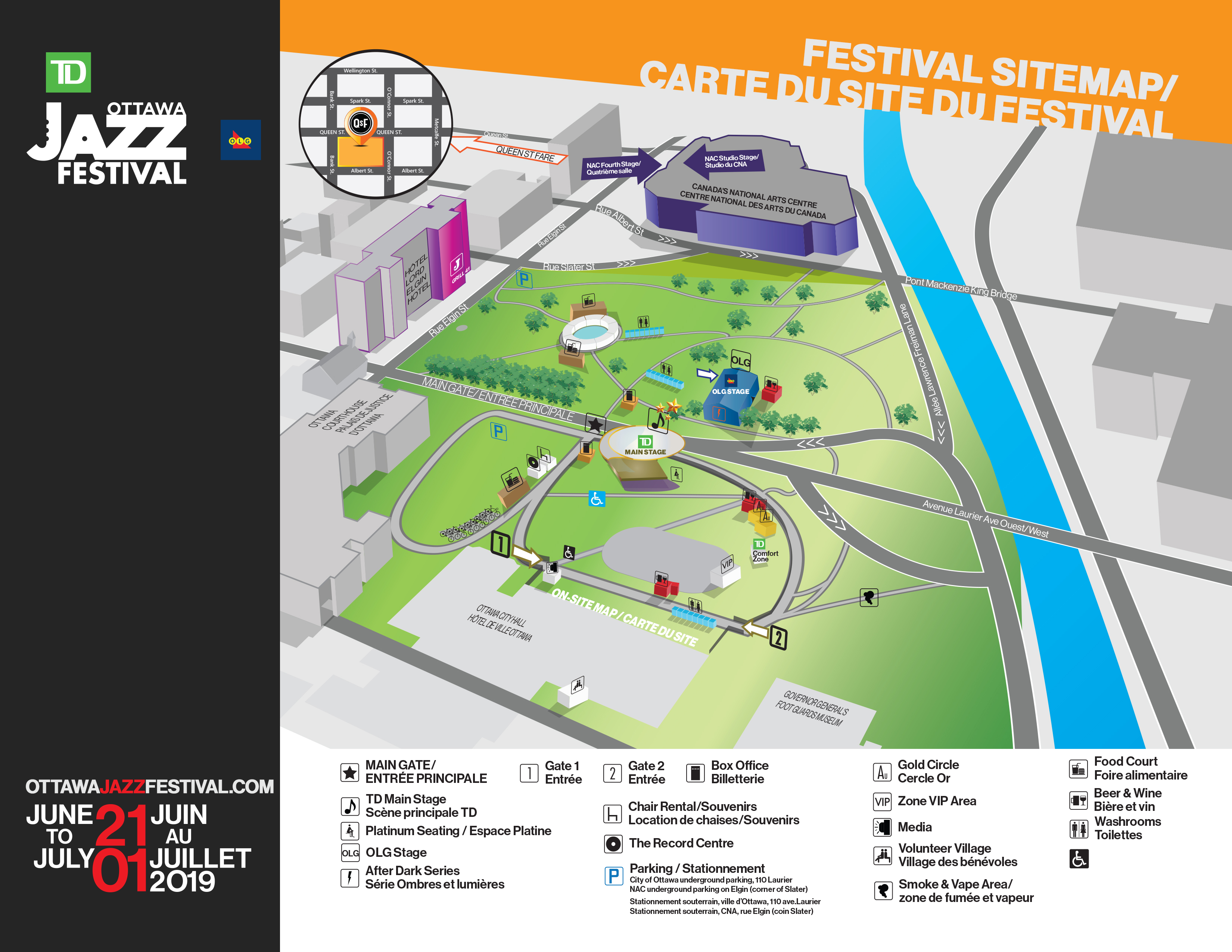 Sitemap of TD Ottawa Jazz Festival 2019.
The festival is the second oldest jazz festival in Canada, now marking its 39th year. TD has been the main sponsor since 2004. Critical funding comes from sponsors around the community as well as government organizations like the Government of Canada, Government of Ontario, City of Ottawa, Canada Council for the Arts, Ontario Arts Council and the Community Foundation of Ottawa. Jazz fest involves over 600 volunteers, about half of whom have been involved with the event for at least 10 years.
Here are a few things to know about this year's edition, via festival organizers:
From June 21 – July 1, Festival headliners will be showcased on the TD Main Stage at Marion Dewar Plaza in front of Ottawa City Hall.
For 2019 the Festival has made deliberate curatorial choices that focus and highlight the contributions of women in music. With artists such as Omara Portuondo, Jane Siberry, Judith Hill, Norah Jones, Terri Lyne Carrington, Nubya Garcia and Cyrille Aimée, to name just a few, will appear on every stage as leaders, composers, arrangers, improvisers, collaborators and play every kind of instrument.
For the price of one Single Day Pass:

Arrive at 6:30pm for the Downtown Rideau Series on the TD Main Stage at Marion Dewar Plaza.
Cross the street to catch the the OLG Stage at 7:30pm at Confederation Park with all Canadian artists.
Then head back to the TD Main Stage for the 8:30pm headlining Concerts Under the Stars Series featuring a roster of legendary and visionary musicians including Chicago, The Roots, Brad Mehldau Quintet and Lee Fields & The Expressions.
Your evening of music continues late night at 10:30pm at the After Dark Series on the OLG Stage at Confederation Park featuring critically acclaimed artists such as DJ Questlove, Donna Grantis, paris_monster and DakhaBrakha (Tickets for the 10:30pm After Dark Series are also available).
Cap off your evening in true jazz style into the wee hours of the morning at the Late Night Jam Sessions at Restaurant Grill 41 inside the Lord Elgin Hotel. You never know which visiting artist may show up to join the jam!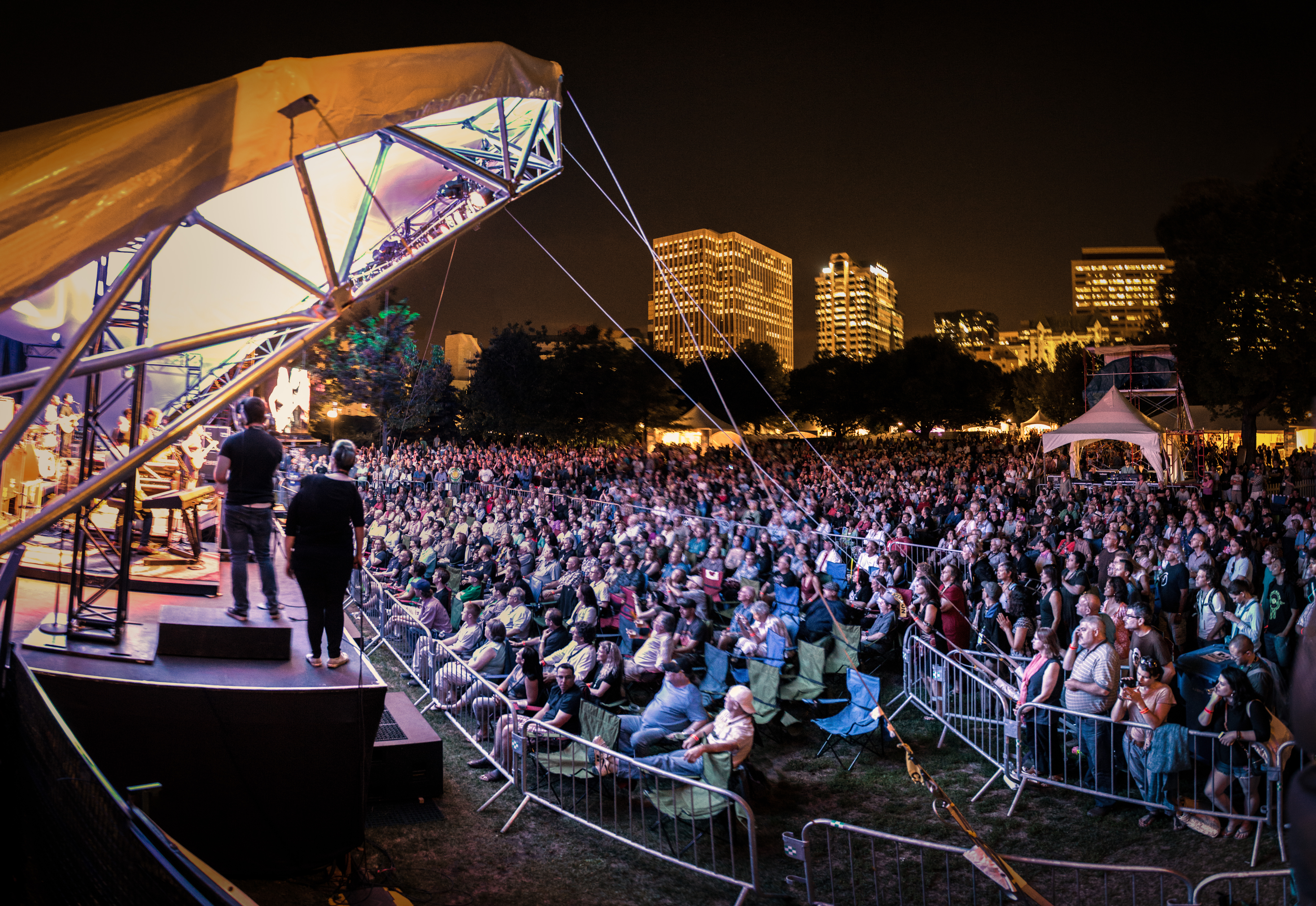 Photo/Chris Parker
New this year! Everyday at 4pm at Queen St. Fare (170 Queen St), Ottawa's first food hall with six eateries, enjoy expertly-made cocktails at the bar while enjoying a great show for free.
A range of quintessential, consummate jazz by renowned artists is available for the price of a pass (Bronze = $199 and Student = $99 or single tickets to the NAC shows only are also available) at the National Arts Centre Studio or Fourth Stage. Festival passes give access to all shows including the TD Main Stage at Marion Dewar Plaza and OLG Stage at Confederation Park.
The TD Jazz Youth Summit, presented each year, brings together top young musicians from across the nation to receive training and workshops during the Festival, culminating in two performances (including Sunday June 30 and Canada Day on July 1). The Canada Day performance is also sponsored by Stingray Music.
Celebrate CANADA DAY at the OLG Stage at Confederation Park with four FREE shows programmed throughout the day on July 1st.
For the first time, there will be a blackout date on Monday, June 24 with no shows scheduled.