'An institution': Susan Sherring says goodbye to the Ottawa Sun
Reports of Susan Sherring's retirement are greatly exaggerated.
Certainly, she has taken a buyout from the Ottawa Sun and yes, she has put down her pen for now. But she's not going away that easily.
Sherring, 57, had been at the paper since day one, writing about everything and anything. All that came to a halt when she announced her departure on Nov. 24 via Twitter. Her last column was published on Dec. 12.
With such a heavy heart & mixed emotions to say that I've taken the voluntary buyout from @PostmediaNews dam this is hard

— Susan Sherring (@SusanSherring) November 24, 2016
"Even today it's a very different feeling," she said of her unemployment. It was a tough choice, she said, but one she felt was right. She was still watching city council on TV as she spoke to OttawaStart.com by phone.
Her journalism career dates to the early 1980s, when she was a journalism student at Carleton University. In 1981-82, she was the news editor of the school newspaper the Charlatan.
She happened to attend Carleton at the same time as Jim Watson, who was then president of the Rideau River Resident's Association. One of her first quotes of the future mayor of Ottawa was when he told her that he "would never make a good politician."
In 1986 she started freelancing for the Sunday Herald, a weekly newspaper founded in 1983 by Ottawa broadcaster Lowell Green. The paper was sold in 1988 and became the Ottawa Sun it is today.
Sherring said launching a daily newspaper, even in 1988, was a tremendous privilege, particularly since none of the Herald's staff had ever worked on a daily. "We were kinda young and the Sun impressed upon us how big this was," she said.
As a Sun reporter, Sherring had many beats. She covered the courts, politics and the civil service.
Her most memorable was writing the general-interest column called Page Six.
"It could be almost anything you wanted it to be," Sherring said. She covered everything, big or small. Often the column had multiple stories rolled together. There was a bit of gossip here and there, although not as much as the infamous Page Six of the New York Post.
In 2003 she was dragged, in her words, "kicking and screaming" - to city hall by Sun editor-in-chief Rick Gibbons.
Sherring had covered city council on and off in the past, but now she was the Sun's first fulltime city hall columnist. Eventually she came around and admitted she liked it.
Gibbons wrote in an email that he knew city hall was the right fit.
"I think it took her a while to see that it provided the perfect stage for her to do what she did best," he wrote. "She knew the players and wasn't afraid to speak her mind, even if it meant butting heads with the powers that be."
Indeed she did, said fellow Sun city hall reporter Jonathan Willing.
"She has an amazing BS detector," Willing said. "[In a scrum] you just see the look wash over her face and you know a tough question is coming."
Willing said her leaving is a loss for him, the newsroom and readers. "We're all gonna miss Sue," he said. "It's gonna be tough."
(Willing assured OttawaStart.com that he has no plans to take a buyout himself.)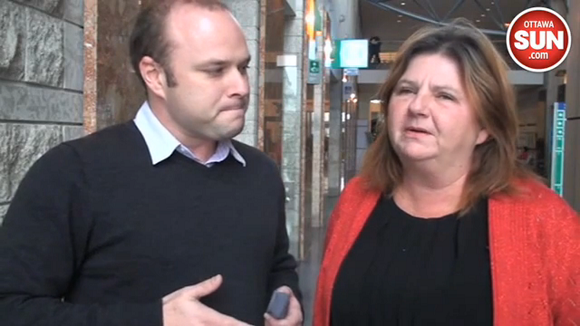 Jonathan Willing (left) and Susan Sherring (right) chat on-camera in 2012. (OttawaSun.com)
Ed Hand interviewed Sherring many times when he hosted a talk show on 1310 News and said he's known Sherring since the early 1990s when he was a news anchor at 54 Rock CJSB.
"She was always a fun person," Hand said. "She's an institution in this town."
"I think better things are in the horizon [for her]."
Of course, easy for them to say – they were never at the barrel end of one of her stories. After she announced her buyout, Sherring joked on Twitter that she heard cheering coming from the offices of several city councillors.
So I'm leaving @PostmediaNews pretty sure I just heard a big cheer from offices of @TimTierney @RiverWardRiley @AllanHubley_23

— Susan Sherring (@SusanSherring) November 24, 2016
And what was it like to be covered by Sherring?
Pretty annoying, said College Ward Councillor Rick Chiarelli, whom Sherring has written about since 1988 when he was first elected to Nepean council.
"Initially it was a pain," he said. "Then I started to understand where she was coming from."
For many years, Sherring would issue "report cards" grading the performance of every city councillor. Year after year, Chiarelli received either a C- or a B, along with the pleasure of reading Sherring's written explanation.
"When I'd see the explanation I'd want to give a report card on her," he said with a laugh.
Her reporting had impact, too. Chiarelli said he would consider her response when making policy decisions.
"We would try to put ourselves in her shoes… figure out what she would criticize and try to fix that."
He said her stories would occasionally raise issues that eventually became major policy points.
The most memorable example of this was Sherring's work on the city's contract with Orgaworld, the company that handles Ottawa's green bin waste. She kept on the story and revealed that the 80,000 tonne target for waste to be diverted into the green bin was simply pulled out of thin air by city staff, with little evidence. Sherring's revelations were eventually confirmed by a city audit.
Sherring said it was work like that – keeping an eye on the taxpayer's dollar – which she enjoyed the most about covering city hall. "You want to feel that you're affecting change," she said. "You need journalists to pay attention to that."
The ranks of journalists have thinned in recent years, especially at newspapers. Postmedia, which publishes the Sun and Ottawa Citizen, started offering buyouts in October with the goal of reducing its payroll by 20 per cent and threatened layoffs if that target was not met.
One of the most difficult moments in her career came last January, when the company merged the two newsrooms and laid off 12 journalists.
"That was hard for me," she said. "I am a very emotional person and I just started to cry."
She kept her job then. Now, nearly a year later, she's in a very different place.
She muses about starting a blog, to keep writing.
In the meantime?
"I look for a job."