#StuStrong partnership announced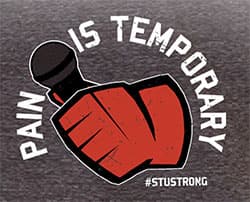 In February 2016, 'Stuntman' Stu Schwartz was diagnosed with Leukemia and began his treatment at The Ottawa Hospital. The diagnosis was one that shocked the MAJIC 100 Morning Show Host and Ottawa Senators PA Announcer.
"Being told you have cancer is never something you expect," said the 41-year-old. "I was shocked, sad and angry. Though once the initial feelings passed, I became determined – determined to come out victorious and beat this," said Stu.
The news of Stu's diagnosis, which he shared via his Facebook and Twitter accounts, quickly spread throughout the community. Within hours, the father of two had inspired the #StuStrong movement.
"Once again we have been reminded of the power of the Ottawa community. When Stu shared his diagnosis, our city responded in an overwhelmingly positive way with hundreds of people coming forward asking how they can help those diagnosed with cancer," said Richard Gray, Vice-President and General Manager of Bell Media Ottawa.
That support came from all those Stu connected with: listeners, colleagues, the Sens Army and the community at large.
"It quickly became apparent that we needed to help Stu streamline the #StuStrong movement and assist him in directing all efforts to the area of the Hospital that meant the most to him: leukemia and stem cell research," said Tim Kluke, President and CEO of The Ottawa Hospital Foundation. "It was important to Stu, to know the community could support the hospital where he was receiving his care."
A partnership between The Ottawa Hospital, Bell Media, the Ottawa Senators and the Ottawa Senators Foundation quickly evolved.
The Senators will be fully engaged in their support of #StuStrong, with a number of initiatives, one of which will be a special game night on
March 22
that will target awareness and raise funds for leukemia and stem cell research at The Ottawa Hospital.
"Cancer touches all of us. The Senators hockey family is all too aware of this difficult and challenging reality," said Senators owner Eugene Melnyk. "I've known Stu for more than a decade and he has been there time and time again to help us with so many community and charitable initiatives. From my annual Melnyk Skate for Kids, to the Sens Soirée, to No More Bullies – Stu has been there to help everyone in our community. Now, it's our turn to help Stu, his family and his fight against Leukemia. Stu's determination and overwhelmingly positive attitude is an inspiring reminder that cancer can be beaten."
The Ottawa Hospital Foundation has created a dedicated web page for the #StuStrong movement. All known community initiatives, including those organized by The Ottawa Hospital Foundation, the Ottawa Senators and the Ottawa Senators Foundation will be listed.
"I want this to be an honest journey. So many people have been through this before and I know I'm certainly not the last of the warriors. I want to help rally this community to support all those undergoing cancer treatment at The Ottawa Hospital," said Stu. "I hope my blogs, positive attitude and determination will help others who are taking on their own battle with cancer."
To find out more about how you can get involved visit ohfoundation.ca or StuStrong.ca .