Sooners and French Catholic board want to build a sports dome at Paul-Desmarais
[caption id="attachment_87813" align="aligncenter" width="1000"]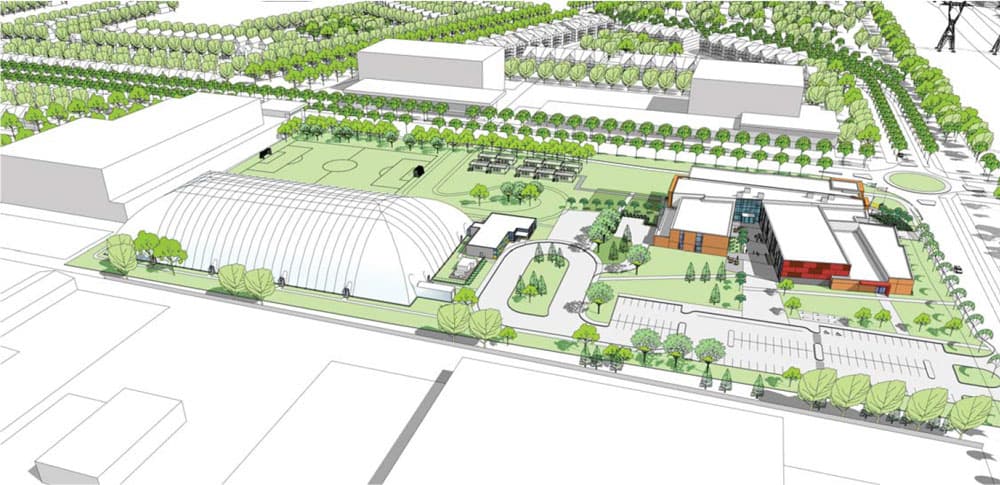 Layout of the proposed Sooners football dome and club house from
Edward J. Cuhaci and Associates Architects Inc.[/caption]
(This post originally appeared on our sister site, StittsvilleCentral.ca)
The ** Conseil des écoles catholiques du Centre-Est ** (the French Catholic school board) has sent in a planning proposal to the City of Ottawa, seeking permission to build a sports dome and field house behind ** École Paul-Desmarais ** in Stittsville. The project is a partnership with the ** Ottawa Sooners Football Club. ** The school board is asking for approval to build "an artificial turf football field which is to be enclosed in a permanent air supported dome with a club house pavilion attached" with a height of 23 metres, which is more than the 15 metres allowed under the current zoning. The dome would be a permanent, year-round facility.
A few more notes from a planning consultant's summary submitted to the City:
 * 
"The new facility will provide access to a professional grade field all year long for both the school's and the community's use. An agreement with the Ottawa Sooners football club ensures a use by the community"

 * 
"The facility main entrance at the club house pavilion is located close to the existing bus loop, providing an easy access to students from the school and to community users from the parking lot"

 * 
"The one storey club house pavilion and the landscaping around the dome provides a smooth transtition [sic] between the surroundings and the inflatable structure. The landscaping is also used to shield the dome's utilities from view."

 * 
"The club house pavilion materials mirror the existing school design by using vivid colour panels above a masonry pedestal. The use of colourful materials further expands the image of an active school opened to the community. The youthful, energetic and progressive image thus projected is appropriate for a secondary school with a holistic curriculum including physical activities and sports."

 * 
"This pavilion is a one storey building with change rooms, offices and snack bar concession."

 * 
"The existing school is already designed to be a gateway to the community. Adding the dome will reinforce the 'heart' of the community by providing an extended mix of uses by introducing a leisure facility."

 * 
"The location of the site at the intersection of an existing major collector road (Abbott Street East) and the future arterial road and rapid-transit corridor (Robert Grant Avenue) ensures the facilities of the active and diverse 'Community Core' is easily accessible to residents."

 * 
"The proposed development is located withing [sic] 600 metres of a future rapid transit station."

Sports domes are in high demand across the City of Ottawa. Nearby domes include the Thunderbird sports facility on Richardson Side Road, and the soccer dome run by Oz Optics on Westbrook off of Carp Road. The Sooners use a number of domes in the City including the Superdome at Ben Franklin Park (Green Bank at Hunt Club) and the Beckwith Dome just west of Ashton . _ (UPDATE: The Sooners do not use the Beckwith Indoor Facility or the Outdoor Multi-Turf field for practices or games.) _ You can read more about the plan here… [caption id="attachment_87814" align="aligncenter" width="676"]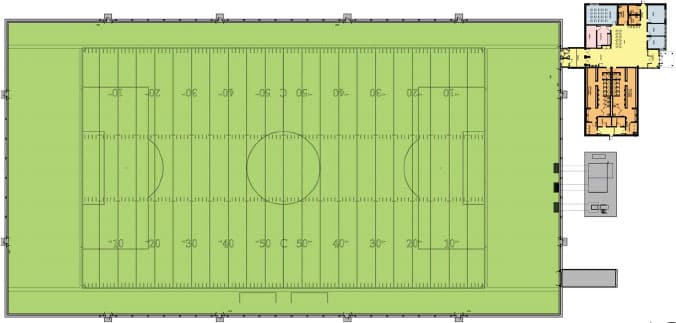 Layout of the proposed Sooners football dome and club house from
Edward J. Cuhaci and Associates Architects Inc.[/caption]