SLOW RIDER: How a community effort got the speed limit lowered in Hintonburg
[caption id="attachment_64210" align="aligncenter" width="6000"]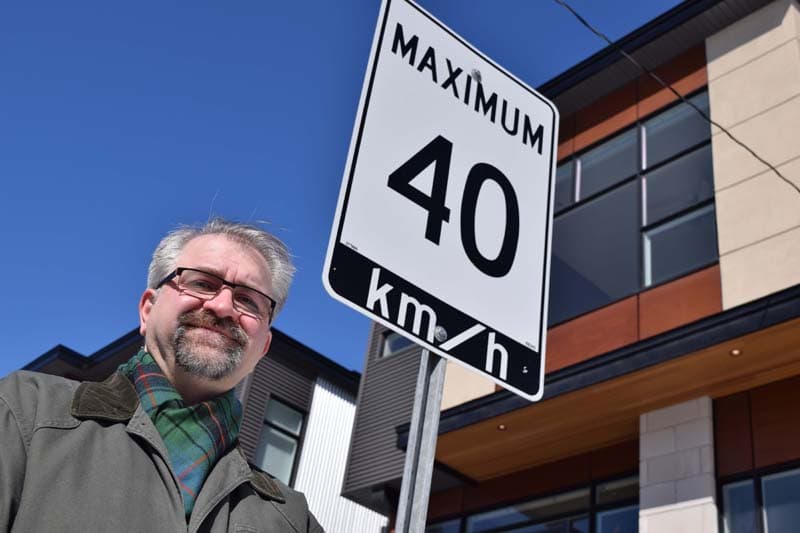 Hintonburg is going to have a lot more signs like this one on Fairmont Avenue. Dickson Davidson with the Hintonburg Community Association says new 40 km/h signs could be up by April at the earliest, after a petition to the city. (Devyn Barrie/OttawaStart.com)[/caption]
If you had 1,700 hours of free time, would you spend it knocking on nearly 2,000 doors to get signatures for a petition to lower your neighbourhood's speed limit by 10 km/h?
That's what Dickson Davidson and about 20 other volunteers did for the Hintonburg Community Association – and it paid off – with 69.32 per cent of 1,855 surveyed homes in residential Hintonburg agreeing the speed limit should be lowered to 40 km/h from the current 50 km/h.
After the area councillor, Jeff Leiper, gave his blessings to the petition, the city is expected to sign off on it later this week and order new 40 km/h signs installed in the community. Signs may be installed by April or May.
"It's a good sense of accomplishment," Dickson told ** _ OttawaStart.com _ ** during a stroll on Saturday down Fairmont Avenue, the street where the Hintonburg 40 initiative began. "The community really came together."
Dickson said recent growth in Hintonburg, especially from new condo units, meant traffic has increased noticeably in the past few years. "It used to be you could fire a cannonball down Wellington at night and not hit anything," he said.
The initiative started in July 2012, when another petition was going around Fairmont Avenue, between Carling Avenue and the Queensway, to lower the speed limit in the southern part of the street to 40 km/h. One resident, Maggie Julian, asked the HCA if it could help lower the limit in the other end of the street.
Around the same time, other streets south of the Queensway near the Ottawa Hospital Civic Campus were also being lowered to 40 km/h.
The City told the association that they would need a new petition – so the HCA's membership voted to survey the entire neighbourhood. The survey began in November 2015 and wrapped up in January 2017.
"I fully support it," said mayor Jim Watson in an interview on Friday. He said he did the same thing, petition and all, when he was a city councillor in the 90s.
Watson said all data he's seen points to lower speed limits as a key factor in reducing road deaths.
Indeed, a study published in 2012 in the American peer-reviewed _ Accident Analysis and Prevention _ journal found that a pedestrian has a 25 per cent average risk of death if hit by a car moving at 32.5 m.p.h. (52 km/h) and that risk is reduced to 10 per cent if the speed is 24.1 m.p.h. (39 km/h.)
If a driver was speeding at 40.6 m.p.h., about 65 km/h, the average risk of a pedestrian being killed if hit was 50 per cent.
Of course, Watson agreed that the goal of reducing speed can only be satisfied if drivers obey the limit. "It has to go hand in hand with enforcement," he said.
He said city hall has been acting to address the traffic safety issue. One measure he brought up was the $40,000 per ward, per year fund set up specifically for traffic safety initiatives.
Watson said the fund allows councillors to consult with their community on how best to spend the money. They can pay for calming measures, lights, signage, etcetera.
He said calming measures such as flex sticks or new paint are the key to changing drivers' behavior because they alter the appearance of the road.
Additionally, he said he's collaborated with Ottawa Centre MPP Yasir Naqvi on a possible bill that would lower the province's default speed limit in cities from 50 km/h to 40.
It's impossible to get everyone to slow down but "if we can get 60 or 70 per cent of people to slow down," it's worthwhile, he said.