Send your organization to camp this summer with Camp Tech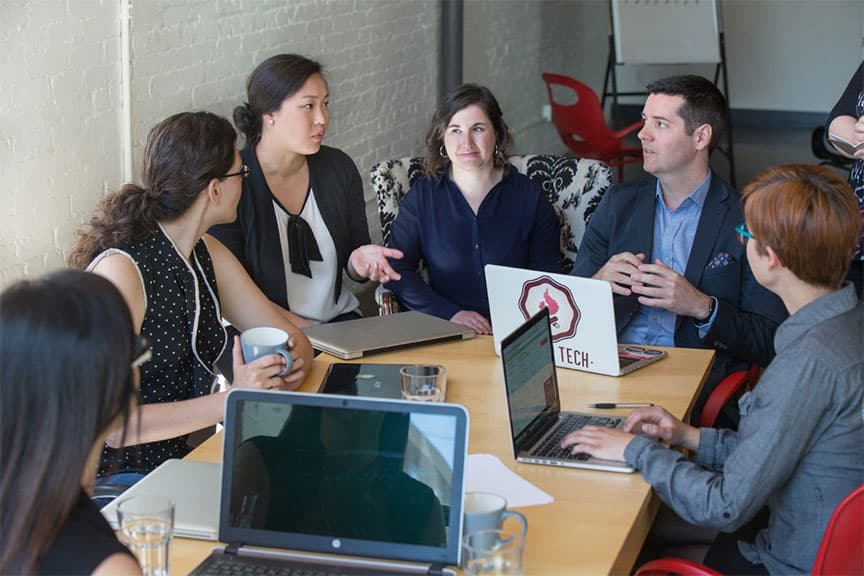 The humidex is rising, a cold drink on the patio is calling… and your organization's productivity is likely slipping. It's summer, the time to slow down a bit and take it easy. Summer can be a great time to focus on skill development for your team. Consider sending your organization to camp this summer – ** Camp Tech ** that is.
Contrary to what you may be thinking, Camp Tech isn't an actual summer camp. It's a series of relaxed and informative hands-on workshops for adults who want to learn practical tech skills. Camp Tech's signature style of fun and friendly training sessions led by engaging tech experts have caught on across Canada, with half- and full-day workshops covering practical tech topics regularly scheduled for the general public in Toronto, Vancouver and Ottawa.
Camp Tech contracts the leading tech experts in the country to teach workshops in their spare time. Camp Tech Instructors are professionals working in their fields with impressive portfolios of satisfied clients, and they openly share real-world advice from their experience working with organizations just like yours. They'll save you time and energy by pointing you away from the blind alleys you might stumble down when trying to learn tech on your own.
Consider attending a public workshop at Camp Tech (held regularly in downtown Ottawa at 71 Bank Street) or bring the Camp Tech advantage to your organization by scheduling ** Private ** and ** Corporate Training ** for your team. Popular training topics include: ** Google Analytics , Writing Killer Web Content , Search Engine Optimization (SEO) , Best Practices for Website Accessibility , Basic & Advanced Soclal Media , Creating and Maintaining a Wordpress Website , Online Marketing with Google AdWords ** , and ** Adobe Creative Suite ** (Photoshop, Illustrator and InDesign).
Camp Tech can also create a customized curriculum for your organization. They've done so for leading organizations nationwide, including CPA Canada, Kobo, Canadian Living Magazine, CUPE Ontario, Simon Fraser University, Enterprise Toronto, Bullfrog Power, Oxford Properties Group, YMCA, the City of Ottawa and Library of Parliament.
For more information on Camp Tech and to view their upcoming workshops, visit http://camptech.ca or call 1-888-326-5443.