Rose Simpson: The dog park makes things right
[caption id="attachment_6555" align="alignright" width="960"]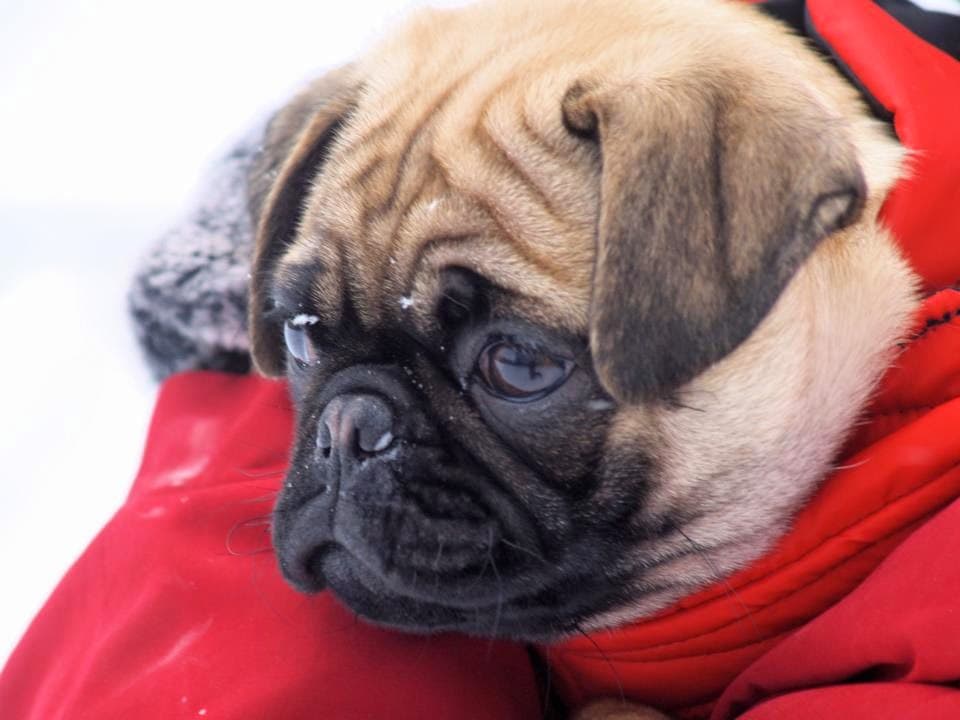 Sophie the Pug[/caption] _ (This post originally appeared on Rose's Cantina on November 4.) _ On Sunday, Scott went to the dog park with the pug Sophie and the lab Finnigan in tow. He was going to take some photos of the hounds against the backdrop of the wonderful burnt orange leaves and brilliant red Sumacs.
After an hour of hard running, Finnigan was happy to climb in the backseat. Sophie wasn't ready to go it seemed. She ripped free of her harness and tore off into the parking lot. After several minutes of skirting cars and milling hounds, Scott managed to grab her and get her back into the car.
In the meantime, he had forgotten he'd left his $1,000 camera on the roof.
Scott was halfway home when he remembered his camera, which represented more than a hobby for him. It was both his livelihood and his passion. That camera has documented the birth of our granddaughter, the marriage of my daughter Marissa, the ages and stages of the kids growing up. It had also made him money from time to time. Just this past week, he'd gotten a contract to take pictures for a local car dealer and without that camera, that contract was in peril.
Quickly, he made a U turn, getting to the park within minutes of committing his absent-minded folly.
He parked the car, and opened the door. Again, Sophie jumped out, this time onto the busy road that borders the Conroy Pit. He chased her for a few minutes, dodging speeding cars, before wrangling her back in the car.
He then scoured the ditches and woods near the park entrance. There was no camera in sight.
I cannot imagine what was going through his head. We aren't well off and a new camera would never be in the budget no matter how we arranged things. He came home red-faced, and a little mad at Sophie for all the mayhem, and confessed.
I wanted to cry a little, but what's the point of making somebody feel worse who already feels terrible?
The key to a good marriage is understanding, forgiveness and empathy.
I felt all those things.
Besides, I told Scott, it was only a camera. Imagine explaining to me that instead of losing the camera, he had let my Sophie become roadkill?
"I'm going to put an ad on Kijijji," he said.
"Don't bother," I said. "Go back to the dog park and put up a note."
If there is one thing we know for sure, it's that the dog park is the best place to lose a camera, a watch, a lead or your keys.
There's something about the spirit of dog owners who take their companions out to the dog park. They are willing to put up with nearly everything, from the eating of feces to a white dog rolling in mud. They are the most forgiving and honest people on the planet, hopelessly devoted, and kind.
Dog owners, particularly ones who brave the elements to provide happiness to their charges, are fueled by unconditional love.
Within 24 hours, Scott got a call from a woman who had found his camera. She normally wouldn't have been at the park that day. She had just decided to borrow a truck to take her dog out for a spin. She couldn't believe it when she saw this high-end – well, it was high-end to us – camera laying in the ditch, its battery flap broken off and a few nicks but otherwise in perfect shape.
When she got home, she put her own ad up on Kijijji and saw Scott's. That's when he got the call.
He described the pictures on the camera, the photos of Finnigan spinning around and leaping at trees.
"Yeah," she said. "And you took a picture of me and my dog."
Scott couldn't believe his good fortune. He bolted out the door, collected his camera and thanked the woman. He didn't offer her a reward, and none was asked for.
Instead, next week, he will be taking a portrait of the woman, her daughter and her dog.
The spirit of the dog park isn't about material things, it's about caring and sharing.
In an time when it's so easy to distrust others and embrace skepticism as a second skin, it's nice to know you can always count on the people from the dog park to make things right.