Rose Simpson: Ottawa shooting was like a death in the family
[caption id="attachment_6180" align="alignnone" width="342"]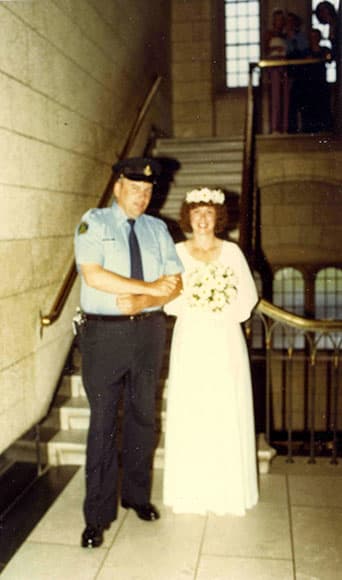 Rose Simpson poses with a security guard at her wedding on Parliament Hill.[/caption] _ (This post originally appeared on Rose's Cantina on October 23.) _ For many of us in Ottawa, Parliament Hill is more than a place of political wrangling and policy making. It's our home.
And the people who work there are more than politicians, bureaucrats and scribes. They are family.
It's been years since I toiled there, but like most Ottawa Hillbillies, I left a piece of myself in those hallowed halls.
My husband, Scott, spent nearly 30 years on Parliament Hill as a cameraman for CBC. He knows every corner, every entrance, every tunnel, every political escape route. Scott stood for hours most days, in the hall beside the very steps that the gunman tore up yesterday, doing the job of all good camera guys – scrumming politicians and cooling his heels waiting to catch the eye of seven prime ministers.
I worked as both a journalist and a political staffer on the Hill for nearly two decades. I had an office in the Langevin Block steps away from the War Memorial where the gunman took the life of a brave young soldier who was the age of my children.
I was married on Parliament Hill, and posed with one of the security staff on the steps not far away from where the drama unfolded yesterday.
And I sipped wine in the Hall of Honor, the very place Kevin Vickers shot the gunman, in the very corner the annual Christmas tree is placed.
For the first time in forever, there was blood on the floor in the Hall of Honor. And there was blood on the stoop where the Unknown Soldier lay. Innocent blood was spilled.
My heart was heavy, hurting for Nathan Cirillo, the young Hamilton reservist and his family, hurting for the mother and father of the shooter, and hurting for my Parliament Hill family who spent horrifying minutes, then hours in lockdown, wondering what would become of the institution they loved.
One person was forgotten in all of this, until today, when it was announced that another soul was injured. Constable Samearn Son, was shot in the leg yesterday, a constable who came to work to do his job, a man who is a proud member of the Parliament Hill family, a man who served this country as a member of the protective staff for more than ten years.
Constable Son is not unlike other constables who serve both as goodwill ambassadors and the eyes and ears of the place.
To the people who come to the Hill daily, the blue shirted constables might look sweet and benign. But do not be fooled. Most of them are former police officers and war veterans who have seen their share of the world's misery. Regardless of their pedigree, each of them would lay down their lives for their country.
Thankfully, the terror is gone for now.
The threat is over but the fear remains.
Undoubtedly, the House of Commons staff worked into the wee hours today trying to erase those human stains from the floor, but it will be a long time before they are gone from our memories.
Some people have suggested we lost our innocence yesterday. I don't believe that. Older Canadians remember the toll taken by foreign wars. Younger Canadians remember that horrible day on 9⁄11. Our world hasn't been innocent for a long time; maybe it never was.
One thing is certain. The process on Parliament Hill will never be the same again. There will be new restrictions, loaded weapons and locks.
Maybe other brides will have a harder time getting married there.
But something hasn't changed.
What hasn't changed, what terrorists and crazy people will never change, is the sense of family for those who worked, and still work, on Parliament Hill. Terror doesn't tear us apart; it brings us closer and gives us greater purpose.
Nothing can change that.