Road closures for La Machine street performance July 27-30
[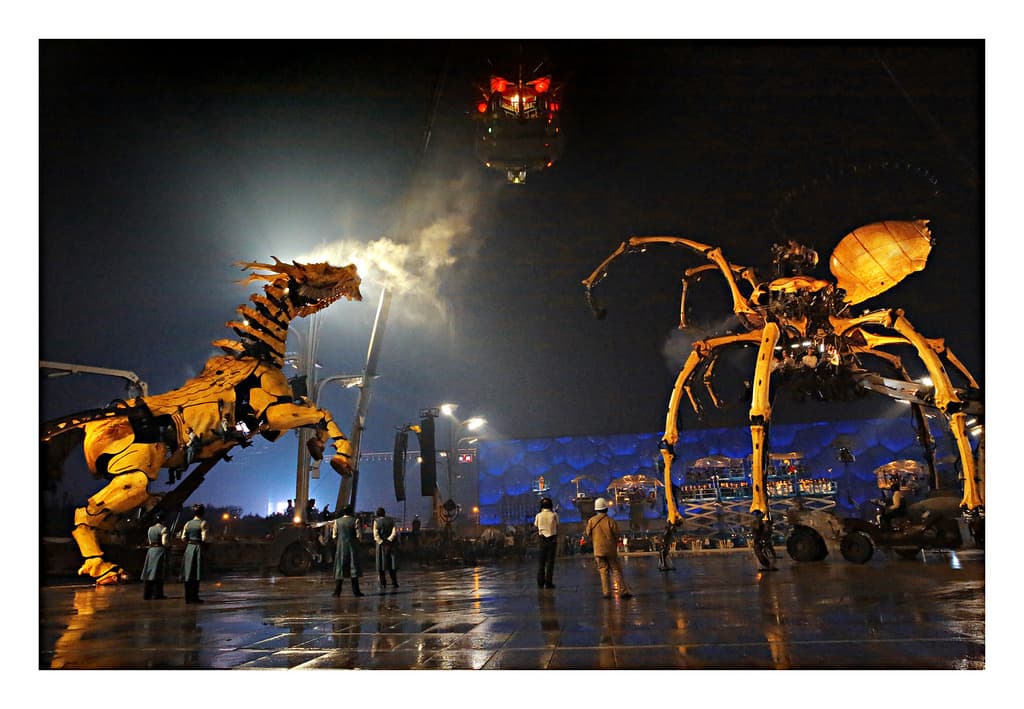 ](https://www.flickr.com/photos/138710500@N02/27276385282/in/photolist-HGXcPP-HGXabx-HGXc6z-HhAtsJ-HGXb9V-HhAtFj-HGXcNr-HGXcR2-HyjB3S-HGXaZ6-HhAu5L)
_ (Via City of Ottawa) _ La Machine, an Ottawa 2017 Signature Event , will occur in downtown Ottawa, the ByWard Market and Downtown Rideau, from July 27 to 30. This event will bring giant mechanical creatures, thousands of visitors and five days of intermittent traffic impacts – including one for setup on Wednesday, July 26 – to Ottawa's downtown.
During this event, businesses will remain open, but there will be numerous traffic impacts in order to create safe pedestrian zones for residents and visitors to enjoy the four-day street performance. Anyone travelling downtown to enjoy La Machine is strongly encouraged to review scheduled traffic impacts listed on ottawa.ca in advance.
The list of affected roads and the timings of traffic impacts are subject to change. Follow the City through Facebook and Twitter for real-time updates.
---
** Related: What is La Machine? **
---
** Commuting downtown ** Employees are encouraged to take transit, bike, walk or carpool to reduce delays.
City parking lots will be available but are expected to fill-up quickly. Please be patient as significant delays are expected on all downtown, ByWard Market and Downtown Rideau streets during performances. ** Transit ** OC Transpo is your best choice for getting downtown, but you should leave home early and expect delays. OC Transpo, Traffic Services and the Ottawa Police Service will work together to mitigate delays and lessen the impact of rolling road closures on transit.
OC Transpo Routes 4, 5, 6, 7, 9, 11, 12, 14, 16, 18, 19 and all routes that operate on the Transitway will experience short intermittent disruptions to service or be on detour on many streets downtown while La Machine creatures pass.
Keep up to date by checking OC Transpo's live updates page or follow @OCTranspoLive on Twitter. Customers can also sign-up to receive email or text alerts by creating a subscription for selected routes at octranspo.com .
On Saturdays or Sundays, customers can purchase a Family DayPass for $10.25, which allows a family  of up to six people, with a maximum of two aged 13 or older, to ride on OC Transpo the entire day. ** Traffic impacts ** There will be significant and rolling traffic impacts for motorists, and intermittent disruptions for cyclists, throughout the weekend. The full list of closures is available on ottawa.ca . Pedestrian-only traffic will be permitted in designated areas. Wayfinding signage and members of the Ottawa Police Service will help direct traffic. Expect delays. ** Wednesday, July 26 **
 * 
Rolling closures along Sir George Etienne Cartier Parkway and Sussex Drive, between Aviation Parkway and Guigues Avenue, from midnight to 3:30 a.m.

 * 
Sussex Drive northbound from St. Patrick Street to Guigues Avenue will be closed on Wednesday at noon until Friday, July 28 at 6 a.m.

** Thursday, July 27 **
 * 
Guigues Avenue from Sussex Drive to Parent Avenue will be closed all day

 * 
Sussex Drive between Murray Street and Guigues Avenue will be closed in both directions from 4 p.m. until 6 a.m. Friday

 * 
St. Patrick Street between Parent Avenue and Mackenzie Avenue will be closed from 5 to 11 p.m.

 * 
Alexandra Bridge between Rue Laurier (Gatineau) and Mackenzie Avenue, will be closed from 5 to 11 p.m.

** Friday July 28 and Saturday, July 29 ** For a detailed list of traffic impacts, rolling and temporary closures on these two days, visit ottawa.ca. Most traffic impacts on Friday and Saturday extend:
 * 
north as far as Bruyère Avenue

 * 
south as far as Laurier Avenue

 * 
east as far as Cumberland Street

 * 
west as far as O'Connor Street

** Sunday, July 30 ** Performances and traffic impacts will occur along Wellington Street, the Sir John A. Macdonald Parkway and Victoria Island. For a detailed list, visit ottawa.ca.