Rescue group wants to clean up rural barn cat colonies
_ North Gower rescue venturing to help rural landowners with skyrocketing cat populations _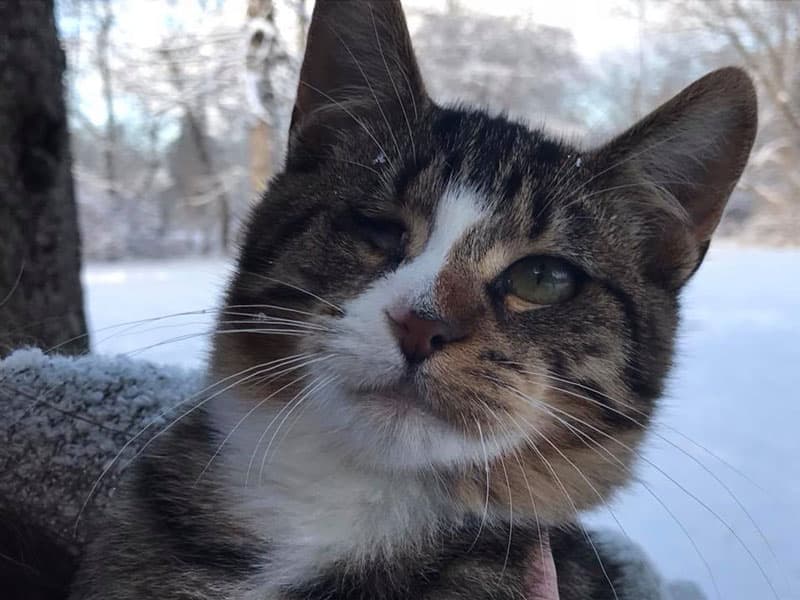 _ (press release) _ For the last three years, ** Sandi Lawson ** has dedicated her life to rehabilitating and rehoming feral cats and kittens in the rural Ottawa area. Her ** Adopt Me! Cat Rescue ** in North Gower has helped find forever homes for almost 800 cats. Her "cage-free" rescue model focuses on helping cats, that in many cases, are considered "unadoptable" but with patience and perseverance, she will rehabilitate and domesticate even some the most challenging cats in their care.
"I have seen so many cats turn around. If you give them patience and love they can turn into amazing pets," Lawson explains, stressing that the key ingredient to their success is time. "I'm trying to teach people that these cats have value – their lives matter – and euthanizing them is not the solution. You can earn their trust and if you put in the work, you will get the reward." ** Rural cat populations continue to soar ** Despite the best efforts of local cat rescues, Lawson says cat populations in rural Ottawa continue to soar. She emphasizes that many landowners are struggling, often silently, to mitigate rapidly growing barn-cat colonies on their own.
Last winter, Lawson was asked to rescue a litter of kittens from a barn in rural Ottawa (Osgoode). The litter included five females, that if left, could have spawned up to 35 kittens in six-months time. While there, she came across two very sick adult cats who had been "dropped off" by their owners a few months prior. After taking them into her care, one passed away from its illnesses and the other remained in recovery for four months. This heart-breaking experience forever changed Lawson and she has now made it her mission to help rural landowners with growing barn-cat colonies. She has also realized there isn't much help – if any – locally for them.
Currently, the Adopt Me! Cat Rescue is working with a land owner in Oxford Mills to successfully vet, vaccinate and rehome a colony of almost 60 cats. The landowner, who took over feeding the colony after his neighbours relocated, was spending about $800 a month on food. He admittedly did not have the means to do any more. He says the colony needed help urgently after disease set in, neighbours began to set out poison and fishers continued to prowl around picking up cats here and there. After answering a call for help on social media, Adopt Me! Cat Rescue provided vaccines, sterilizations and medical treatments (some quite extensive) and relocated 10 of the cats to several area rescues and kept 17 in her rescue. She also rehomed about 25 cats to nearby barns (in small numbers) where owners committed to providing love, food and warm shelters. ** Rescue seeks support to continue "cleaning up" local barn-cat colonies ** As a registered, vet-approved charity, Adopt Me! Cat Rescue was able to clean up this Oxford Mills colony – to the tune of about $10,000. It is now attempting to help two other barns (Perth and Renfrew) with colonies of about 25 cats each if it can obtain ongoing support. Lawson says a local barn-cat initiative is urgently needed and she would like this to be a primary focus of her rescue. She admits that she cannot tackle the problem alone and is looking to other organizations and individuals in Eastern Ontario for guidance and support. Although, there are some Trap Neuter Return Programs in Ottawa, many rural landowners cannot possibly commit to the ongoing care for cats in such extensive numbers. That is why a new solution needs to be proposed.
"The services that we currently have in the Ottawa area don't have the resources to help farmers or large colonies in the rural sectors," Lawson explained.  "We need people to ask why there isn't help and work collectively to find a solution. I'm open to ideas and connecting with others who have had experience with this." ** Never abandon your cat to a life outdoors ** Feral cats are the wild offspring of domestic cats that are primarily abandoned. For many reasons, owners dump their cats into rural areas, thinking they'll be just fine outside. These cats are stressed, confused and become afraid to approach anyone. If they are not fixed, they will breed uncontrollably and their offspring will become feral very quickly. Ignoring the problem is inhumane and leaves these cats exposed to harsh conditions such as starvation, disease, predators and our severely cold climate.
"People need to STOP dropping off their cats at barns. They will NOT be ok and will have a very short and difficult life," Lawson pleaded. "There are few barns that can afford to care for your cats and some people will take matters into their own hands harshly to control the cat population. Instead find a rescue or someone to take your cat. If you brought this cat into your family, you can care enough to give it a real chance at a better life. Be responsible or don't get a pet in the first place." ** How the public can help ** Members of the community can help save local barn cats in several ways:
 * 
Donate to the Adopt Me! Cat Rescue

 * 
Adopt a loving cat into your home

 * 
Foster cats and kittens

 * 
Help fundraise to support this necessary program

 * 
Contact the rescue to become a member of its Barn Cat Placement Program

 * 
Contact your local council or MPP about the need for support

 * 
Spay and neuter your pets

 * 
NEVER drop an unwanted pet off in a rural area – they will not survive

 * 
Contact Lawson to discuss the rollout of local barn-cat initiatives

For more information, please contact Sandi Lawson by phone at 613-868-2715 or email at info@adoptmecatrescue.ca or visit www.adoptmecatrescue.ca or Facebook