Rene Trim's weekly craft show update
Well, it's safe to say that the first Capital Craft Crawl  - held last Saturday – was a smashing success. At 'Joy!', our show at Library and Archives Canada, visitors started coming through the doors at 8:40 – 20 minutes before we officially opened – and they kept coming until we closed at 4:00 pm! Obviously, I was unable to make it out to the other two events, "Capital Pop Up!" and "Heart, Home & Handmade" but from what I gathered via Twitter things were going well! Needless to say that, once the holidays are over,  "we show producers" will sit down to brainstorm and discuss how we can build on this inaugural Crawl to make it even better in 2015! ** Open House ** A great way to get some  of your Christmas shopping done in a very relaxed atmosphere is at an artist's open house. Forget endless tours of the parking lot and crazy-busy malls – and there are no frantic fellow shoppers either! Well, maybe two or three but they're normally better behaved in this type of intimate setting.
Ottawa environmentalist and artist Kristina Rudnitski creates jewellery made from sea glass she collects as well as various obliging family members living on the South Shore of Nova Scotia. New-found friend and fellow artist Tracy Armstrong creates original abstract art with a focus on the colour, movement and texture of our natural world. The ladies met at the OVCC show this past weekend and clicked right away (often underestimated, networking is an important part of art and craft shows!). Consequently, they have decided to do an open house together on ** December 7 from 1pm-4pm ** . For more info visit seacycledglass.com or artbytracyarmstrong.com ** What NOT to do at a craft show ** Never take pictures of a vendor's product without asking permission. You may do it because you admire their work but more often than not they'll think you're trying to reproduce it – not unheard of at shows… ** Upcoming Events ** The closer we get to Christmas, the more things start heat up in the world of art and crafts. Here's a random choice of upcoming events:
The Canadian Museum of History's Christmas Market celebrates its fifth anniversary with 70 exhibitors who will await you in the majestic Grand Hall. Opening hours are 9:30 to 5:00 p.m. on Friday, Saturday and Sunday.  Admission is free.
[caption id="attachment_7273" align="aligncenter" width="580"]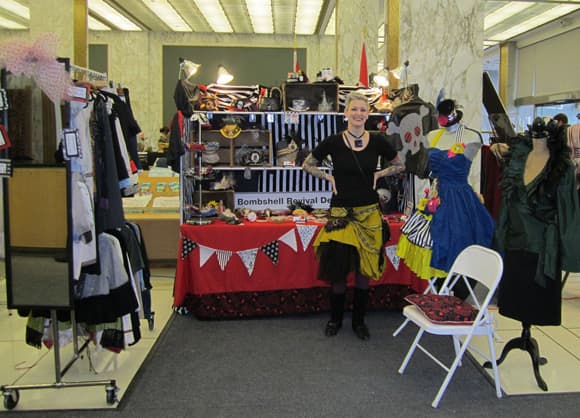 Fashion designer Kym Brown of Bombshell Revival - one of the participants at the Museum of History's Christmas Market[/caption]
Another multi-day event is the Ottawa Guild of Potters Holiday Sale at the newly renovated Horticultural Building at Lansdowne Park on November 28 - 30. Fifty local potters will showcase their hand crafted pieces so surely there is something for every taste - be it whimsical, utilitarian or decorative. For those who haven't seen the Horticultural Building since the renovation was completed: its huge windows let in an amazing amount of natural light which will help highlight the beautiful glazes on each piece.  Opening hours are 4 pm - 6 pm on Friday, 10 am to 6 pm on Saturday and Sunday from 10 am - 5 pm. Admission is free and you can bring the kids, who will have a chance to create their own holiday ornaments at a craft table while you shop.
Yelp is organizing its very first Ottawa version "Yelp's Totally Bazaar" Saturday from 11 am - 3 pm at  Algonquin's College Student Commons. The event is free to attend -  donations for Bruce House (a local organization that provides housing and social services to individuals living with AIDS/HIV) are accepted.
The Art & Crafts Savoir Faire returns to the Aydelu Centre in Aylmer on Sunday, 30 November, from 10:30 am to 4:30 pm with 40+ local artisans.  Renée and Brittany, the show's producers, are artisans themselves so it will come as no surprise that the event's participating vendors are all top notch! Admission $2.
The Ottawa Farmers' Market kicks off a series of three consecutive weekend Christmas markets on Sunday 30 November at the Aberdeen Pavilion at Lansdowne Park (9:00 am to 3:00 pm).  The market describes itself as "a great one-stop shop for host gifts, stocking stuffers, ingredients for holiday dinners and entertaining".  Visitors are advised to look for a parking spot at Brewer Park (free) or Carleton U ($3) - a free shuttle bus service will run between Brewer Park and the Aberdeen Pavilion.
[caption id="attachment_7274" align="aligncenter" width="637"]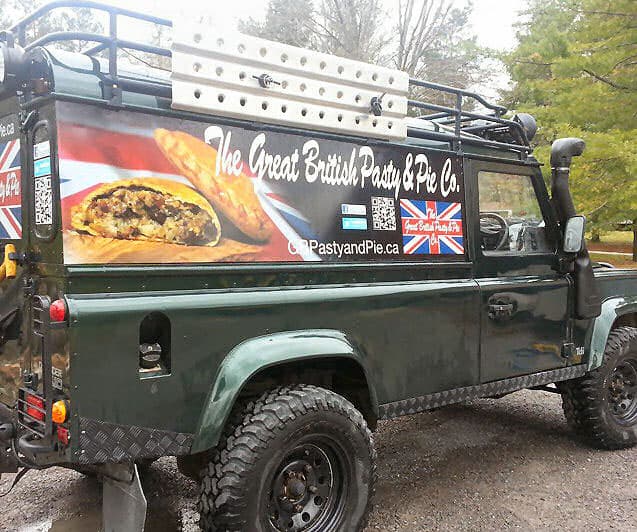 You can find The Great British Pasty and Pie Co. at the Ottawa Farmers Market's Christmas Market, with their delectable, homemade savoury meat and vegetable pasties. All are made from scratch with no artificial flavours or preservatives, and each pasty is a complete meal in itself.[/caption]
Elsewhere in the Valley, HOMEmade for the Holidays opens its doors for the very first time at the Carleton Place Arena in (you guessed it!) Carleton Place on Saturday, 29 November. Between 10 am and 3 pm,  40+ local crafters, artisans and bakers will be showcasing everything from shawls, paintings, jewellery, pottery and much more! Visitors are encouraged to bring their kids, who can have fun making something at the event's Young Creators Corner.  Get there early as the first 50 visitors will receive a free gift!
If the weather is favorable, why not drive down to Mallorytown (near Brockville) for a visit to "Christmas in the Country", the Mallorytown Legion Craft Sale.  The event takes place at the Mallorytown Legion (Branch 484), located at 13 Quabbin Road, on Saturday, November 29th, from 9:00 am to 2:00 pm and features 20+ local crafters.
That's all for now - have a creative week, folks!