Q&A: A look at Ottawa's new videogame cafè
[caption id="attachment_52573" align="aligncenter" width="557"]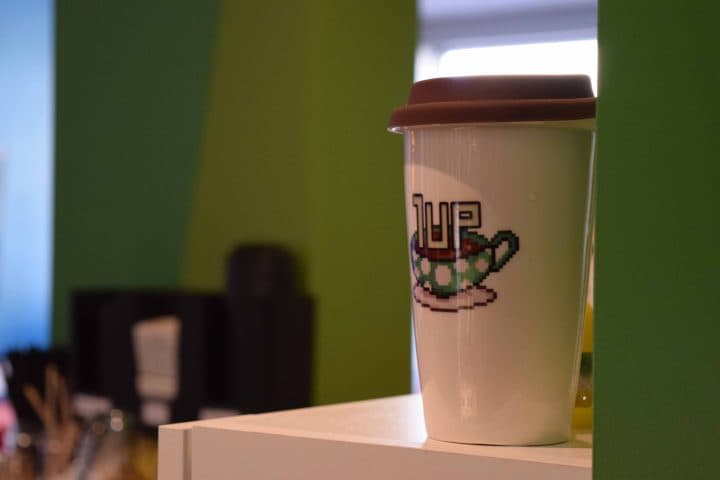 At Caffeine 1UP on Rideau Street (Devyn Barrie/OTTAWASTART.COM)[/caption]
When _ ** OttawaStart.com ** _ dropped by at Caffeine 1UP at 362 Rideau Street Wednesday, the place had already been open for slightly more than two weeks after a soft launch. The cafè-arcade mashup's official grand opening was just a few days ago, on Monday.
Caffeine 1UP offers all the fixings of a cafè, plus a huge selection of videogames and systems to play them on. There is no entry fee but it costs $5 to play.
We already published their press release , but wanted to stop by and check it out ourselves.
Heather Powell is the woman behind it. She's been in the cafè business for about ten years now. Athough she's been a manager before, this is her first time as proprietor.
We sat down for a chat. ** How did the idea for this get started? ** ** Powell ** ** : ** I've been in the café field for ten years now, and I thought about buying a franchise, but it's too restricting. So I decided to branch off and open an independent. Whenever I wasn't working I'm playing videogames, ever since I was four I've been a huge gamer. So I decided to squish my two favourite things together and here I am.
[caption id="attachment_52571" align="alignright" width="480"]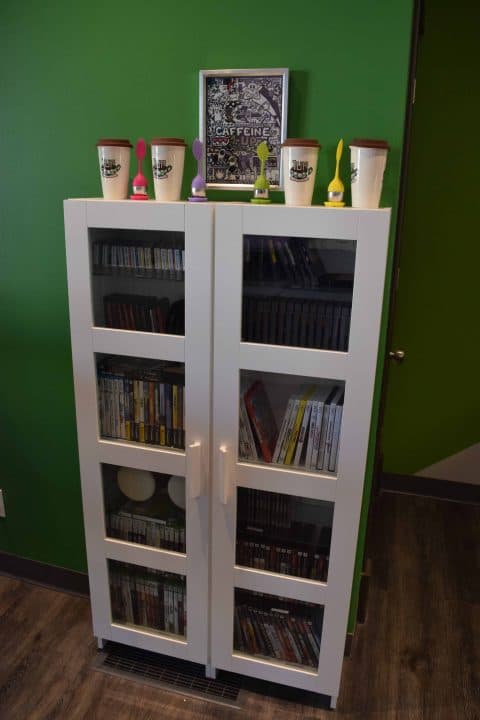 Caffeine 1UP has hundreds of games, old and new. (Devyn Barrie/OTTAWASTART.COM)[/caption] ** There are a few similar businesses around that do videogames, right? ** ** P: ** No, there are a lot of videogame pubs… So like that [Blurry Pixel] one, they're an e-sports bar. So they open late and they stay very late. And then the buddies down the street, the Loft and Level 1,  they open around lunchtime and stay really late too, but they have a liquor license as well… I'm more geared towards a café kind of thing, more like the line of Starbucks and Bridgehead kind of a feel… I want to bee all inclusive of all ages. ** Another novelty coffee shop, Monopolatte, closed not long ago because they weren't getting the traffic they needed. How do you feel about that? ** ** P: ** I don't know, I haven't met that complication yet… For now, I'm good because I am a cafè first, videogames second… I don't want to isolate, scare people who aren't into videogames. Cause they might not want to come in and think they're forced to play videogames. ** Who's coming in? ** ** P: ** All over! I'm getting families who want to show their kids Duck Hunt like they used to play when they were a child. I'm getting groups of university students playing a game like Street Fighter. It's all over the place. ** Tell us about the game selection! ** ** P: ** I have NES, Super Nintendo, Sega Genesis, N64. 12 consoles and six stations (plus PC.) All the games here, they're all multiplayer, co-op or versus or split screen games… trying to build the whole social community experience. ** What about this social community idea? ** ** P: ** It's something that I have at the back of my mind… I've seen people that come by themselves or in two groups, then the two groups merge and start playing all together at once. Don't just put your headset on and play a solitary game by yourself, talk to the person next to you. ** Where does the coffee/food come from? ** ** P ** : Everything is Ontario or Ottawa sourced. All my pastries are from Ottawa. Strawberry Blonde Bakery does my vegan and gluten free things, I also hit up Rideau Bakery and Tom and Sons Donuts for some of my other pastry needs. The sandwiches I make in house myself… my coffee roaster is on the tip of Mississauga, they're the furthest people I go for but I adore their products so they give me really good coffee. I like to keep everything independent and local.
–
Caffeine 1UP is located at 362 Rideau Street, across from Loblaw's. Check out their website and Facebook page .
[caption id="attachment_52572" align="aligncenter" width="480"]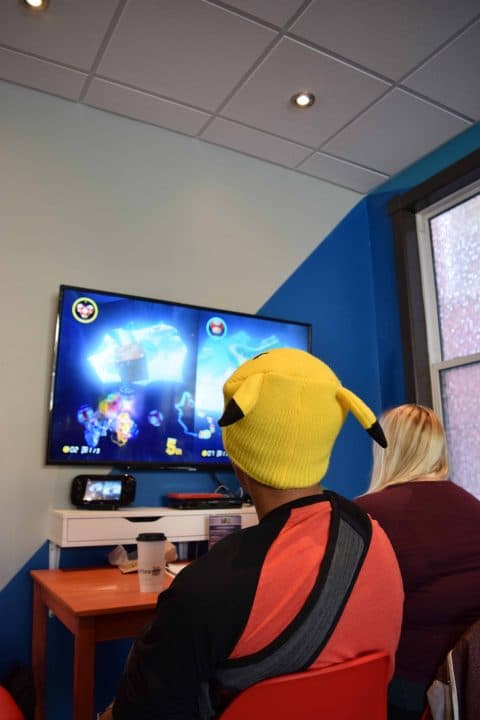 Troy Cadrales and Caitlin Bloom enjoy a game of Mario Kart 8 (Devyn Barrie/OTTAWASTART.COM)[/caption]
[caption id="attachment_52722" align="aligncenter" width="720"]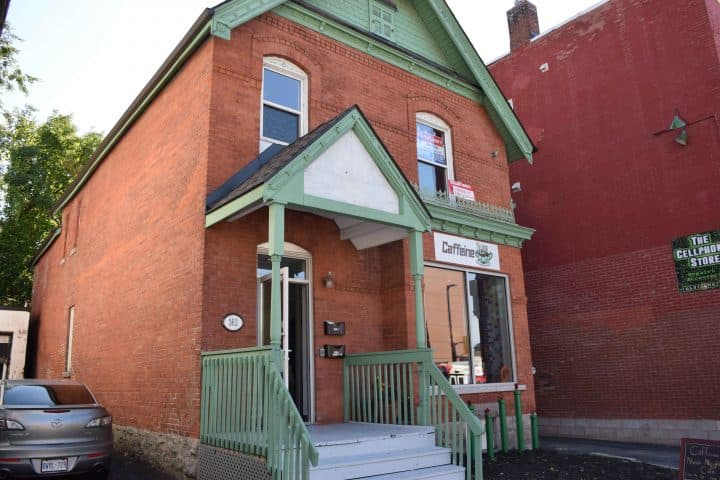 Caffeine 1UP is located on the ground floor of 362 Rideau Street, a converted house built ca. 1910. (Devyn Barrie/OTTAWASTART.COM)[/caption]