Pianist George Li lives up to the hype, despite some youthful excess: Gauthier
Local concert producer Roland Graham scored a major coup when he snagged George Li for his Masters Piano Recital Series at Southminster United Church.
Li, a 21-year old Boston native, was a silver medallist at the 2015 Tchaikovsky competition. That feat secured his rapid graduation to the front of the current pack of young virtuosos, with an increasingly full calendar of prestigious international concerts. Tuesday night's audience can proudly claim "they heard him when."
[caption id="attachment_62071" align="alignright" width="270"]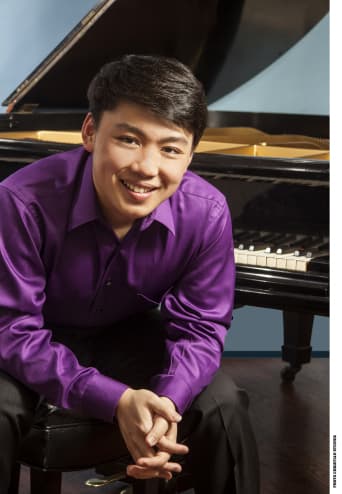 Pianist George Li (Publicity photo by Christian Steiner)[/caption]
Li performed on Southminster's vintage Heintzman grand . The instrument's extensive refurbishment was recently completed, and it sounds lovely. Even the problematic, dead-ish middle register is now vastly improved. Still, it will always remain an older piano with quirks, chiefly its tendency to bottom out. Unlike robust modern pianos, built to withstand ground-shaking _
fortissimi

_ with ease, you can only play this beast so loud before it loses all richness and power.
This was a bit problematic for Li, whose motto seems to be the not-quite-Olympian "faster, louder, deeper." He is, as advertised, a stupendous technician, with dazzling speed, clarity, consistency and precision. His sound is huge, bright, and not unpleasantly dry.  He's also an interesting, even original musician; even if you don't always agree with his choices, at least he's expressing some conviction and individuality, unlike so many cookie-cutter young artists.
In the first half, Li played Haydn like Beethoven and Beethoven like Schumann. The former was more successful. The angularity and drama of Haydn's B minor Sonata (Hob. XVI:32 if you keep track) lent itself remarkably well to Li's bold, assertive approach. But the Beethoven rushed headlong like a backcountry foxhunt, all forward momentum with no breath, grace, or apparent plan. Li's cocky tempo in the second movement flirted with bad taste: just because you can doesn't mean you should (unless you're Cziffra. Because Cziffra). This was showy speed for speed's sake, not at the service of the ink on the page.
After the intermission, Li's self-assured chops, control and massive sound impressed in Rachmaninoff's _
Corelli Variations

_ . However, the piece's grand narrative arc wasn't well defined—it was just one variation after another— and I would have liked to hear some of Rachmaninoff's beautiful voice-leading more distinctly.
It was the two Liszt compositions ending the program that really drove home why Li's pianism deserved a Moscow medal and all the ensuing hype. The _
Consolation No. 3

_ was played with aching, mature sensibility, seamless legato and an exquisite tonal palette. The second _
Hungarian Rhapsody

_ predictably brought the house down with its barn-burning tempo (if there's a piece in which more is better, this is it),  Magyar panache, and spectacular hammered dulcimer effects.
The vociferously appreciative audience was rewarded with two encores. Li gave them Liszt's transcription of Schumann's _
Widmung

_ and Moszkowski's _
Étincelles,

_ a Horowitz fave, which sparkled like a jar full of fireflies.
If you've read my reviews, you know I'm not a fan of exaggerated, superfluous emoting at the keyboard. While Li isn't imitative in his interpretations, he seems to be emulating the worst physical excesses of the Lang Lang school: the heavenward gaze, the conspicuous, affected left-hand conducting, the theatrical endings—head drooping, eyes squeezed shut in apparent ecstasy, hands slipping off the keyboard in drawn-out slow motion. It smacks of _
épater la galerie

_ and is all the more irritating because Li doesn't need any of it. He's a much better pianist than that.