People want to live near transit. But can they afford to?
A sign advertising Trinity Station, a transit-oriented development coming to 900 Albert Street, near Bayview Station. (Photo/Devyn Barrie)
(This is the second of a three-part look at transit-oriented development in Ottawa and how it can change the way we live and get around in the near future. We'll publish part three on Saturday, with a special edition of our newsletter. Read part one here, and subscribe to our newsletter for more)
The common element tying together the city's neighbourhood planning around some Confederation Line stations is the fact they're all outside downtown.
That was a deliberate choice, said Alain Miguelez, the city's manager of policy planning. The city planning department has been kept busy preparing for LRT since construction began in 2014, by developing neighbourhood plans around several key stations. Plans for the first stage of LRT, currently nearing completion, have been approved — they are for Lees, Hurdman, Tremblay, St. Laurent, Cyrville, Blair and Bayview.
While there was some planning downtown, for example around the University of Ottawa, and in Centretown, where a secondary plan was created, the urban centre is not the city's priority, Miguelez said. These areas are already at the level they need to be, so instead the city focused on the outlying stations that are more suburban in nature. These are areas that aren't quite mature urban places yet, which the city hopes to bring along by providing a policy framework to develop them into vibrant places where people can live, work and be entertained.
As the second stage of LRT is set to begin construction shortly, his team is moving onto creating plans for it. With stage two bringing the station count to 41 in a few years, there's too much for them to process so they're prioritizing based on perceived need. Some areas have a more urgent requirement for a plan, Miguelez said, which planners identify based on conversations with communities, the development industry and the pattern of building permits in certain areas.
The plans for stage two LRT include a community design plan for the Gladstone area, which is already underway. Other plans set to be put in motion include Cleary, New Orchard, Lincoln Fields and several stations in Orleans.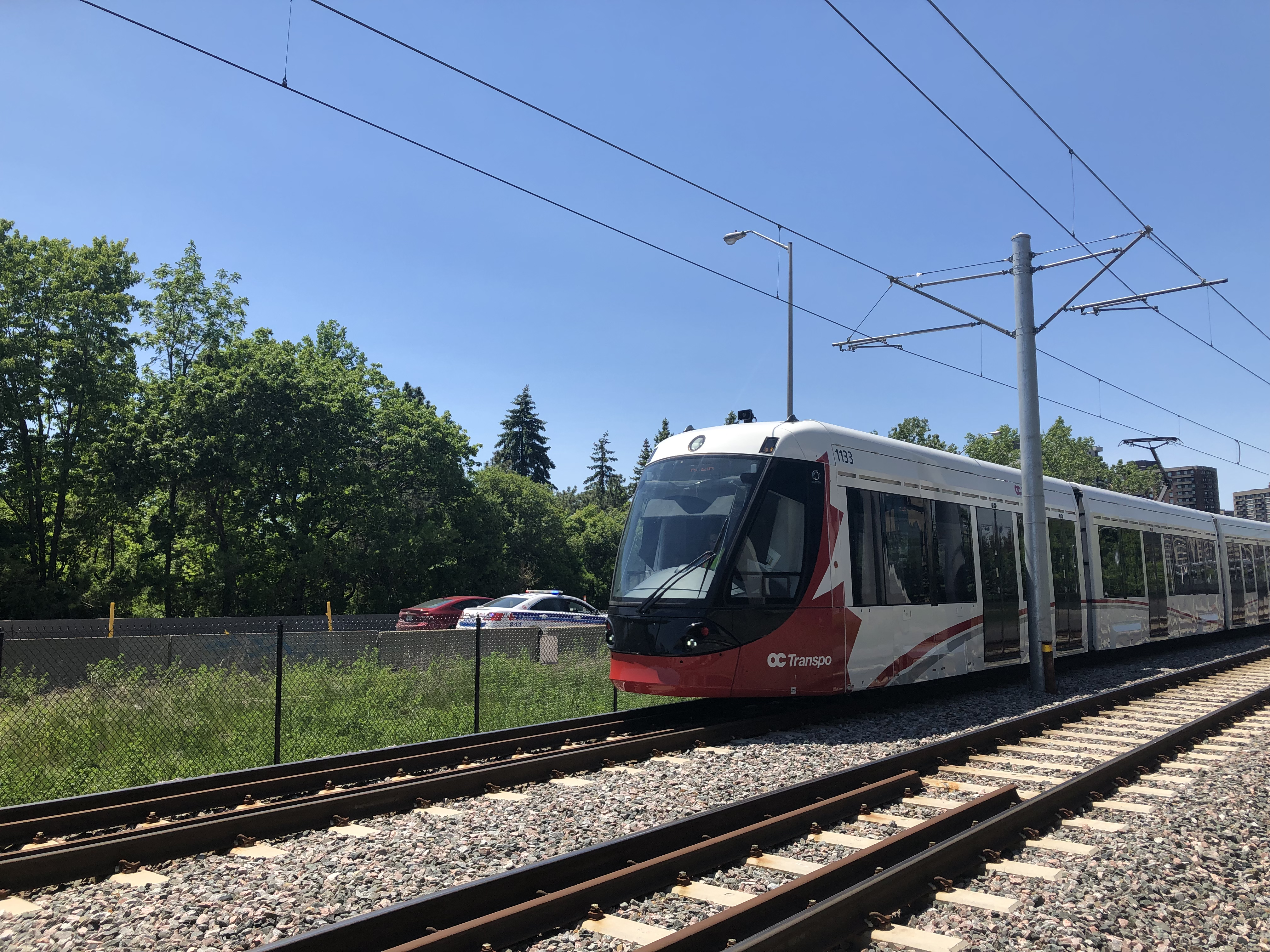 The Confederation Line will be the catalyst for intensification, including denser forms of housing. Whether they'll be affordable is yet to be seen, some observers say. (Photo/Devyn Barrie)
Besides the neighbourhood plans around many LRT stations, they're also making a number of zoning changes to encourage more desirable forms of development that people can afford.
One of which is the elimination of parking requirements for high-density residential buildings downtown and around all LRT stations. That's a significant change, Miguelez said, because it allows developers to provide however few parking spaces they want, even zero. This makes the developments not only more transit-friendly, but also more affordable because parking can be a significant cost of design and construction. It makes sense to provide few or no parking spaces at these developments because the expectation is that residents will want to function on foot anyway, he said.
"We don't want to plan for the car anymore. We're going to allow it to happen, if it can be integrated properly," Miguelez said. "But we're not going to force people to do it and that's a huge shift. None of the other cities (in Ontario) have done that."
"As of right today you can build a 12-unit apartment building with no parking." This was not possible before, he said. Already, they've seen a raft of little infill buildings with up to 12 units pop up, which he said easily fit into the surrounding neighbourhood and are affordable to live in.
Adding to that, the city is also conducting a review of its R4 zoning to enable denser infill housing. R4 (residential fourth density) is a zoning which allows for an array of different infill density. The planning department is looking to expand it so developers can provide more affordable rental housing and ease tension on the city's distressed rental market.
The draft changes to R4 zoning are in the works now at City Hall, with public consultation slated for fall. The hope, the city's website says, is for new rules to be in place by mid-2020.
Miguelez said the city has realized "antique" zoning from the mid-20th century is holding back the intensification it really wants, so needs to get out of the way and provide incentives for the development industry to take opportunities. More as-of-right zoning, like what the R4 review will result in, plays directly into creating more affordable housing supply. Developers won't have to go through an expensive process to change zoning, which can cost upwards of $15,000 and still run the risk of rejection, he said.
"As-of-right zoning lets you go right ahead," he said.
Affordable housing a concern
But while the city is making these efforts, the Healthy Transportation Coalition says it wants to see more effort to guarantee affordable housing will be located near LRT.
"It'd be a real shame if it's only wealthy people … who can afford to live close to those stations," said Trevor Haché, a member-at-large for the group.
He said the city's transit-oriented development plans for the stage one stations are noticeably absent of the term "affordable housing". While he is correct about that, the Bayview Station secondary plan does indeed call for affordable housing, for those below the 30th income percentile. It has three points to that effect.
One, it looks for a range of housing types with 25 per cent of all types, both rental and for-ownership, to be "affordable" per official plan policies. The current official plan defines that as housing for which a household whose income is at or below the 30th income percentile (less than $56,555 per year in 2017) pays no more than 30 per cent of its gross annual income on.
Two, it says the city will aid in partnerships with the non-profit and private sectors to develop affordable rental housing, for those below the 30th income percentile. For ownership housing, it looks for 40th percentile. Three, it calls for land within the catchment area for the plan that is surplus to the city's needs will be identified for sale or lease to have affordable housing built on it. (The city has created a list of 20 possible locations along all of the LRT where this could be done.)
"New residential developments will offer affordable housing with direct access to transit to afford the creation of social cohesion and a rich mix of experiences for residents and businesses," the Bayview secondary plan says.
The current official plan is similar, in that it looks for the development of more affordable housing across the city. That supply is becoming rarer every day, as the population grows and units become harder and harder to find. Haché said Ottawa is not unusual in that sense, as most larger cities are experiencing challenges in their affordable housing supply.
The city's policies as they are now can only encourage, not enforce. The lack of power the city has to ensure affordable housing is included in private developments near mass transit came to the fore when city council was debating, and eventually approved, the three-tower Trinity Centre development at 900 Albert St. The towers, one of which juts 65 stories tall, will include about 1,200 residential units. But the city could not make sure any of them will be affordable, even though the Bayview secondary plan calls for at least 25 per cent of them to be.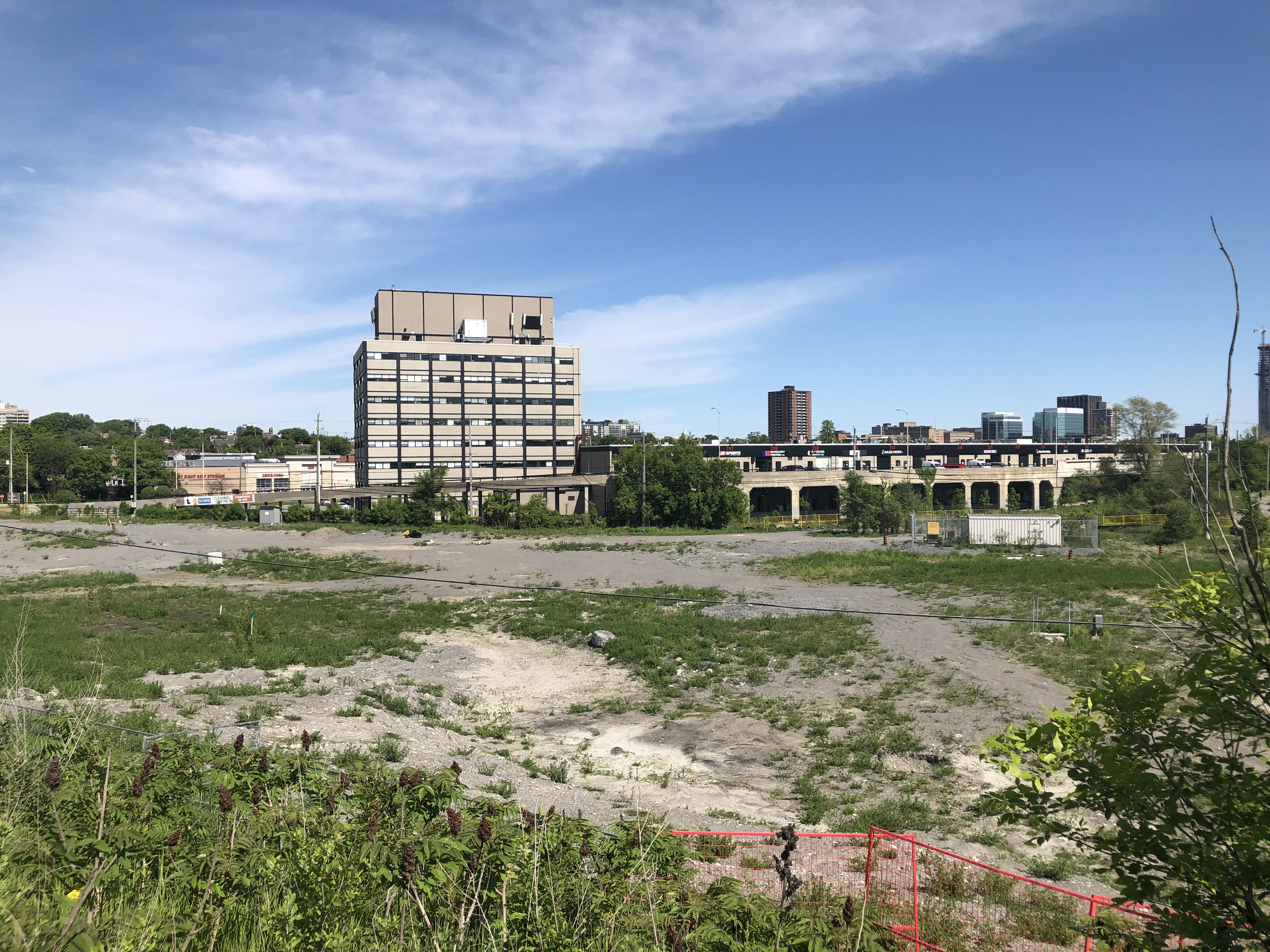 Vacant land at 900 Albert Street, where a large transit-oriented development by Trinity will be constructed. (Photo/Devyn Barrie)
Catherine McKenney, the councillor for the area, had criticized the 900 Albert project because it was originally proposed to have its three towers be 59, 55 and 50 stories tall, even though the Bayview Station secondary plan said there could be no building exceeding 30 stories. The development ended up getting much taller — Trinity paid the city $975,000 to increase the height of the two taller towers to be 65 and 56 stories tall, making them the tallest buildings-to-be in Ottawa. The shorter tower was dropped to 27 stories.
McKenney had wanted to see some assurance there would be affordable units included in the development in exchange for the upzoning to allow more height, but was advised by the city's Legal department they had no power to compel any. Her motion at council was just for the city to "encourage" the developer to include some — it was passed.
"The only tool we really have is a moral responsibility," McKenney said.
"Basically we are going to them and saying, 'look, we've upzoned (for you), you are going to make a lot of money as a result of that upzoning, and we think that you should pay some of that back through a community benefit. In this case, the community benefit that we are looking for is affordable housing. Or, at the very least, a contribution towards affordable housing."
The $975,000 the developer paid to the city will be used for two community benefits — $450,000 is for community gardens and parks in the area and $525,000 will be used to fund affordable housing development in the downtown. That being said, McKenney said they have "fingers crossed" that the discussions the city is having with Trinity will result in some accommodations made within the 900 Albert development, as well.
(At Wednesday's city council meeting it was revealed that a Claridge development near Lyon Station will include 300 units affordable for the 30th income percentile.)
In the new official plan, McKenney said they will be looking for the city to take advantage of inclusionary zoning, a power the province gave Ottawa some time ago but which the city has yet to put into place. Inclusionary zoning is where cities are able to require developers to reserve a certain number of units, in a new residential development, as affordable housing.
McKenney said the city needs to have strong language around that in the new official plan, to appropriately take advantage of this new tool. The province recently passed legislation that changed the inclusionary zoning law so that it can only be done in transit-oriented development areas, rather than city-wide. McKenney said that isn't good policy.
"We have got to ensure we have affordability everywhere. It's important to have it in TOD areas but if we're building a 2,000-household subdivision in a suburban community, there's got to be some affordability there as well," they said.
The new official plan also needs strong language around encouraging more transit-oriented developments, maintaining the momentum that the city has had on the file of late, they said, adding that the city needs to be consistently looking for affordable housing near transit.
"Making sure that we're not just going to have high-end condos or exclusive rentals along our transit line. Mostly, people who are living that type of lifestyle are not taking transit," McKenney said. Specifically, they are looking for housing that can meet the needs of those in the 20th income percentile, or what would be considered "deeply affordable" housing.
As well, there needs to be clearer definitions in the new official plan of what is considered "affordable" housing, as they can vary quite a bit and wind up confusing everyone, McKenney said.
Check out part three on Saturday for a look at how Ottawa can apply transit-oriented development to its car-dependent suburbs, a key issue for slowing urban sprawl. If you liked this article, please consider subscribing to our newsletter…