Overdose awareness campaign focuses on illicit drug use
_ (press release) _ ** Ottawa – ** Today, Ottawa Public Health (OPH), in partnership with The Ottawa Hospital, The Royal, Ottawa Paramedic Service, Ottawa Police Service, Ottawa Carleton Pharmacist Association and Respect Pharmacy, launched a public awareness campaign to draw attention to the risks associated with illicit fentanyl.
Reports of illicit or bootleg fentanyl have been increasing across Canada. These products, which are produced and sold on the street and have a variety of names and formulations, are much more toxic than pharmaceutical-grade opioids.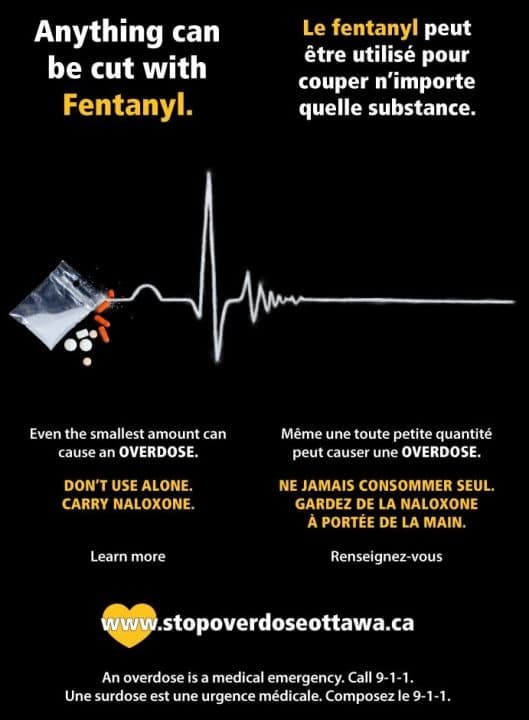 In Ontario, illicit fentanyl has been detected in heroin, cocaine, crack, in counterfeit pills manufactured to resemble prescription opioids (i.e. Oxycontin, Percocet), and in other pills including ecstasy (MDMA). The presence of illicit fentanyl, which has recently been found in Ottawa, alone or mixed into other drugs, significantly increases the risk of overdose. It is odourless and tasteless and can be hard to detect when mixed with other substances. Even a small amount of illicit fentanyl the size of two grains of salt can be fatal.
Naloxone is a medication that can temporarily reverse the effects of an overdose related to an opioid such as fentanyl, heroin and morphine. Being able to quickly recognize the signs and symptoms of an overdose and having a naloxone kit available can save a life while waiting for paramedics to arrive.
An overdose is a medical emergency. Anyone witnessing an overdose should call 9-1-1.
Ottawa Public Health and its partners are urging the public to seek out the following information from this new web resource: StopOverdoseOttawa.ca . The website provides information for people who use drugs, parents, friends and families of those at risk about:
 * 
fentanyl and other illicit drugs (carfentanil, W-18)

 * 
how to prevent, recognize and respond to an overdose

 * 
naloxone and where to get free take-home naloxone kits and training for yourself or your loved ones who might be at risk

Take-home naloxone kits and training are available free of charge from OPH's Site Needle & Syringe Program, many local pharmacies, The Ottawa Hospital and other community agencies.
"Ottawa Public Health is grateful to be working with committed community partners and community members to prevent fatal overdoses in the community. Being able to quickly recognize the signs and symptoms of an overdose and having a naloxone kit available can save a life. OPH encourages residents to get informed through this campaign and to learn about the risks of illicit fentanyl."
Dr. Isra Levy, Medical Officer of Health
"Fentanyl has impacted the lives of so many of the people we see in The Royal's Regional Opioid Intervention Service who are dealing with both addiction and mental health issues. It's a massive issue of grave concern because many don't even realize they are consuming this deadly drug. We are very pleased to be part of this important campaign and to be continuing our ongoing partnership with Ottawa Public Health to help protect the most vulnerable youth and adults who are counting on us."
George Weber, The Royal's President and CEO
"The Ottawa Hospital Emergency Department is very pleased to be a part of this program. By providing vulnerable patients and their families with naloxone kits and training, we know that we will be saving lives and supporting a healthier community." Dr. Guy Hébert, Head of the Department of Emergency Medicine at The Ottawa Hospital.
"Naloxone training is confidential, quick and doesn't require an appointment. We have trained hundreds and the program has already saved lives in Ottawa."
Mark Barnes, Pharmacist & Owner, Respect Rx Pharmasave
For more information on the campaign, please visit www.StopOverdoseOttawa.ca or call the OPH Information Line at 613-580-6744 . You can also follow OPH on Twitter , Facebook and on our blog .