OttawaStart's Weekly Event Round-Up: Remembrance Day, Wine and Food Show, more...
[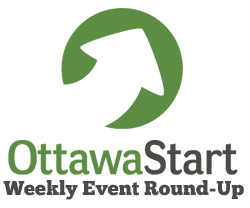 ](http://ottawastart.com/wp-content/uploads/2012/06/weekly-event-roundup250.gif)
Thanks to all of our contributors for the fine event suggestions for this week.  Tell us about what you're up to by leaving a comment below.
** Glen Gower , Editor/Owner of OttawaStart.com : **
** REMEMBRANCE DAY: ** The most important event of the week is Remembrance Day. On Friday morning, hundreds of veterans and spectators will gather around the National War Memorial for the annual ceremony. There are other ceremonies and events happening all around the city. For info, visit OttawaStart's Remembrance Day Guide .
** Jean Labelle ** ** , photographer: **
** HOCKEY: ** Team Russia vs. Team OHL. Redemption is the theme of the 2011 SUBWAY® Super Series , as the three regional teams comprised of CHL All-Stars will look to avenge their first tournament loss ever to the Russian National Junior team in its eight year history.
** Arne Berg , photographer: **
** JAZZ & SWING DANCE: ** Friday night, the Ottawa Swing Dance Society is having their 12th Anniversary Dance and they have a very special guest. The beautiful and talented Jazz singer Terra Hazelton & Her Easy Answers will be performing. Terra is also a Genie nominated actress for her role as Trish in Fubar II The dance starts at 8:30 at All Saint's Church, 317 Chapel St., corner of Laurier., from 8:30 to 12:30.
** Max Keeping , CTV Ottawa's Community Ambassador: **
** HO HO HO: ** Santa Claus makes his annual trek to Kanata on Saturday, starting at 10am on Castlefrank, via Abbeyhill to the Hazeldean Shopping Centre. Volunteers will be collecting cash and food donations along the route for the Kanata Food Cupboard.  I'll be the old guy at the front of the parade!
** Stuntman Stu from Majic 100: **
** FOOD: ** You could go for dinner Saturday night, or you could head to the Ottawa Wine and Food. Join Stuntman Stu (that's me) and Food Network star Bob Blumer and enjoy a 4 course meal on Saturday night. Tickets & info here .
** Gordon Dewis ** aka ** KeeperOfMaps ** :
** CRAFTS & BAKING: ** The Friends of the Farm are holding a craft and bake sale this Saturday and Sunday from 10am to 4pm each day in Building 72 at the Central Experimental Farm. This is an excellent opportunity to support the Friends while supporting your need for delicious baked goods!
** Josee from Frugal Fun Ottawa : **
** DRUMS: ** Baobab Community is offering a family drum workshop on Saturday from 10 to 11 am. The cost is $5 per person and the workshop is open to everyone from toddlers to adults. We  haven't had a chance to try one of these workshops yet, but my kids just loved the Baobab Youth Performers they got to see last weekend, and I think our whole family would love this! Call 613-725-6994 to register.
** Amanda Earl , poet & publisher: **
** POETRY: ** On Saturday, November 12, check out the A B Series , with Shirley Bear & Mark Truscott at Gallery 101, 7:30pm. Shirley Bear was recently named a member of the Order of Canada "for her contributions as a First Nations visual artist and cultural activist." She is a multimedia artist, writer, traditional First Nation herbalist and Elder. Mark Truscott is the author of two books of poetry: Said Like Reed or Things (Coach House, 2004) and Nature (BookThug, 2010).
**
**
** Tim Schobert, Classical Music Ottawa : **
** CLASSICAL: ** Check out the Parkdale United Church Orchestra which offers an evening of American music.  And if you've ever wanted to sing _ The Messiah, _ now's your chance as the annual CAMMAC rehearsals begin on Saturday. All information can, of course, be found here .
** Brett Delmage, OttawaJazzScene.ca : **
** JAZZ: ** ** ** John Geggie commences his 11th year of popular jazz concerts at the NAC Fourth Stage this Saturday, with renowned New York drummer and composer Susie Ibarra. Ibarra's projects range from chamber jazz, to working with indigenous musicians in the Philippines, to teaching music in many many languages to small children, to collaborating with visual artists and poets.  One of the relatively few female drummers in jazz, she was named Best Percussionist in the 2010 Downbeat International Readers Poll, and has played with a who's who of avant-garde jazz including Craig Taborn, William Parker, and Pauline Oliveros.
** Laura Nicol , aka @311Laura : **
** FOOD: ** This Sunday I'll be taking on the second annual Ottawa Foodie Challenge ! You go around to various Ottawa places on the foodie list and perform certain tasks for 'points'. Sounds like a great way to explore Ottawa's Foodie side all in support of the Ottawa Food Bank!
_ (Also suggested by ** Don from foodieprints ** ) _
** Ross Brown , blogger/writer/author/photog: **
** SOUL MUSIC: ** The only thing I love more than live music is free live music! And on Sunday, November 13, The Atomic Rooster (303 Bank Street) is hosting the soul and R&B sounds of
Sherri Harding & The Heat . The show starts at 6 pm and there's no cover!
**
**
** ** Stephan Telka , public engagement consultant: **
MOVIES: ** I'm looking forward to attending the screening of "Eichman's End - Love, Treachery, Death" at the Mayfair Theatre on Tuesday, November 15 as part of Holocaust Education Month . Jewish Holocaust survivor Lothar Hermann immigrates to Argentina. In an incredible twist of fate, his 15 year old daughter Sylvia falls in love in 1956 with Adolf Eichmann's son. The 6:30pm screening will be proceeded by a Q&A moderated by Andrew Cohen, and the 8:30pm screening will be preceded by an introduction.
** Denise Deby , ** who writes for ** Green Living Ottawa : **
** COMMUNITY: ** "Reimagining our Community Green Spaces" is the theme of this month's Next City Café at the Alpha Soul Café, 1015 Wellington St. West, on Wednesday, November 16 at 7 p.m. The Next City Café, brought to you by the good people at Spacing Ottawa, is for anyone with an interest in making our city a better place. The organizers say bring your wish list for a local community space, and "dream big".
Have a great week!
** See also: ** Ottawa Events Guide
If you liked this post, please consider subscribing to our blog via email, Twitter, Facebook or RSS. Thank you.