OttawaStart's Weekly Event Round-Up: May 22-28, 2014
[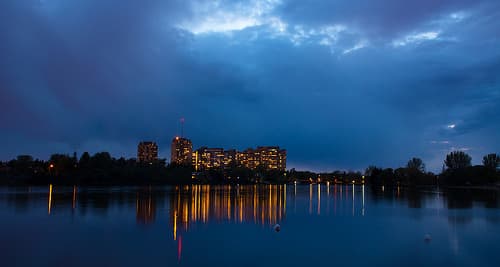 ](https://www.flickr.com/photos/lazyartist/14261498123)
Castles on the horizon by J. Michel Carriere, from the OttawaStart Flickr Group
_ _
_ Here's our crowdsourced list of the best events in Ottawa this week. _
_
_
** Friday, May 23: The Factory Reading Series ** Featuring D.D. Miller,David James Brock, Anna Leventhal, Mike Spry + Jon Paul Fiorentino, Raw Sugar, 692 Somerset, 7pm.
_
Amanda Earl , Bywords _
**
** ** Friday, May 23: Nature Nocturne @ Museum of Nature **
Glow wild at the next Nature Nocturne as the theme of glow-in-the takes over the whole museum!
_
**
** ** Friday, May 23: Jill Zmud CD release **
Ottawa's own, Jill Zmud, is having a CD release party this Friday at the NAC's 4th Stage. There's a neat story about how this album was influenced. Jill found an old reel-to-reel tape in her parent's basement featuring unreleased songs by her musician uncle who died in a car accident before she was born. She covers some of the songs on her new CD and uses some of his lyrics to shape other songs. You can hear a couple of tracks on her website .
_
Ryan Bresee , CKCU's Whatever's Cool With Me _
**
** ** Friday, May 23: The Crush Improv Show **
8:00pm at the Arts Court Library, all ages. Ottawa's premiere impov comedy group is doing a special one-night-only show. You never know what will happen, but it's always pretty darn funny.
_
**
** ** Friday-Sunday, May 23-25: ** Ottawa Race Weekend Concert Series
As part of this year's Ottawa Race Weekend, there will be a free concert series between May 23 and May 25 at the Ottawa City Hall Festival Plaza. On Friday night, the lineup includes Jim Bryson, Amos The Transparent and By The Lights. On Saturday, there will be live performances by Hawksley Workman, Furious Gord, Brant Pethick, Billy Love Band, and Farewell Davidson and on Sunday the concert will feature sets by Eric Eggleston, Fridays Deadline, Destiny, and Circus Delights. Gotta love all these free music shows!
_ – Eliane Laberge, Eventful Capital _
**
** ** Saturday, May 24: The Great Glebe GREEN Garage Sale **
The Great Glebe Garage Sale offers bargains galore, benefits the environment (by keeping stuff out of Ottawa's landfill) and supports the Ottawa Food Bank. As part of this epic annual event, Ecology Ottawa organizes the Great Glebe GREEN Garage Sale. The GGGGS, at 680 and 690 Bank St. (at Glebe Ave.), includes a bake sale, a vegetarian barbecue, a water bottle refilling station, kids' activities, massage therapists and live music, with sale proceeds to Ecology Ottawa and the Ottawa Food Bank. Advance donations of items for the sale are welcome.
_
Denise Deby , Green Living Ottawa _
**
** ** Saturday, May 24: Ottawa Fury soccer game **
Get in on the soccer fun before the World Cup starts next month as the Ottawa Fury come off their first road win last week. Game starts at 7 but if you want to come hang out with the Stony Monday Riot supporters group they'll be at Original Burger on Bank starting at 3. Discounted tickets available through SMR.
_
**
** ** Saturday, May 24: MEC Paddlefest **
Interested in kayaking, canoeing or standup paddleboarding? Don't know much (or anything?) about these watersports but would like to learn more? Then you should check out the MEC Paddlefest being held this Saturday at Mooney's Bay Park from 8:30am to 5:00pm. There, you'll have the opportunity to go for a test paddle, learn skills at a clinic, browse exhibitors' booths, and hunt for deals on gear. There's a bunch of door prizes being drawn at 1pm for those who are registered for one of the clinics. Learn more about the clinics, most of which have a nominal fee ($10 for on-water clinics) and require you to register in advance, and the other activities on the website.
_
**
** ** Saturday, May 24: "Twice Upon a Time" Children's Book Bank Opening **
All kids should be able to experience the benefits and joys of owning their own books—that's the idea behind Twice Upon a Time, a pop-up source of free books launching Saturday from 10-3 at Heartwood House (404 McArthur Ave.). Behind the initiative are some dedicated library and literacy experts who want to make new or gently-used children's books accessible to children in Ottawa, eventually from a permanent location.
_
Denise Deby , Green Living Ottawa _
**
** ** Saturday, May 24: Justin Haynes and Felicity Williams at GigSpace **
For many years, Justin Haynes could be heard almost everywhere in Ottawa's jazz circles. But then the talented guitarist moved to Toronto, and quickly became an important part of the jazz and improvising scene there, involved in a remarkable variety of projects. He's back Saturday for a rare local appearance, performing with Toronto jazz vocalist Felicity Williams, Expect to be amazed.
_
Alayne McGregor , OttawaJazzScene.ca _
** Sunday, May 25: Ravenswing Art & Music Fair **
Here's to hoping Mother Nature cooperates this coming Sunday, May 25 for the Ravenswing Art & Music Fair happening at Minto Park. The 8th edition of this annual DIY event, which celebrates creativity in Centretown Ottawa, will feature live music by Her Harbour, StillNative, Fire Antlers, Just Jamaal the Poet, Gary Franks and Jas Nasty. On top of that, there will be free workshops on social media, leather earrings, stencil printing along with 80 local vendors selling all sorts of handmade goods.
_ – Eliane Laberge, Eventful Capital _
**
** ** Sunday, May 25: Healthy Living Cooking Show **
Great food demos and recipes at these small, intimate cooking shows with Chef Justin Scott and Lifestyle Coach Manali Haridas. This month's theme is cleansing foods!
_
**
_ Have a great week! _ **
**
** ** See also: ** Ottawa Events Guide
If you liked this post, you should ** subscribe to etcetera , ** our free email newsletter. Featuring cool Ottawa events, interesting local news and contests and giveaways. Thanks!