OttawaStart's ultimate Ottawa Christmas gift guide 2020
Photo: Is there any better Ottawa christmas present than some House of Targ perogies?
Holiday shopping is tough, let alone holiday shopping during a global pandemic. Here is a helpful list of gift ideas for those looking to support local businesses, whether in-store or online.
Local storytellers
What's better than snuggling up to a good book on a cold winter's day? Ottawa has a vast selection of novelists, poets and storytellers to discover, so head into your nearby bookstore and explore the local authors' section.
Need some inspiration? Check out the 2020 Ottawa Book Awards list of finalists and winners in English and French fiction and non-fiction.
Treats and Eats
Add a dash of sweetness to your holiday gifts with a box of chocolates from Stubble Chocolates, an assortment of adorable, personalized cookies from SugarSugar Ottawa, or maybe some doughnuts from SuzyQ. You can also give back to your community with businesses like Neville's Sweets who will be donating $5 of every mixed treat box to the Ottawa Food Bank.
Nothing shows you care about someone more than filling their belly. A gift of bagels is possible with a Kettleman's Bagels gift card, available at any of their locations. Certainly, you can't go wrong with some frozen, make-at-home House of Targ perogies!
If you know a coffee lover, consider a gift card or a fresh roast from one of Ottawa's many local coffeeshops, such as Bridgehead, Bluebird, I Deal Coffee and Equator Roasters.
2020-themed
It's been a year of firsts for all of us. For some, that's meant picking up a new hobby to keep busy. Check out Chef's Paradise for the new bread-making guru in your life, take advantage of December sales on yarn and crochet accessories at Wabi-Sabi or stock up on puzzles and board games at Tag Along Toys.
Liven up 2020's biggest (and safest) fashion accessory by purchasing vibrant and fun facemasks at Kehingi Vintage, Ottawa Artisans and more!
Canadian fashion
Give the gift of standing out rather than fitting in with unique clothing styles and accessories from businesses across the Ottawa area.
Blondie Apparel, Stroked Ego, Night Moves Atelier, Muffle-Up! and Wear It Forward are just a few of many shops to find the perfect gift for your loved one. You can even include your furry friends in your gift giving with places like Frank + Hound!
Hand-made treasures
Customizable and hand-made gifts are the best way to get a laugh out of family and friends.
Custom map buttons at Ifs, Ands, or Buttons, quirky Funko pop culture figurines at Bring The Maeham or even hand-crafted ornaments at No String Chicken are all distinctive ways to show some thought went into gift-giving. Or if you're feeling especially crafty, head down to The Papery to create the perfect holiday card.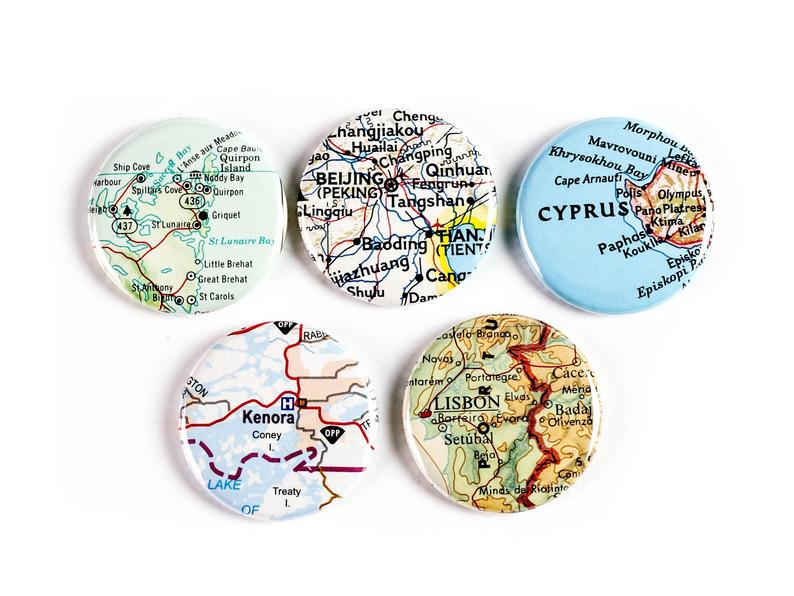 Photo via Ifs, Ands, or Buttons.