OttawaStart's Event Round-Up: Chemistry in the Dark, Chinatown Remixed, Lobsterfest, Van Gogh...
[ ![201205_06_13 - Photo Op](/legacy/01400.jpg) ](http://www.flickr.com/photos/myutopian/7007089246/)
Photo Op.  By [ Ben Wood ](http://www.flickr.com/photos/myutopian/7007089246/in/pool-1894735@N21/) , shared in the [ OttawaStart Flickr Group ](http://www.flickr.com/groups/ottawastart/pool/with/7007089246/) .
[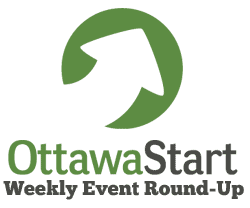 ](http://ottawastart.com/wp-content/uploads/2012/06/weekly-event-roundup250.gif)
The tulips are in bloom and Ottawa is hopping with a huge list of eclectic and interesting events this week. Here are some great suggestions from our contributors, including our newest event suggester, Sylvie Hill !
** Ruvini Godakandae from KahootKids.ca : **
** ARTS & CRAFTS: ** If you're an artist or love discovering new pieces of art around the city, you'll want to head to Strut Your Stuff Art Show & Sale taking place at the Glebe Community Centre from May 7-12. An  opening reception will take place on May 10 from 6:00-7:30p.m. If you're like me and love checking out the works of a range of amateur and professional artists, it'll be worth going to. You may even be inspired to create your own!
** Amanda Earl , poet & publisher: **
** ARTS & POETRY: ** A Celebration of Performance Poetry, Sonic & Experimental Arts: A B Series offers up three consecutive evenings of programming, May 10-12, for an inaugural Festival A B. CCMC in concert with Phil Minton (Thursday, NAC), a performance by W. Mark Sutherland (Friday, Jack Purcell Community Centre) and Ottawa's FERAL CHOIR (Saturday, Church of St. John the Evangelist).
** Ryan Bresee ** ** , radio host of CKCU's Whatever's Cool With Me : **
** MUSIC: ** Fevers is one of the best things to happen in Ottawa in a long while. They're having a release party for their debut music video . It's a free show at Mercury Lounge on Thursday, May 10. They'll play an acoustic set, give away some prizes and then screen teh video. You can hear their music here.
** Ross Brown , blogger/writer/author/photog: **
** SHAKESPEARE: ** The NAC English Theatre presents William Shakespeare's King Lear from May 8 to 26. Tickets start at $38 (a bargain!) and can be purchased online , over the phone (1-888-991-ARTS), or directly at the NAC box office. Preview nights are May 8 to 10, with opening night on May 11. That's when I'm going: it's another date night for my wife and me.
** Sylvie Hill ** ** , ** ** that girl who used to write ** ** for ** ** The Ottawa XPress ** **
** ** MUSIC: ** Rock, and roll out early this Saturday, May 12 to catch the 9:00 pm start for garage-punk rockers, Garaga , who'll rev up the set for Finders Keepers (think: The Allrights meet The Mnemonics) and headliners, Slim and Popular (picture: Pixies meet Cream). Show's an easy treat at $8, downstairs at the Clocktower Pub , 575 Bank Street. Insider tip: Garaga drummer + The Creeps bass player = upcoming HEAD (Seattle) tribute band. Like the sound of that? They're hoping to play the next Punk Rock Cover night, brought to you by the fine folks at Finish What You Started .
** Denise Deby , from Green Living Ottawa : **
** CYCLING: ** It's a great time of year to get out cycling, and this weekend offers some added incentive. The new RightBike bikeshare program is launching this month, and you can check out the bikes by participating in SLOWest's Solar Bike Tour of Westboro homes (Saturday, 10 a.m.-noon) or dropping by the RightBike booth at the Hintonburg Tulip Festival (Saturday, 12-4 p.m., Parkdale Park). On Sunday the MEC BikeFest happens from 9 a.m. at Lebreton Flats, with group rides, tune-ups, a bike swap and more.
** Laura Nicol , aka @311Laura : **
** GARDENING: ** The fourth annual TEMBO plant sale is Saturday, May 12, from 8 am to 2 pm. It takes place at 2255 Fox Cr, Ottawa, K2B 7K5 (near the corner of Carling and Woodroffe). You'll find great deals on hardy perennials, lots of herbs, beautiful geraniums, patio tomatoes and peppers, design-your-own-basket of annuals, a garage full of used books and NEW this year  -  wonderful rain barrels! go to www.rainbarrel.ca/TEMBO to pre-order.
** Yasir Naqvi , MPP Ottawa Centre: **
** ASIAN HERITAGE: ** In conjunction with both Asian Heritage Month and the arrival of the 'Van Gogh-Up Close' exhibition this month at the National Gallery of Canada, the Chinese Canadian Heritage Centre will be exploring the Asian influence on Van Gogh's art throughout the summer. The kick-off, happening this Saturday, May 12th from 2 – 4pm at 397 Kent Street, will include an art demonstration, family activities and presentations about Van Gogh.
**
**
** ** Juliette Giannesini , aka Zhu, photographer: ** **
** CHINATOWN REMIXED: ** This week, I'm excited about Chinatown Remixed , on Saturday May 12, from 1:30 p.m. to 5 p.m., the annual celebration of art, culture and local artists. Should be great for street photo ops! You can check the complete schedule here .
**
**
** Sara-Lynne Levine, Ottawa Capital Region Macaroni Kid : **
** SCIENCE: ** This looks awesome! Get your science on Saturday, May 12 for Chemistry in the Dark.
Be dazzled and excited by science! Enjoy amazing expirements and things that go boom and bang! Starts at dusk at Carleton University. It's free.
**
**
** Brett Delmage, OttawaJazzScene.ca : **
** JAZZ: ** Saturday is jazz choir day in Ottawa. In the afternoon, Capital Vox presents its 5th anniversary concert at the Aviation Museum . "Blues Skies Smiling" is a tribute to big band sounds, jazz standards, and music from the WW2 era, with swing dancers. If you're looking for something completely different, renowned UK avant-garde vocalist Phil Minton will show off the results of his Feral Choir project that evening at the Church of St John the Evangelist , downtown.
**
**
** Don from foodieprints : **
** FOOD: ** Dubbed "the Fair Trade event of the season" by orgainzers at Fair Trade Ottawa Equitable , the Take a Sip for Fair Trade event showcases some of the best fair trade products from Ottawa or its surrounding regions, including chocolate, wine, cheese, and beer. Also a fundraiser for the organization and its initiatives, Take a Sip for Fair Trade will be held Saturday, May 12 from 7-11 pm at the Great Canadian Theatre Company (1227 Wellington Street W.). There will be food and drink tastings, guest speakers, city councellers, and many local Fair Trade vendors, including Bridgehead Coffee, Camino and Oliva Chocolates, and Ten Thousand Villages. Tickets are $25 and can be purchased here .
** Glen Gower , Editor/Owner of OttawaStart.com : **
** MISCELLANY: ** Jose Canseco is signing autographs at the Hazeldean Mall on Friday … Lobsterfest on Friday … Ottawa's Really Really Free Market on Saturday .. Barrhaven Battle of the Bands on Monday … Taiwan Movie Night on Tuesday … Lecture about turtles and their protective equipment on Wednesday. And of course, the Tulip Festival continues all week, and Comiccon is this weekend too.
** See also: ** Ottawa Events Guide
If you liked this post, please consider subscribing to our blog via email, Twitter, Facebook or RSS. Thank you.