Ottawa's best Christmas light displays (2016) - Parliament Hill, Taffy Lane and much more
[caption id="attachment_57984" align="aligncenter" width="922"]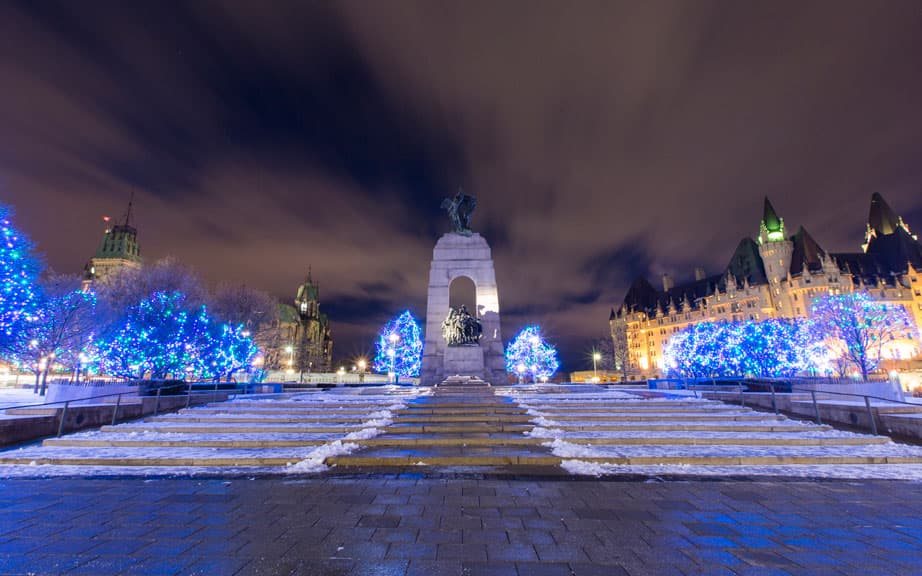 Patrimoine canadien/Canadian Heritage[/caption]
Christmas Light Map
** Can you help? ** Some listings on this map are from 2015 and labelled as "unconfirmed" for this year.  If you're the owner of one of these houses, or if you've seen other great Christmas light displays up, please let us know via feedback@ottawastart.com or leave a comment below. Click on any marker for a description, photo, and directions.
---
Here's our a list and map of large-scale Christmas light displays in and around Ottawa, including downtown, Parliament Hill, Taffy Lane and many, many more.
The 32nd edition of
Christmas


Lights

Across Canada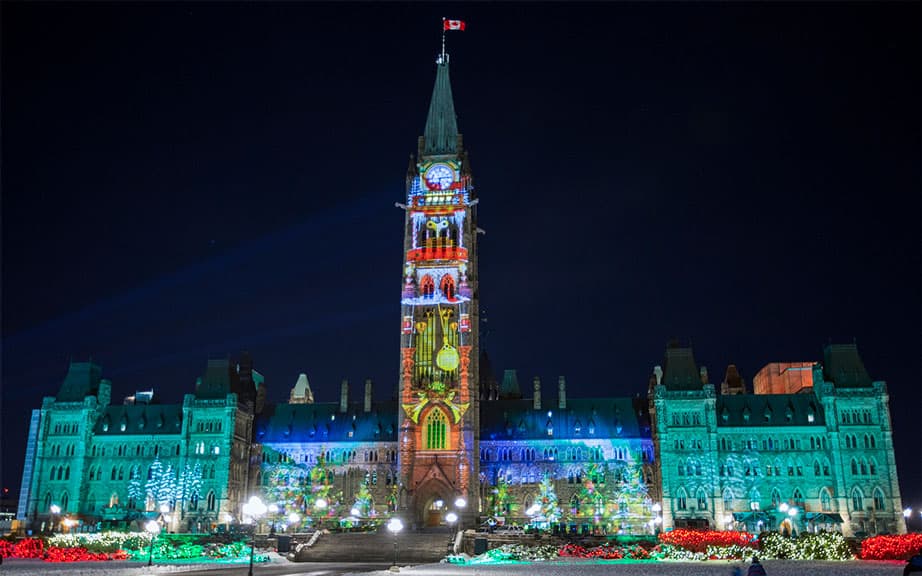 * 
Canada's Capital Region will be illuminated from December 7, 2016 to January 7, 2017. Hundreds of thousands of lights will be switched on along Confederation Boulevard—as well as on the legislature buildings in every provincial and territorial capital, creating a luminous link with the nation's capital.

 * 
The magical winter lightscapes show, which combines digital technology with the architectural splendour of the Parliament Buildings, will be presented in a loop every night from 5:30 p.m. to 11 p.m.
**
 until December 25, 2016
**
.

 * 
Canadians are invited to join the Honourable Mélanie Joly, Minister of Canadian Heritage, on Parliament Hill at 7:00 p.m. on Wednesday, December 7, 2016, for the launch of the 32

 nd

edition of Christmas Lights Across Canada. A colourful experience awaits those taking part in this year's illumination ceremony. The evening on Parliament Hill will feature a musical performance, a pyrotechnics show and a projection of the winter lightscapes show.

Taffy Lane in Orleans
 * 
This street has a well-deserved reputation across Ottawa as having the best neighbourhood light display. There must be a (Santa) clause in every agreement of purchase and sale that home owners must put up an elaborate light display.
[
 map/directions
](https://www.google.ca/maps/preview#!q=google+maps+taffy+lane+orleans&data=!1m4!1m3!1d1160!2d-75.532498!3d45.475613!4m15!2m14!1m13!1s0x4cce119c323e47eb%3A0x6442a594ce13ff7f!3m8!1m3!1d44921!2d-75.7628435!3d45.276949!3m2!1i1024!2i768!4f13.1!4m2!3d45.4751055!4d-75.5328776)
. (See also:
[
 Photos of Taffy Lane
](http://ottawastart.com/25-days-of-ottawa-christmas-lights-11-taffy-lane-in-orleans/)
)

 * 
[
 Belcourt Boulevard in Orleans
 **
  :
 **
](http://ottawastart.com/25-days-of-ottawa-christmas-lights-5-belcourt-boulevard-in-orleans/)
There are several houses that are over the top. Only a few minutes away from Taffy Lane, just South of St. Joseph.
[
 map/directions
](https://maps.google.ca/maps?q=belcourt+boulevard+in+orleans&hl=en&ie=UTF8&ll=45.468363,-75.519236&spn=0.004229,0.010568&hnear=Belcourt+Blvd,+Orl%C3%A9ans,+Ontario&t=h&z=17)

Gift of Lights - Wesley Clover Parks
 * 
New for 2016 - Gift of Lights is a family-friendly 2 kilometre drive-thru holiday light display featuring a 100+ foot light tunnel at the exit, and over 30 static & animated light displays. Presented by MAJIC 100 FM and in support of the Sens Foundation! Pile everyone in the car and bring them out to see the lights! Continues til January 1.

 * 
[
 More info...
](http://ottawastart.com/events/gift-of-lights-wesley-clover-parks/)

Vintage Village of Lights @ Cumberland Heritage Village Museum
 * 
Fridays, Saturday and Sundays in December from 3pm to 8 pm until December 18.

 * 
"Search the site to find items in the 12 Days of Christmas song. Sing along with our player piano. Visit our elves, decorate cookies, send a telegram to the North Pole, and visit with the friendly man himself… Santa! Hop on a horse drawn wagon ride or walk the village to admire 30,000 sparkling Christmas lights."

 * 
[
 More info...
](http://ottawastart.com/events/cumberland-heritage-village-museum-vintage-village-of-lights/)

Alight at Night Festival at Upper Canada Village
 * 

 Over a one million lights adorn the heritage buildings, trees and fences of Upper Canada Village creating a one-of-a-kind magical backdrop for its annual festival.

Open select nights from December 2, 2016 to January 7, 2016.
[
 More info...
](http://ottawastart.com/events/alight-at-night-upper-canada-village/)