Ottawa woman invents "Grilled Cheese & Ketchup" flavoured chips
Ottawa's Angela Bartley is one of four finalists in a potato chip contest run by Lay's.
[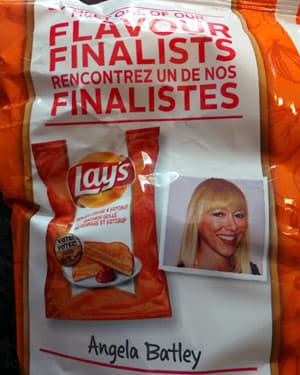 ](http://ottawastart.com/wp-content/uploads/2013/08/bartley.jpg)
She came up with the idea for a "Grilled Cheese and Ketchup" flavour chip.  Here's how Lay's describes it:
_ Who doesn't cherish the memory of coming home from school for lunch and enjoying a grilled cheese sandwich with ketchup for dipping, made by mom? Ontario's own Angela Batley used this as her inspiration for what she hopes will be the next great Lay's flavour. For everyone who believes in creamy cheddar grilled cheese and tangy ketchup - vote Grilled Cheese & Ketchup today. _
Bartley's flavour was picked from over 600,000 entries, and is up against other finalists including Creamy Garlic Caesar, Maple Moose and Perogy Platter.  Canadians can vote on their favourite flavour until October 16, and the one that gets the most votes will be added to Lay's line of chips.  The winner also gets $50,000 and a 1% cut of all sales of the flavour. ( Read more about the contest here. )
I found a bag of the chips at the Loblaws in Kanata. (On the day I was there, there were fewer bags of Bartley's chips on the shelf than the other four flavours in the contest.)  How did it taste?  It was an accurate reprsentation of a grilled cheese sandwich dipped in ketchup.  A mix between cheddar chips and ketchup chips.  Not bad at all.
[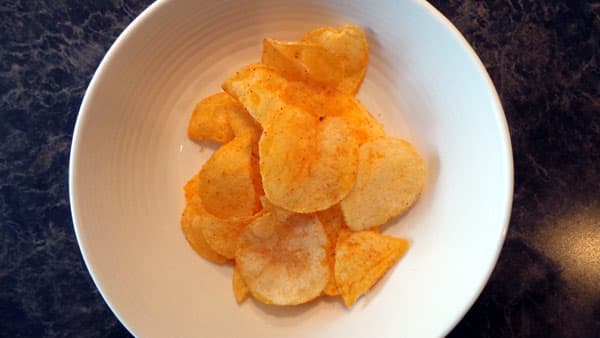 ](http://ottawastart.com/wp-content/uploads/2013/08/bowl-of-chips.jpg)
** See also: ** Ottawa Food Guide
If you liked this post, you should ** subscribe to etcetera , ** our free email newsletter. Featuring cool Ottawa events, interesting local news and contests and giveaways. Thanks!