Ottawa theatre company picks up best lead actor award at Capital Critics Circle Awards
_ (press release) _ The Classic Theatre Festival, the Ottawa Valley's only professional theatre company, last week picked up a Best Female Lead Actor Award at the prestigious Capital Critics Circle Awards, which annually recognize outstanding artistic achievement in the National Capital Region.
The winning performer, Lana Sugarman, who played Raina in the Festival production of Arms and the Man, was unable to attend the ceremony, as she was performing in a Toronto benefit that evening. Nevertheless, she says, "The win was delightful! It feels very rewarding to be recognized for a role that allowed me to grow and expand as a performer. To be able to work on such strong classical text is a gift, and the award is a reflection of the talent of my cast mates and creative team."
[caption id="attachment_57274" align="alignright" width="387"]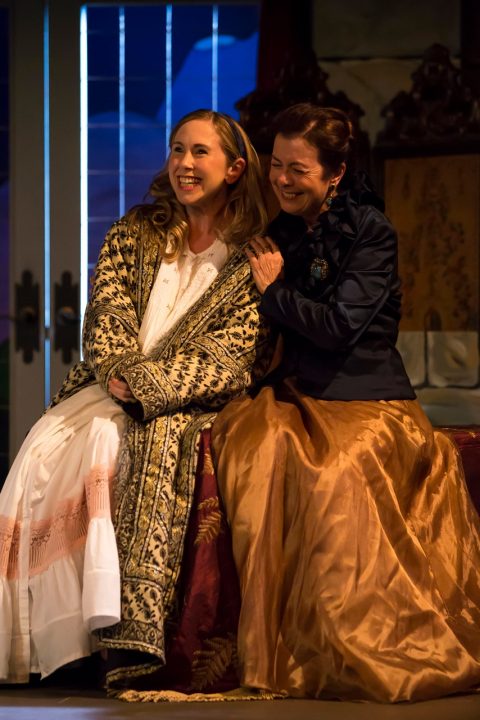 The Capital Critics Circle awarded its Best Actress Award to Lana Sugarman (shown here with Catherine Bruce in the 2016 Classic Theatre Festival production of Arms and the Man). Photo: Jean-Denis Labelle[/caption]
Sugarman's victory was a fitting follow-up to a highly-praised show that also won nominations for Best Director (Laurel Smith) and Best Production, which Sugarman says is a tribute to fellow performers Catherine Bruce, Scott Clarkson, Rachel Fischer, Alan Lee, Alastair Love, and Lindsay Robinson, as well as a production team that included costume de
signer Renate Seiler and lighting designer Wesley McKenzie, with stage manager Alison Muir and assistant stage manager Emily Richardson.
"I loved playing Raina in all her feisty, stubborn, romantic, and vulnerable glory," recalls Sugarman. "And I loved being in Perth last summer, because it offers such a sweet reprieve from the city. The environment feeds creativity and allows for a real immersion in the world of the play."
The Festival also received a Best Actor nomination for William Vickers in the role of Herb in the production of Neil Simon's comedy I Ought to Be in Pictures.
"It is great to receive this kind of recognition from some of the country's most respected theatre critics," says Smith, who notes that other companies included in the annual awards gathering included the National Arts Centre, the Great Canadian Theatre Company, and St. Lawrence Shakespeare Festival. "It is also great for the Town of Perth, because the Festival plays such an important role as a summertime destination for people seeking quality, professional entertainment along with all that complements seeing a show with us, whether that's a great meal and an overnight stay at one of our heritage accommodations or the unique shopping opportunities and natural attractions that bless this area."
The Festival is currently running its annual holiday sale, with savings of up to 25% on 2017's shows, with the option to pick dates later. The Festival's mainstage shows next year, in keeping with the Canada and Ontario 150 celebrations, will feature a majority of Canadian playwrights who made it big on Broadway and beyond: Bernard Slade, who penned the beloved comedy Same Time, Next Year (which ran over 3 years on Broadway) and Peter Colley, whose thriller I'll Be Back before Midnight is considered the most successful play ever staged in Canada, with performances in over 30 countries abroad. The season also features George Bernard Shaw's romantic comedy Candida, which pokes fun at Victorian notions of marriage and romantic triangles.
Vouchers for the 2017 season can be purchased with savings of up to 25% before December 31 at www.classictheatre.ca or 1-877-283-1283.
Cutline: The Capital Critics Circle awarded its Best Actress Award to Lana Sugarman (shown here with Catherine Bruce in the 2016 Classic Theatre Festival production of Arms and the Man). The Festival's annual holiday sale, with savings up to 25% off for the 2017 season, is now on until December 31.