Ottawa Jazz goes blue for opening night at Confederation Park on Thursday
_ (press release) _ On ** June 23
rd

** , opening day at the ** TD Ottawa Jazz Festival ** 's Main Stage goes blue, featuring Blues Hall of Famers ** Elvin Bishop ** ** & Charlie Musselwhite ** performing together, along with master country blues guitarist and roots rocker ** Alvin "Youngblood" Hart's Muscle Theory ** , plus New Orleans-style brass sextet ** The Boxcar Boys ** and Zappa-esque jazz big band ** The Flat Earth Society ** .
Bishop and Musselwhite's careers have run parallel for nearly 50 years; towering figures in the Chicago blues scene of the 1960s, each man was barely into his 20s when they began making national waves. A native-Chicagoan, Bishop was a charter member of the Paul Butterfield Blues Band (with whom he was inducted into the Rock & Roll Hall of Fame in 2015), contributing soulful, rollicking licks with his trademark "Red Dog" Gibson guitar to a series of landmark LPs that defined the blues-rock sound and presaged the psychedelic era. As a solo artist he's released over 20 albums, and his 1975 smash hit _ Fooled Around and Fell in Love _ has remained a radio staple, being featured most recently on the soundtrack of the film _ Guardians of the Galaxy _ .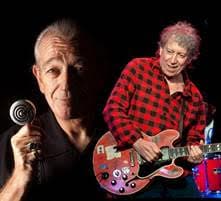 Musselwhite's biography, meanwhile, needs only rhyme and the wail of his signature harmonica to be a classic blues tune. Born in Mississippi and raised in Memphis, Musselwhite supported himself as a teen by digging ditches and running moonshine out of a 1950 Lincoln. He found himself in Chicago seeking factory work before meeting up with South Side legends Muddy Waters, Buddy Guy and Detroit's John Lee Hooker. Musselwhite's debut, _ Stand Back! Here Comes Charley Musselwhite's Southside Band _ , was an electrifying bridge between blues and rock 'n' roll, and Musselwhite himself became an icon; legend has it his distinctive look and attitude inspired the harmonica-slinging Elwood Blues (Dan Aykroyd) of _ The Blues Brothers _ .
Opening for the duo, Grammy-winner Alvin "Youngblood" Hart is one of the most acclaimed country blues guitarists of the past twenty years, bearer of a torch passed down from the likes of Lead Belly and Spade Cooley. With his Muscle Theory trio, Hart uncorks a raunchy electric tone worthy of Ronnie Montrose, bringing a festival-sized stomp part roots, part rock and all blues.
Please note, ** Kamasi Washington ** will also be playing a special
7pm
pre-opening night show on ** June 22
nd

** at the NAC Theatre. All tickets and Festival passes are available at OttawaJazzFestival.com , by phone at 613-241-2633 and in person at the Festival Box Office at 602-294 Albert Street, as well as at Compact Music's two locations on Bank Street.