Ottawa Fury close out season with loss, moving to new league next season
[caption id="attachment_55210" align="aligncenter" width="720"]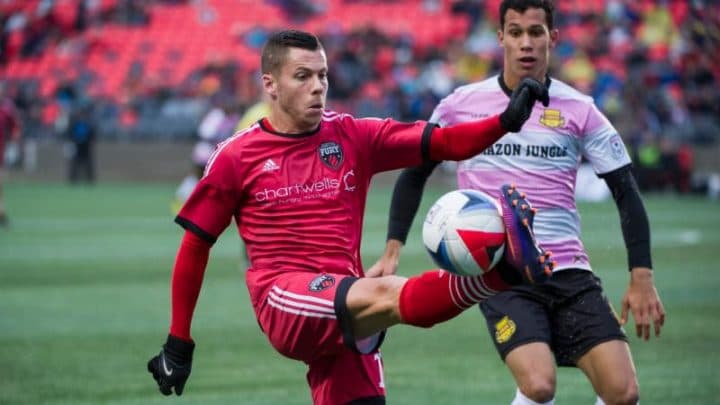 (Photo: Steve Kingsman/ Fury FC | Freestyle Photography)[/caption] ** OTTAWA, ON ** -  Ottawa Fury FC closed the chapter on their time in the NASL Saturday afternoon in a chance-filled affair at TD Place. Despite outshooting the opposition 17-8, Fury FC could not beat Strikers keeper Bruno. Brazilian striker Amauri netted his fifth goal of the season to lift Fort Lauderdale to the 1-0 victory to close out the NASL regular season.
"If you want to put together a season review for Ottawa Fury FC, then just watch our game today," said head coach Paul Dalglish. "We dominated possession and chances, we put more crosses in the box than them, but we end up losing a game that we totally dominated start to finish. "It's frustrating for everybody, but we wanted to come out strong today and give everything and that's what our guys did."
Ottawa carried the possession in the opening half creating chances from both sides of the pitch thanks to service from Maxim Tissot and Jamar Dixon. Giuseppe Gentile, Ryan Williams and Lance Rozeboom all had efforts on goal denied while Carl Haworth watched his chance miss agonizingly wide at the back post. At the other end, Amauri proved an offensive force to be reckoned with all afternoon that produced an entertaining battle between he and Rafael Alves. Romuald Peiser had to be sharp in the Ottawa goal to denied Amauri on a header from close range.
After a scoreless first half, Ottawa looked to be the side destined to score early in the second half with Lance Rozeboom and Carl Haworth both being denied on several occasions by Bruno.
In the 66th minute, former Manchester United midfielder Kleberson lobbed a free-kick into the 18-yard box that was met by the head of Amauri sending the visitors into the lead.
Unphased by the goal, Fury FC continued to push for a goal and again Bruno was there to deny their efforts including an impressive save off Thomas Stewart moments after he came on as a substitute.
Romuald Peiser had to come up big again when Victor Pineda was sprung on the breakaway, but the fingertips of a diving Peiser thwarted a golden opportunity to clinch the win for Fort Lauderdale.
The remaining minutes were all Ottawa with Williams, Haworth and Mallan Roberts all earning chances to pull Ottawa level. When the match ended Ottawa has outshot Fort Lauderdale 17-8, out-possessed the visitors 63%-27% and registered 441 passes to 261 from the Strikers, but were edged 1-0 on the scoreboard.
The match marks the final game in the North American Soccer League as the club moves to the United Soccer League (USL) for the 2017 season that will begin in March.
** Starting XI: ** ** Ottawa Fury FC(3-4-2-1): ** Peiser; Obasi, Alves, Roberts; Tissot, Rozeboom, Bruna (Stewart 70'), Dixon (Porter 76'); Williams, Haworth; Gentile (Mwanga 76') ** Fort Lauderdale Strikers (4-2-3-1): ** Bruno; Geison , Attakora , Gale , Zapata; Luis Felipe, Zapata, Millien (Kleberson 61'); Sandoval (Gonzalez 84'), Angulo; Amauri ** Scoring Summary: ** 66' FTL - Amauri (Kleberson) ** Caution Summary: ** 38' OTT - Alves 42' FTL - Moura 48' FTL - Pineda 90+4' FTL - Bruno ** Ejection Summary: ** None ** Attendance: ** 4903