OC Transpo switches to spring 2019 service
OC Transpo runs 5,800 km worth of routes across the city. (Photo/Devyn Barrie)
OC Transpo's spring service changes take effect Sunday, April 21. Holiday service will be in effect on Good Friday and Easter Monday. Construction season is back and customers on some routes can expect impacts to service. The Rack & Roll program is rolling out with bike racks on more than 600 buses.
Customers are encouraged to visit octranspo.com to see if their regular trips are affected by holiday service or construction this spring. Looking ahead, customers are also reminded that they can learn how their trip will change after O-Train Line 1 opens by using the test Ready for Rail Travel Planner at octranspo.com/ready4rail.
Highlights
Route 269 renumbered to Route 257
O-Train Line 2 frequency reductions
Service improvements on Routes 164 and 252
Route renumbering
Route 269 will be retired out of respect for those who passed away or were injured in the Westboro Station bus collision. The route will be renumbered as Route 257; the routing and scheduling are the same as the 269.
Schedule and service changes
In addition to introducing a new route number, we are making the following changes to meet the changing needs of our customers and to reflect the seasonal changes in ridership.
O-Train Line 2
The frequency of trips on O-Train Line 2 is reduced to match lower seasonal ridership to and from Carleton University. There is no change to the departure time of the first or last trip of the day.
Monday through Saturday – evening service every 15 mins (approx.) after 9:30pm
Sunday – daytime service every 15 mins (approx.)
Routes 164 and 252
Routes 164 and 252 are adjusted to operate in the community rather than on Hope Side Road. This removes the need for customers to cross Hope Side Road at unsignalized locations and increases service coverage in Bridlewood.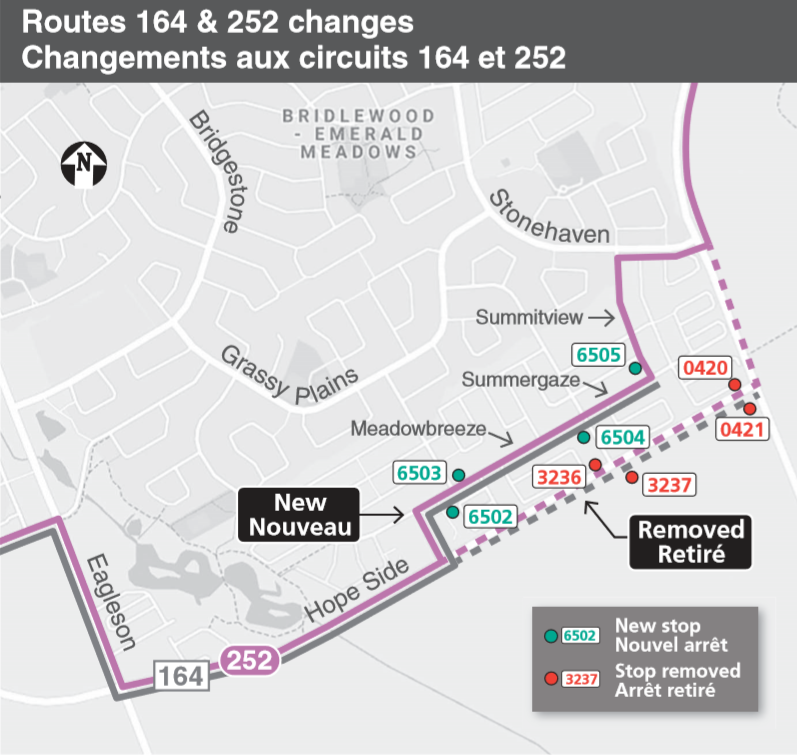 Construction season is back
Several bus routes will be affected by new construction this spring. Customers on the following routes should give themselves extra travel time:
Routes 12, 14, 18 and 19 – Service may be impacted by construction on Montreal Road between North River Road and the Vanier Parkway;
Routes 228 and 302 – Service may be impacted by construction on Navan Road between Renaud Road and Mer Bleue Road; and,
Routes 252 and 256 – Service may be impacted by construction on Old Richmond Road between West Hunt Club Road and Hope Side Road.
The following routes will continue to be affected due to ongoing construction:
Routes 5 and 14 – Detoured downtown due to the Elgin Street Renewal Project;
Route 10 – Construction on Bronson Avenue may impact routing and schedule;
Routes 40 and 48 – Construction on St-Laurent Boulevard and Walkley Road; and,
Routes 283 and 301 – Detoured around roadwork on the Richmond Bridge in the village of Richmond.
Customers should check octranspo.com or subscribe to email and text alerts to receive the latest updates on construction and detours.
Rack & Roll returns
The Rack & Roll program is returning with bike racks on major bus routes across the City, including Routes 12, 61, 62, 85, 88, 91, 94, 95, 97, 98, 99, 101, and 106. By mid-May, over 600 buses will be equipped with a bike rack. Bicycle parking is also available at most transit stations and customers can bring their bicycles on O-Train Line 2, the Trillium Line, year-round.
The City of Ottawa's "Let's Bike to Transit" initiative is making it easier for customers to ride their bicycles to stations. Visit ottawa.ca/cycling and check out one of the handy neighbourhood maps that highlight comfortable cycling connections to Greenboro, Innovation and Trim Stations.
Summer U-Pass starts May 1 and Winter U-Pass expires
From May through August, eligible full-time students at Algonquin College, Carleton University, University of Ottawa and Saint Paul University benefit from the Summer U-Pass, which can be obtained or renewed on campus.
Students who are not full-time during the summer are reminded that their U-Pass will expire on April 30 and to switch to Presto for their summer transit. Some students with lower incomes may be eligible for the EquiPass while not receiving the U-Pass. EquiPass applications should be submitted early to allow for timely approval which can take up to four weeks.