No loss of parking spaces because of Inspiration Village: Ottawa 2017
[caption id="attachment_67020" align="aligncenter" width="1000"]
Ottawa 2017's executive director says parking spaces on York Street were re-accommodated as Inspiration Village takes over this month. Shipping containers being installed on Thursday, April 27. (Devyn Barrie/OttawaStart.com[/caption]
The 92 parking spaces taken up by Ottawa 2017's shipping container extravaganza do not represent a net loss of parking in the ByWard Market, because the city was able to shift them elsewhere, Ottawa 2017 Executive Director Guy Laflamme said.
The installation known as Inspiration Village, intended to be a "hub" for sesquicentennial performances and exhibits, is being constructed with 41 shipping containers on a leg of York Street near Sussex Drive.
The city used "underutilized" space in the area to recover the lost parking, Laflamme said.
"We make sure that any parking spaces will be compensated," he said in an interview on Friday. Ottawa 2017 is also paying the city to make up for lost parking meter revenue, he said.
He did not say where the underutilized spots were.
The city did not mention that in a news release sent to media outlets last week, giving the impression that there would be a net loss of parking. The news release said there is still over 3,000 parking spaces in the ByWard Market and 8,000 within walking distance.
[caption id="attachment_67021" align="aligncenter" width="1000"]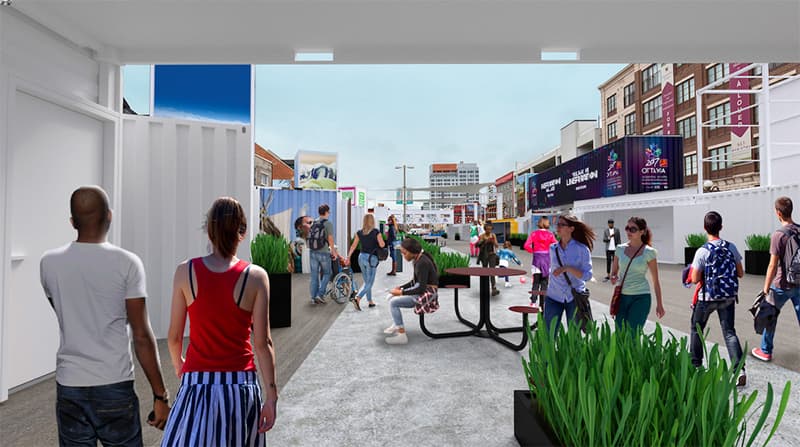 What Inspiration Village will look like when complete. (Ottawa 2017/Bell Media)[/caption]
Several media outlets reported as if the spaces would be lost. _ OttawaStart.com _ ran a Twitter and Facebook poll under the impression they would be.
Our Twitter poll received 69 votes as of Friday evening, with 58 per cent voting that Inspiration Village was more important than the parking spaces.
https://twitter.com/ahsanity_/status/857761410780196864
Laflamme said there was extensive consultation on the plan for Inspiration Village. It was also run by Mayor Jim Watson, the ByWard Market BIA and city staff.
"Everyone felt pretty good about this," Laflamme said.
Some on social media suggested Major's Hill Park as an alternative location. Laflamme said it's already spoken for.
"Major's Hill Park is used for festivals and there's already an ongoing schedule," he said.
He said he considered other locations such as Marion Dewar Plaza at City Hall and Sparks Street. The York Street location was chosen after the Royal Architectural Institute of Canada suggested it would be an ideal spot for a public square.
"My expectation is that once people get used to being able to enjoy York Street as a public square, they're not going to want to see it revert to a parking lot," said RAIC President Allan Teramura in a July, 2016 news release The RAIC said the long and narrow proportions of the location were similar to the famed Piazza Navona in Rome.
"It has the potential to be a civic square equal in attractiveness and character to any," Teramura said in the release.
Inspiration Village will open on May 20 and close Sept. 4. It will be removed by Sept. 20.
Laflamme said he expects the installation to attract tens of thousands more people per week than before, which he said is a positive for businesses. "We will be attracting an incremental increase," he said.
He also said there is a social good being done, as Ottawa 2017 will work with the Ottawa Mission to hire homeless people to work in the village. He said that is still in the planning phase and details should be firmed up soon.