No date set on when LRT service will begin
[caption id="attachment_67986" align="alignright" width="382"]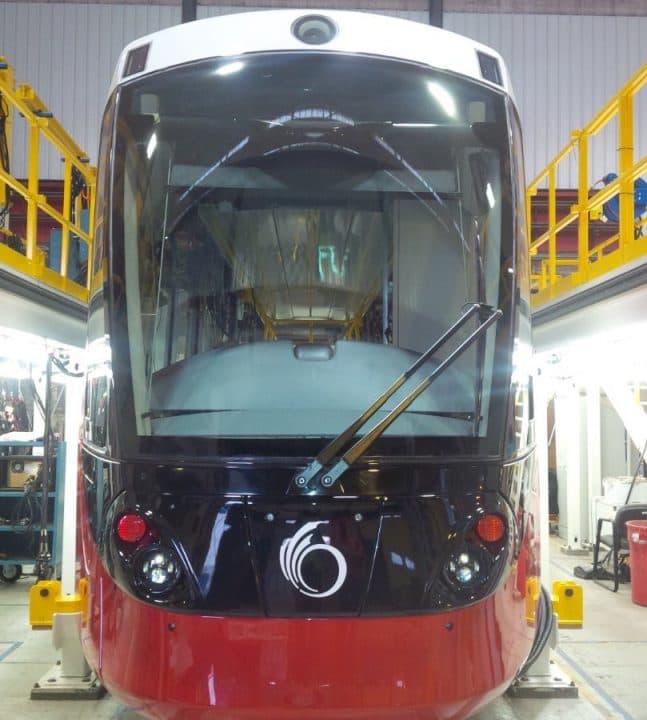 One of the trains to be used on the Confederation Line when it opens. (Jim Watson/Twitter)[/caption]
The City of Ottawa should know by the end of the year the date that the Confederation Line will start carrying passengers, city council was told Thursday in a memo prepared by Steve Cripps, director of O-Train construction.
The line is set to open in 2018 and the company responsible for its construction, Rideau Transit Group, is supposed to finish construction by May 24, 2018. That is the date the city will officially take ownership of the line but more planning is needed before trains can start service, Cripps said.
"The City does not expect to receive the trains one day and fill them with passengers the next," he wrote.
"The transition from the current public transit network… to the multi-modal transit system, which will be the busiest Light Rail Transit (LRT) in North America on day one of service, requires meticulous planning and extensive verification of preparedness."
He said city staff understand it's important to have a concrete date set soon, however.
Component and systems testing is already underway and will continue until construction is complete. Before trains start running there will be comprehensive testing and inspection of all aspects of the line.
If RTG doesn't meet the May 24, 2018 completion deadline, their contract with the city means financial sanctions including the deferral of about $202 million in payment.
Cripps also addressed concerns for worker safety, saying their is an accident rate of about .3 per cent, less than the provincial industry average of one per cent for heavy civil construction.
The Ontario Ministry of Labour has issued about 150 orders in relation to the work, all of which RTG said have been addressed.
"The City of Ottawa does not formerly receive and is not a direct party to any order issued by the (Ministry of Labour)," Cripps wrote. "The City does expect and receives high-level updates on all safety-related issues."
A review is underway in regards to a crane that tipped over at the Confederation Line's tunnel entrance near the University of Ottawa. The Ministry of Labour and Technical Standards & Safety Authority are also investigating a gas leak downtown that happened on May 2 after a subcontractor his an underground line.
Monthly meetings are being held between the Ottawa and District Labour Council, Cripps, General Manager of Transportation Services John Manconi and RTG CEO Antonio Estrada.
Exercises are also being held with paramedics and firefighters to improve preparedness for emergency response within the tunnels.
https://www.slideshare.net/DevynBarrie/confederation-line-quarterly-memo-to-council-q1-2017