New mural aims to reflect Ottawa's diversity
[caption id="attachment_85682" align="aligncenter" width="1000"]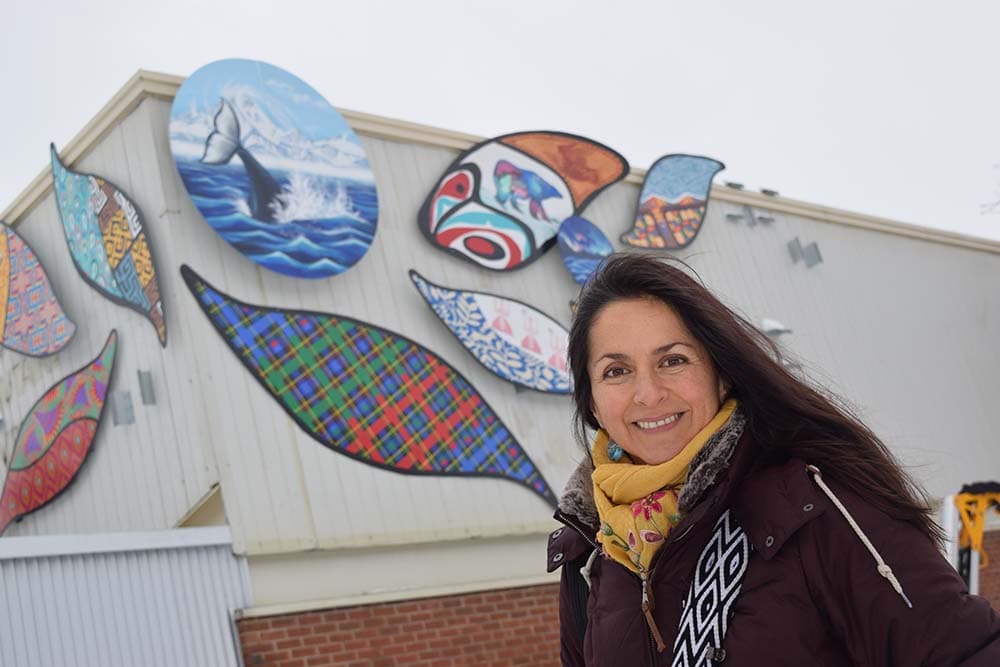 A new mural at the Hunt Club-Riverside Park Community Centre will brighten the old gray building. Claudia Salguero, a professional artist who oversaw its creation, supervising its installation in late December. (Devyn Barrie/OttawaStart.com)[/caption]
The icy wind lapped at the drawings in Claudia Salguero's hand on an afternoon in late December as she shouted up instructions to the men on the roof installing her mural.
"Just move it up a little bit!" she shouts up at them. A signal of understanding comes off one of the men's face and they re-position the piece.
Salguero has spent all day in the snow watching as _ Canadian Pride, Harmony in Cultures _ – the biggest project so far of her career as a professional art facilitator – was installed on the face of the Hunt Club-Riverside Park Community Centre.
"It's a very gray building, there's no art in this part of the city," she said. "The goal of the mural (is)… to depict the diversity, not just in our neighbourhoods, but in general in Canada."
After more than a year of work by her and dozens of community members who helped create it, the mural was installed on Dec. 19, 2017 and an official unveiling party was held last weekend on Jan. 13.
Work began on the mural in the spring, a few months after Salguero received a Neighbourhood Arts 150 grant from the AOE Arts Council, to create an art project that members of the community could help create.
"I started working in April," she said. "I invited people to participate in some brainstorm sessions to talk about the concept of the mural."
The brainstorm sessions soon turned into painting sessions, where she had about 40 people representing different groups – such as women-only or teens – come in to help paint components of the mural based on the vision set in the brainstorm sessions. Salguero said a very diverse group of people participated, creating a "cultural exchange" of sorts.
"I had people in the community from Japan, from China, from Peru, from Africa (participating)," she said. "We were aware of our differences but also the amount of similarities between us."
The mural is in 18 parts that represent many different cultures of Canada – but Salguero said she wanted Indigenous peoples to have a special place, as an act of reconciliation. She worked with artists from those communities to help represent them. She formed such a strong relationship that elders from Maniwaki invited her to help paint a teepee there.
Carmel Whittle, a Mi'kmaq artist, said the mural was a meaningful gesture towards the Indigenous community.
"Because I think this is the biggest issue we've got in community," Whittle said. "The recognition in fact that (Indigenous peoples) are here."
She said that projects like this mural help to increase appreciation in Indigenous culture, which will help to open doors to artists that were previously closed.
"Claudia doing this mural was ultimately a door that was being opened," she said.
Alice Wong, a community participant, said painting the mural was a special experience for her.
"We have a whole bunch of nice people and in the end we all make new friends and it really elevates this theme of harmony and culture," she said, adding she still occasionally meets with some other painters today.
Wong described herself as an immigrant, having come to Canada from Hong Kong in 1971. She's lived in Ottawa for decades and before that was a resident of Yellowknife and Winnipeg. As an immigrant, she said the emphasis on Indigenous people was very personal to her because she used to live among them in Yellowknife.
"When I was living in the North, this is their land, I'm living on their land," she said.  "I would personally thank all the Indigenous people of Canada who welcomed me and my family to this great country of Canada."