uOttawa students launch new local media outlet
With its website launched last week and logo drawn up on a napkin, Ottawa's newest media outlet is rolling with a core staff of uOttawa students and some contributors from around the community. _ Undercurrent Ottawa _ takes a new approach to local news, focusing on the "intersection" of politics and social justice in the capital, which the outlet's founders say is often underestimated.
"I think we're lending our voice to the community," said Anchal Sharma, an _ Undercurrent _ editor and political science and communications student at uOttawa. "(We) give people a chance to speak when they're not heard."
Editors include Sharma as well as Graham Robertson, a human rights and conflict studies student and Savannah Awde, who studies business. All three are also staff members of the _ Fulcrum _ , uOttawa's anglophone campus newspaper.
[caption id="attachment_84243" align="aligncenter" width="1000"]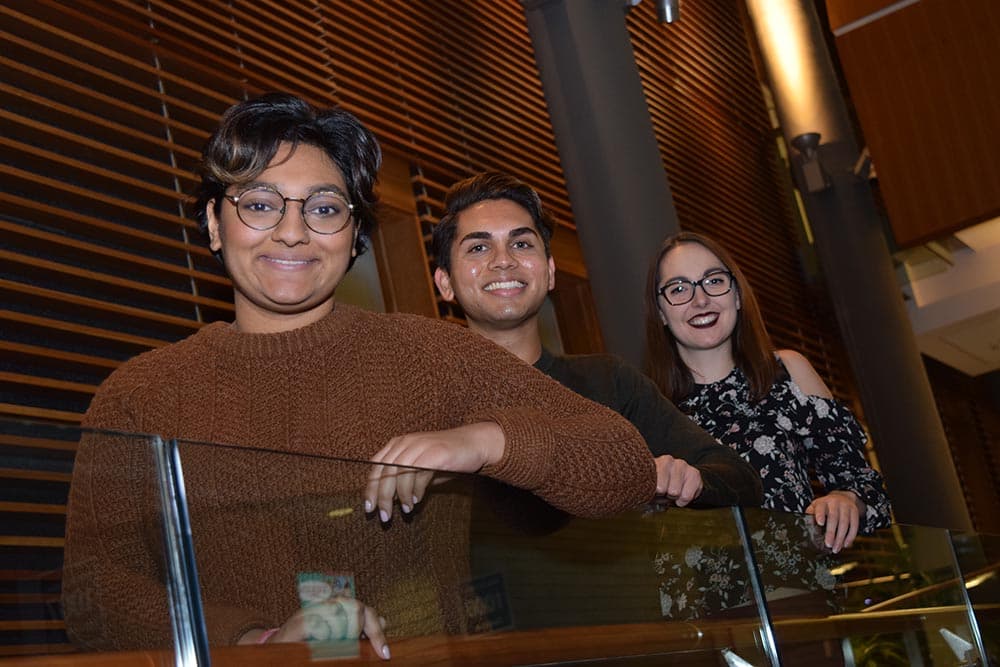 Undercurrent Ottawa's editors. From left: Anchal Sharma, Graham Robertson and Savannah Awde. (Devyn Barrie/OttawaStart.com)[/caption]
Although an abstract concept, the trio have a simple definition for what social justice is and what sort of stories they will cover.
"Any kind of movement that's focused on the greater good of society," said Robertson. Examples could include Indigenous issues and campaigns against violence towards women. Robertson added that they're focused on small movements in Ottawa with plans to broaden coverage when they're more established.
"A lot of social justice movements happen here," said Sharma. "We're so close to where change occurs."
Despite that, the full story is often missed in media coverage which they said _ Undercurrent _ will seek to change.
"It's not just that a politician drafted a bill," Awde said. "It's that a lot of people mobilized and organized themselves in a meaningful way to try and get that political change to happen."
Robertson said mainstream media doesn't cover the issues in depth because general audiences are often uncomfortable or uninterested.
"But these uncomfortable stories are what you need to hear about," he said.
Also unlike mainstream media, they're putting a heavier focus on live coverage via social media rather than articles – although they said more long-form work is planned in the future.
https://twitter.com/UndercurrentOtt/status/933392032265097220
Launching a media outlet and getting noticed isn't easy, but they said feedback received so far has been positive.
"Right now, for the most part it's all about visibility," said Awde. "A huge way to do that is get into the community and cover things and introduce yourself to people."
They're actively recruiting contributors and an outreach campaign is forthcoming to introduce themselves to local groups, which will help _ Undercurrent _ reporters develop contacts and generate story ideas, Awde said. They've already been out to a few events, including a protest against the Libyan slave trade and a picket against the Kinder Morgan pipeline.