MosaïCanada 150 hits millionth visitor
[caption id="attachment_78806" align="aligncenter" width="1000"]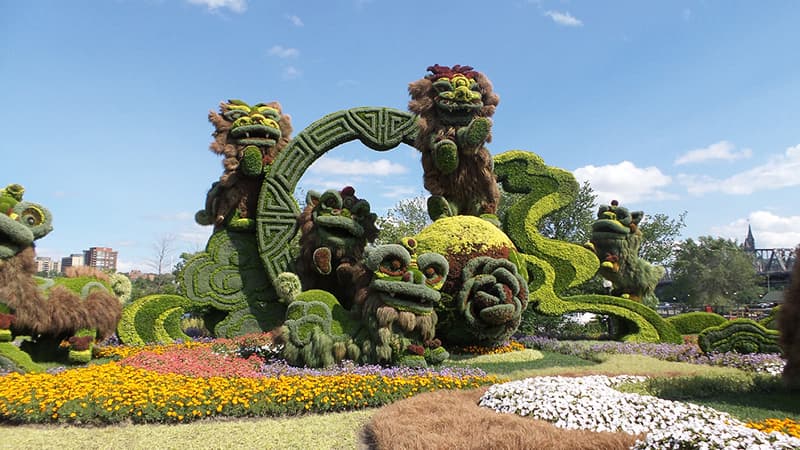 A mosaiculture display at MosaiCanada. (Glen Gower/OttawaStart.com)[/caption] _ (Via MosaïCanada) _ GATINEAU, Saturday September 9th, 2017 –  It was at Jacques-Cartier Park in Gatineau at 1:45 PM today that the millionth visitor crossed the gates of MOSAICANADA150 / GATINEAU 2017.  Dignitaries, collaborators, organizers, horticulturists, visitors and volunteers joined the celebrations and gathered at the main entrance to welcome and applaud Mrs. Leanne Brophy from Victoria, British-Columbia, to her great astonishment as a unique visitor to the region's most acclaimed attraction in the National Capital region this summer.
It was imperative to the Executive Vice-President and Director of Mosaïcultures Internationales de Montréal and creator of the exhibit Mrs. Lise Cormier, to celebrate this milestone by personally greeting the millionth visitor and offering a basket filled with gifts, memorabilia, and Souvenir Album. A moment of great pride that Mrs. Cormier was honoured to share with friends and partners, including, Mr. Greg Fergus MP of Hull-Aylmer.
"We came here to visit our friends in the Capital region. On our way here, the lady next to me in the plane made the recommendation that if there was only one thing to do during my stay, I had to go see this horticultural exhibit. This is such a great surprise and quite an overwhelming welcome.", expressed Mrs. Brophy.
[caption id="attachment_78805" align="aligncenter" width="720"]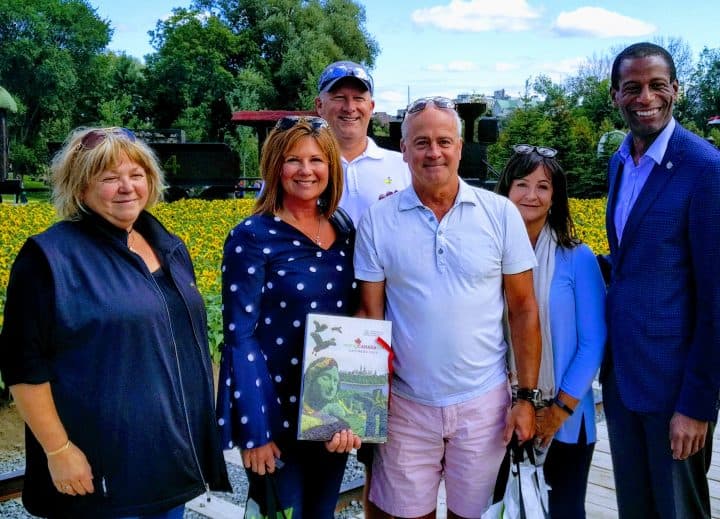 From left: Lise Cormier, Executive Vice-President and Director of MosaiCanada, Leanne Brophy, the 1,000,000th visitor and her husband Greg, their two friends from Newfoundland and Greg Fergus, Federal MP for Hull-Aylmer. (Via MosaiCanada)[/caption]
"We are extremely pleased and proud to welcome the millionth visitor which is a testimonial of the excitement  from Canadians and tourists for MOSAICANADA 150/GATINEAU 2017. With a satisfaction rate of 100% for the exhibit, according to on-going surveys, we can confidently state, that this gift, from the three levels of government on the occasion of Canada's 150th celebrations has been appreciated by all," stated Mrs. Cormier.
The Mayor of the host-city for the exhibit, Mr. Maxime Pednault-Jobin is delighted of such an accomplishment: "What a fantastic honour for MOSAICANADA150/ GATINEAU2017 to greet its millionth visitor. This grandiose touristic event, which also is an outdoor urban activity, has become a must-see attraction in Gatineau. We are proud to have had the audacity to believe in the project which resulted in our city being showcased around the world."
"The National Capital Commission is proud to have contributed to bringing the magnificent MOSAICANADA150/ GATINEAU2017 exhibition to Jacques-Cartier Park for Canada's 150th anniversary. It has inspired more than one million residents and visitors to the Capital, and will be a lasting memory etched in the history of Canada's sesquicentennial," tells Dr. Mark Kristmanson, Chief Executive Officer of the National Capital Commission.
[caption id="attachment_78807" align="aligncenter" width="1000"]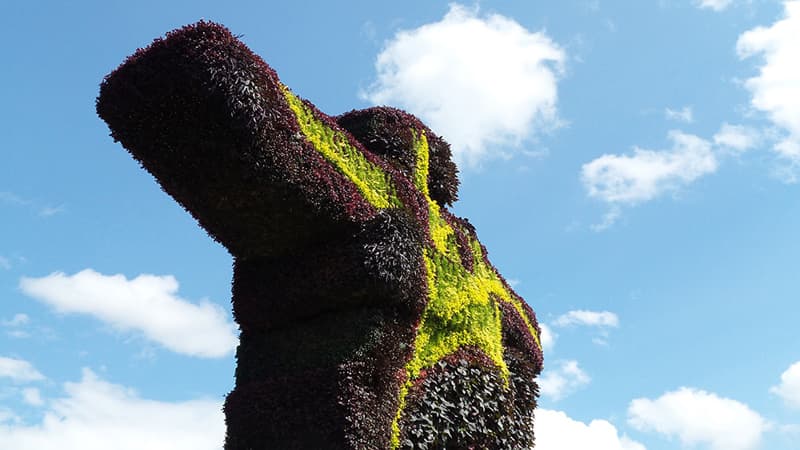 An inuksuk display. (Glen Gower/OttawaStart.com)[/caption]
The project of MOSAICANADA 150/ GATINEAU2017 would not have flourished without the support of all levels of government in our country. From the province of Québec, the Minister of Tourism was instrumental to the realisation of this initiative. "MosaiCanada150/Gatineau 2017 is part of the spectacular events of Québec and remains the most important horticultural event in Canada. This acclaimed exhibit contributes significantly to the prominence and to the economic momentum of the Outaouais region, resulting from the affluence of visitors the exhibit generates and attracts - the arrival of the millionth visitor is proof of such impact. I am proud of the success of this grandiose event. I congratulate the organizers and the participants for their excellent work, as well as everyone who contribute to making Québec a destination of choice for visitors from here and afar," explains Mrs Boulet, Québec Minister of Tourism.
This celebration of our history is indeed a priceless legacy for our Canadian heritage. The one million people that have been exposed to Canada's history illustrated by plants and flowers have also observed to which extent our Nation is an inclusive place where principles of respect, collaboration, empathy and human kindness are valued. The Honourable Melanie Joly, Minister of Heritage Canada expressed how pleased she was with this accomplishment: "MOSAÏCANADA150 / GATINEAU2017 celebrates Canada 150 and the history of our country. I am very happy that 1 000 000 people have been to visit. This wonderful exhibit is simply magical. Congratulations to all for this amazing success".
Only 70 days since the opening, the unexpected level of participation is an endorsement of the public's curiosity and their heightened interest for events that are unique in nature. Until October 15th, visitors will continue to be mesmerized by the changing spectacular sculptures with autumn colors and fall landscapes in the background.