Mixed feelings after Amazon snubs Ottawa on HQ2 shortlist
[caption id="attachment_85791" align="aligncenter" width="640"]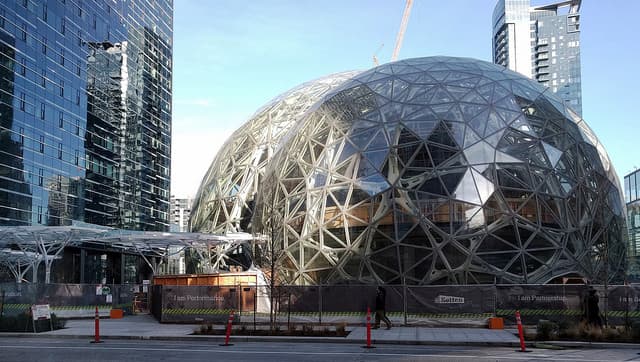 Amazon's headquarters in Seattle include three "biospheres" filled with plants and endangered species. (Photo by brewbooks , used under a Creative Commons license.)[/caption]
Amazon passed over Ottawa in its bid to find a location for a second headquarters on Thursday, when it released a list of 20 finalist cities that contained but one Canadian option – Toronto.
Ottawa was one of 238 applications made to Amazon to become the host city for the e-commerce giant's so-called HQ2, which pitched Ottawa's large tech sector, talent from local education institutions and proximity to the federal government as selling points for the location.
In the end, Amazon didn't bite. Other Canadian cities that pitched and were passed over include Montreal, Calgary and Halifax.
There have always been some mixed feelings about whether Ottawa should have Amazon build its second headquarters here – some, including Mayor Jim Watson, were enthusiastic about the potential economic bump. Even our sister site StittsvilleCentral.ca pitched the (hopefully) soon-to-be vacant Canadian Tire Centre and surrounding land as a potential site .
"A number of community leaders and economic development partners worked tirelessly over the course of the six-week bid process and delivered a proposal that highlights our region's economic opportunities, and the world-class talent that calls it home," said a joint statement by Watson and Gatineau Mayor Maxime Pedneaud-Jobin. "This strengthened regional collaboration is a legacy of our efforts; one that will help us grow our local economy and attract jobs together in the coming years."
Others raised concerns about Amazon being a drag, particularly because it asked for incentives (such as tax breaks or grants) when it opened the floor to proposals. "The concern, of course, is that it becomes a race to the bottom," Sherena Hussain, an assistant professor of business at York University in Toronto, told The Canadian Press in October.
A scan of Twitter shows a divided opinion over Ottawa's HQ2 snub: No #HQ2 for Ottawa - Curated tweets by ottawastart