VIDEO: Military tests new bionic knee braces in Ottawa
_ (press release) _ ** HALIFAX, NS ** ** ** ** – ** ** July 13 ** ** , 2016 ** ** – ** Spring Loaded Technology announces that it has completed its initial delivery of 60 UpShotTM bionic knee braces to the Department of National Defence as part of its $1M (CAD) contract awarded under the Build in Canada Innovation Program with the Canadian Army as the testing department.
Powerful enough to help lift more than 100 pounds of body weight when worn on both knees, the military-grade braces use a liquid spring technology that absorbs shock and reduces impact on soldiers' knees. Upon full completion of its contract, Spring Loaded Technology will have provided a total of 190 knee braces to the Canadian military for field testing. Field testing of the UpShotTM Knee Braces will be supervised by Major Edward Jun from the Directorate of Land Requirement. Major Jun and his team will put the knee braces through rigorous testing to demonstrate UpShot'sTM integration with soldiers' gear.
[caption id="attachment_43181" align="aligncenter" width="6913"]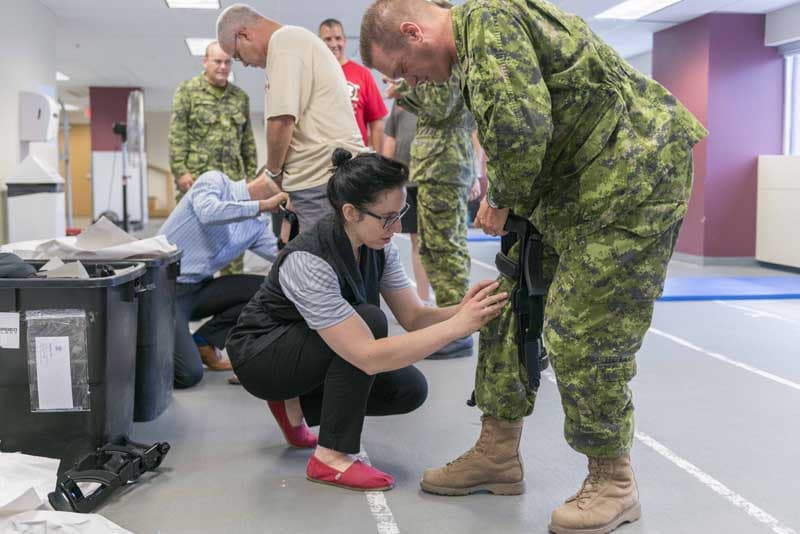 Major Toppa (right) receives a knee brace from Rebecca (left) one of the representatives from knee brace manufacturer Spring Loaded Technology which travelled to the Army Headquarters at 110 O'Connor in Ottawa, Ontario, to demonstrate and test their knee braces on July 12, 2016.
Photo by: Cpl Andrew Wesley, Directorate of Army Public Affairs
LF03-2016-0114-002[/caption]
"Spring Loaded Technology's UpShotTM promises to reduce muscle fatigue, enhance strength and performance, and protect against knee injuries—all of which are of great benefit to soldiers required to handle heavy lifting and rugged terrain. Modern militaries around the world are facing similar human factors challenges, in that we're asking soldiers to carry more equipment in order to achieve greater capabilities during missions. At the same time, technological advances with respect to material sciences has plateaued in reducing the weight of soldier equipment such as helmets, body armour and small arms. Trialing a state-of-the art knee brace technology will help us close the gap between the soldiers' effectiveness on the battlefield and their ability to bear heavy loads with their own strength," said Major Jun. "We're looking forward to testing how it performs in field conditions, and training areas across the country."
Spring Loaded Technology has also created a commercial version of the military-grade UpShotTM, the LevitationTM Knee Brace. Unlike other braces on the market, the LevitationTM Knee Brace improves strength, mobility and endurance by storing energy as the leg bends and returning that energy as the leg straightens. Currently available for pre-order on the Spring Loaded Technology website ($2,380 CAD), shipping to consumers will begin in September 2016.
"While UpShotTM is built to withstand extreme military impact and expedite rehabilitation for injured soldiers, the LevitationTM knee brace will help consumers utilize similar technology in their own day-to-day lives," said Chris Cowper-Smith, CEO of Spring Loaded Technology. "With power-output similar to that found in $100,000 powered exoskeletons, it's the first knee brace of its kind that can help average people crouch, walk or jump free from pain."
To learn more about Spring Loaded Technology, visit www.springloadedtechnology.com . ** About Spring Loaded Technology ** Spring Loaded Technology is an award-winning company based in Halifax, Nova Scotia, which designed an entirely new knee bracing technology to enhance the strength and power of the leg muscles. By increasing leg strength, their technology can be used in a wide range of applications including: mobility assistance, fatigue reduction, injury prevention, injury rehabilitation, and performance enhancement. The company was founded in 2012. ** About Build in Canada Innovation Program (BCIP) ** The Build in Canada Innovation Program (BCIP) aims to make Canadian suppliers more competitive and increase their contribution to the economy.  This program funds the acquisition of new, innovative products and services for testing by matched government departments in real-world environments. Innovations are evaluated and become pre-qualified for potential contracts through a competitive Call for Proposals process. www.buyandsell.gc.ca/innovation